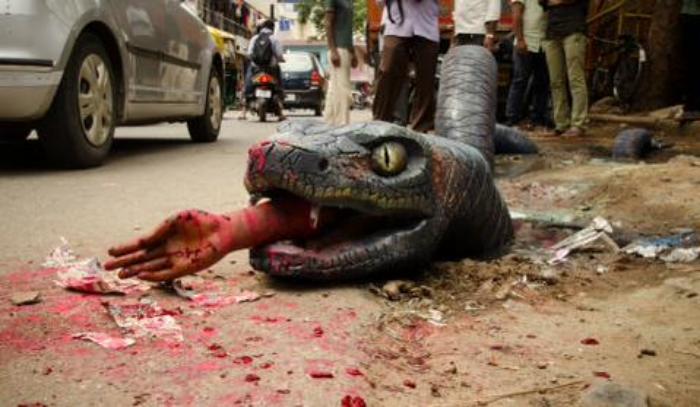 Commuters in Bengaluru were shocked and scared when an anaconda, with a half-eaten human hand in its mouth, emerged from a pothole right in the middle of a street.Fortunately, the anaconda was not real.
It was a dummy placed in the pothole by the Namma Bengaluru Foundation (NBF), an NGO, to embarrass the Bruhat Bengaluru Mahanagara Palike (BBMP).
It had been installed in a water-logged pothole in Yeshwanthpur market so that the BBMP would be embarrassed into acting swiftly over the quality of roads.
Bengaluru and the crocodile
This was not the first instance of such a move by Bengaluru's citizens to shame its municipal corporation into action. Earlier, visual artist Baadal Nanjundaswamy had placed a life-size crocodile in a 12-foot long pothole in north Bengaluru to achieve the same goal.