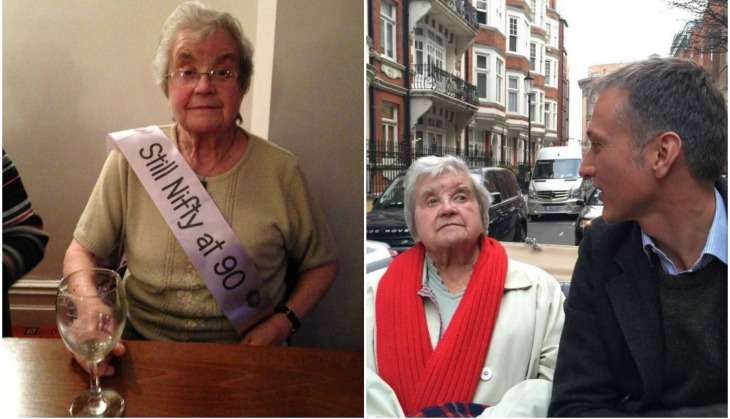 While people in India are still coming to terms with babysitting, UK has jumped several leagues ahead with 'granny-sitting'. Which for the uninitiated, is basically hiring people to take care and amuse grandparents.
UK couple Ross and Sofie Elder's unique advertisement to find a granny sitter for their aging relative has been met with overwhelming response.
The ad read: "Granny-sitter wanted. Seeking a big-hearted soul with caring experience and a musical talent to help look after Margaret, 93, who has a love of crosswords, baking and singing old drinking songs".
Ross and Sophie, who have to go outstation for three days, wanted to find a companion for their grandmother in return for a rent-free place to stay in their posh apartment overlooking the river Thames.
After receiving over 200 emails, the couple's now sifting through the applicants.
"We wanted someone who would bring more life into the house and just hoped we could find someone who was looking for a place to live with some caring experience and a love for music to help keep Margaret entertained. We didn't really know what to expect but we've been really overwhelmed with the response," grandson Ross told BBC.
"She's had a really busy and active life but two years ago she had a stroke and when we realised she couldn't live independently anymore we had to move her into a care home," the internet entrepreneur said.
Since then Ross has made the journey from London to the home in Staffordshire every Tuesday to visit Margaret "became struck by a sense of loneliness in her".
"I felt I wanted to do something more and so we decided to look at moving her in with us," Ross said.
"We decided to rent a place overlooking the river that was much better for nearby walks and getting around. We organised some professional care as we realised it would be a challenge but I wanted someone to be with her all the time. She has occasional memory loss and mild dementia and she needs someone to always be around," he added.
The idea for a live-in granny-sitter came after they read about a nursing home in the Netherlands which allows university students to live rent-free alongside the elderly residents, as part of a project aimed at warding off the negative effects of aging.
-- With inputs from PTI