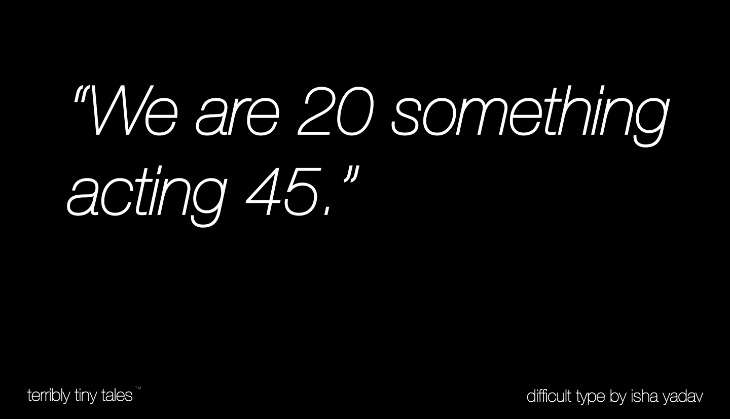 They say maturity helps us cope with life. They say maturity comes with a mid-life crisis. But what if there are those who've bypassed the age-bar to maturity and the crisis that comes with it? What if there are those in their 20s, who are living like one would expect people to in their 40s?What if there are those who are rewriting adulting, and winning the race to the end?
This post by Delhi-based Isha Yadav is an ode to everyday women who live life on their own terms. It is an ode to that neighbour who refuses to be cowed down by the expectations of society. That cousin who cannot and will not take the path well travelled. You, who do what it takes to make every breath count. It is an ode to women of today, of tomorrow, of the past who did not 'mature with age like wine' - but the wise ones who knew the secret before others did. Who sipped a red or a white, or even black tea, as they forced the world around them to grow up.
The post says: "..
We are 20 something acting 45. We can fix the leaking tap. We're okay. We know love spelt backwards makes halfway through 'evolving'; and that's what we're at. We always keep wine in stock. We've paid the price and made our peace. There are no lullabies, only piles of theories. There are no mushy texts, only to-do lists. We know cuts heal faster when nobody can see them and..and we're really difficult to love.
20 something, acting 45. A war cry to live by.
Also see: Why we really need to talk about Cara Delevingne and the Lady Garden campaign
--
Edited by Abha Srivastava