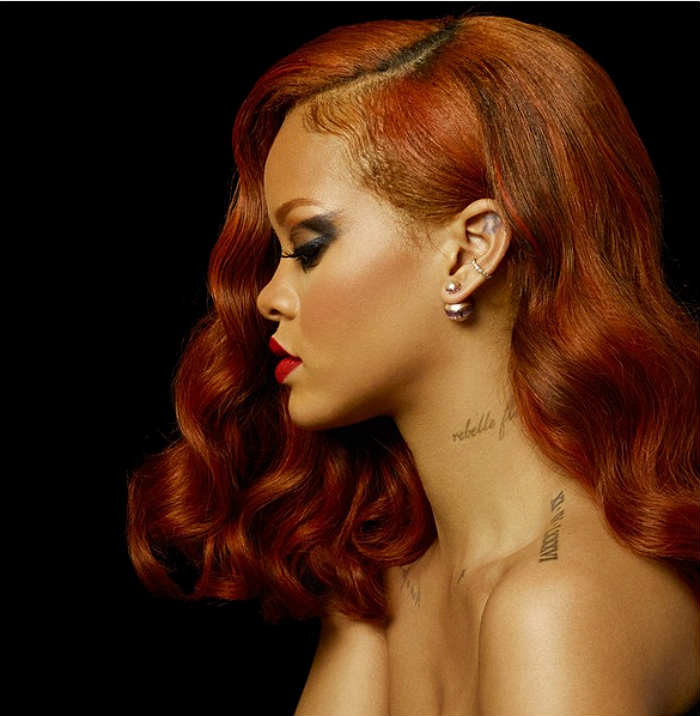 Did you check out pop star Rihanna's new tattoo? Adding another piece of art on her body, Rihanna got inked above her right ankle off late. The 27-year-old fashionista already has many tattoos to show off. However, the latest addition reads 1988, which is her birth year.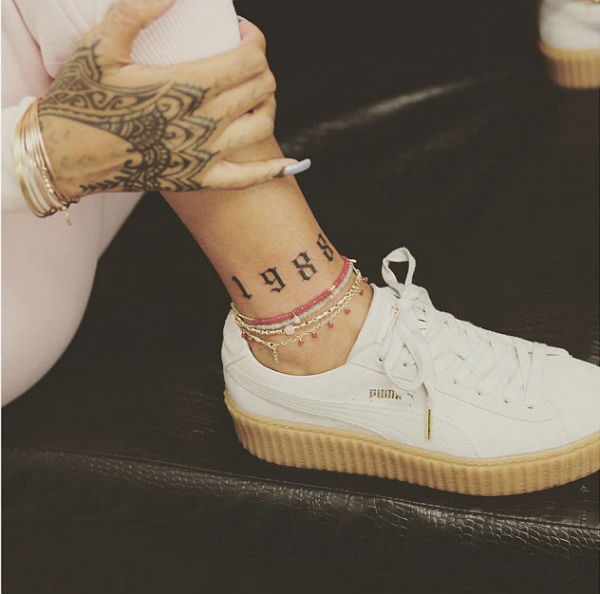 Photo: Rihanna Instagram
The first picture of her tattoo was revealed by the tattoo parlour itself, as they took to Instagram and captioned the image as "@badgalriri like I told you last night - you're my favourite person to tattoo 1988." The lady then shared the image on her own Instagram and wrote "killz Tagged by my dear friend @bangbangnyc."
The singing sensation has more than 20 tattoos. Around 14 of which have been designed by Bang Bang. Check out her tattoos here: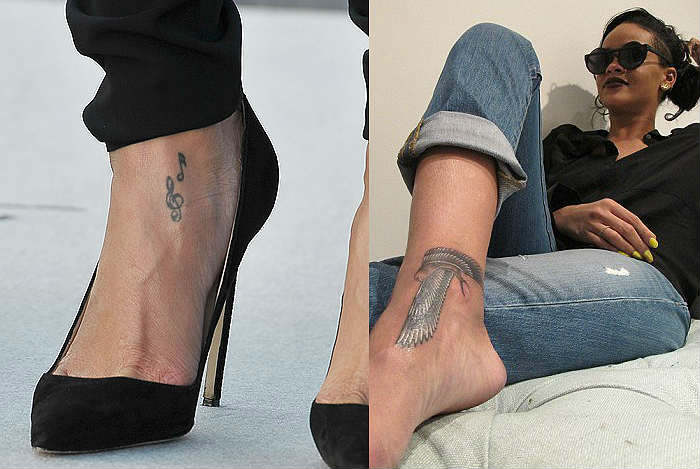 File photo
1. She got her first tattoo done in 2006. She got two music notes inked on her right foot - treble clef and the sixteenth note. The tattoo was believed to be a tribute to her inclination towards music.
2. In 2012, she covered her 'music notes' tattoo with a huge Falcon tattoo. Revealing it on Twitter, she captioned it as "Falcon: a light that shines in the darkness! Never close their eyes during sleep." It is said that she wanted to have this tattoo since her childhood. The falcon is considered as the king of sky.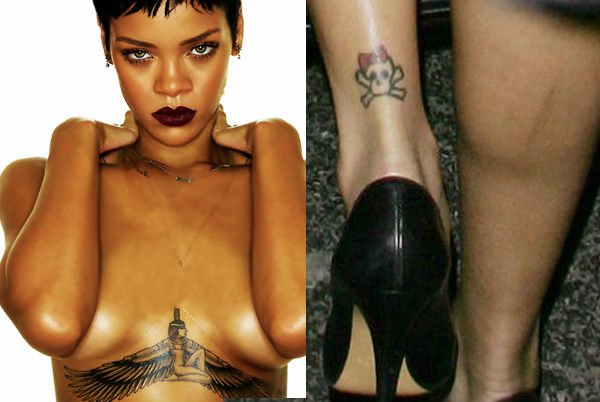 File photo
3. In 2008, the lady got herself inked with a tiny skull design behind her ankle. The skull and the crossbones generally refer to danger but the tattoo has a pink bow too, which sort of balances the design.
4. Her under-chest tattoo is the most popular one. It is a tribute to her late grandmother and has a design of goddess Isis who is considered as a complete woman and a model for future generations.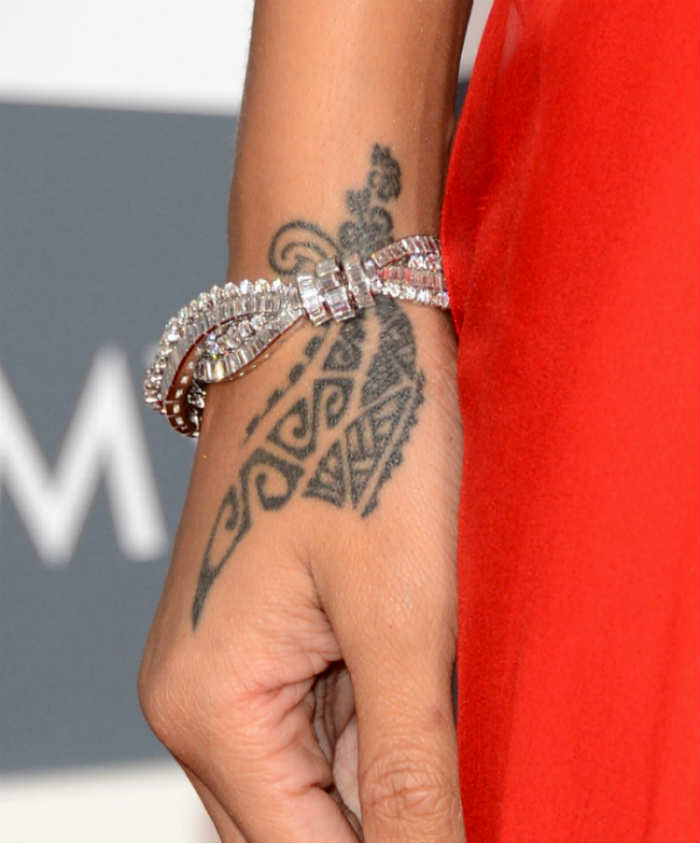 File photo
5. She has a tattoo on her right hand, just below the thumb. It is a Maori design that she got inked in 2008 during her New Zealand tour. According to her, the geometric design depicts love and strength.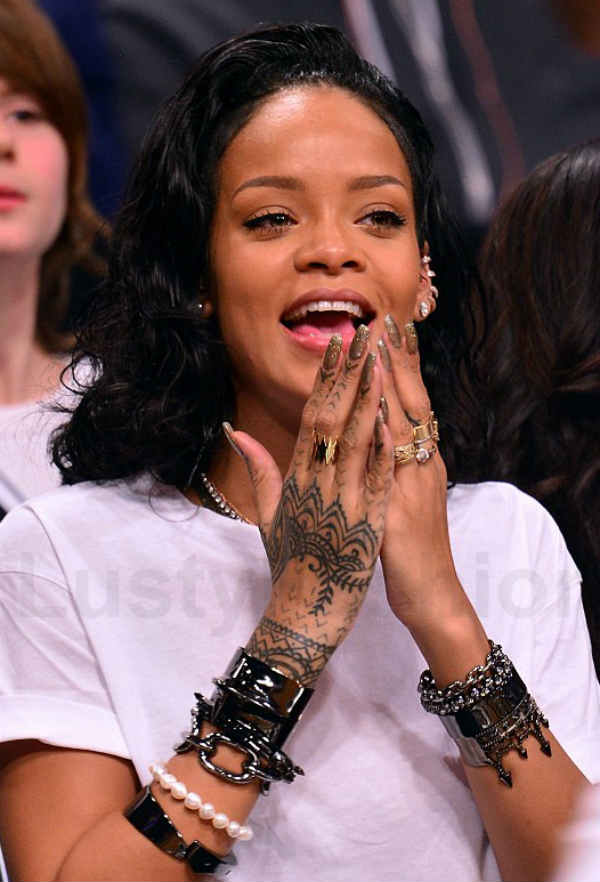 File photo
6. In 2013, Rihanna increased the number of hand tattoos she has by adding two more designs simultaneously. She first covered her entire hand with tiny chevrons and then further got a design of Indian henna (Arabic for Mehendi) overlaying the previous tattoos.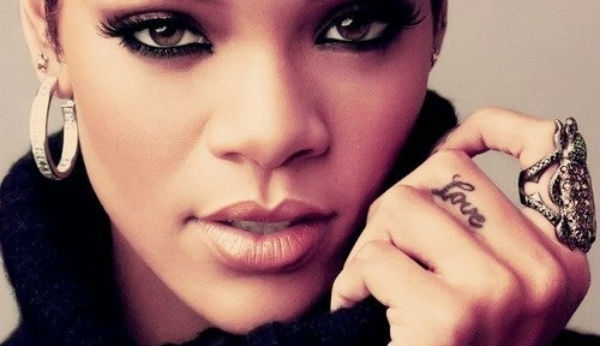 File photo
7. Rihanna also has the word 'love' in cursive carved inside her right middle finger. She got it done in Los Angeles.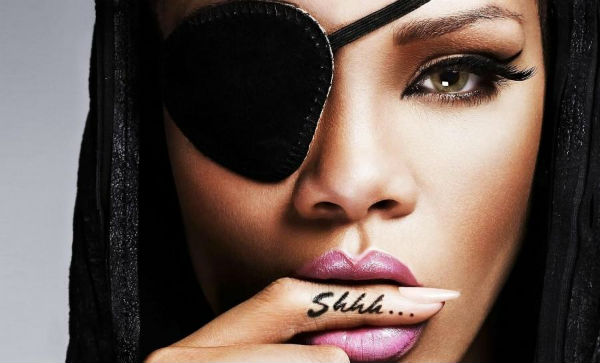 File photo
8. The singer has another finger tattoo which is inside her right index finger. The tattoo gets revealed only when she uses her finger to shut somebody - 'shhh...' Also, the tattoo is the most copied one with the likes of Lindsay Lohan and Lilly Allen possessing one.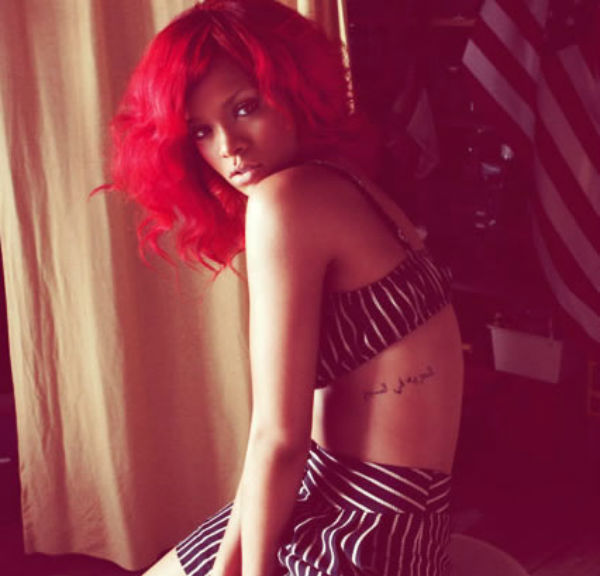 File photo
9. Rihanna has another tattoo in Arabic at the left side of her ribcage. It reads "Al Hurria fi Al Maseeh", which translates to "Freedom in God".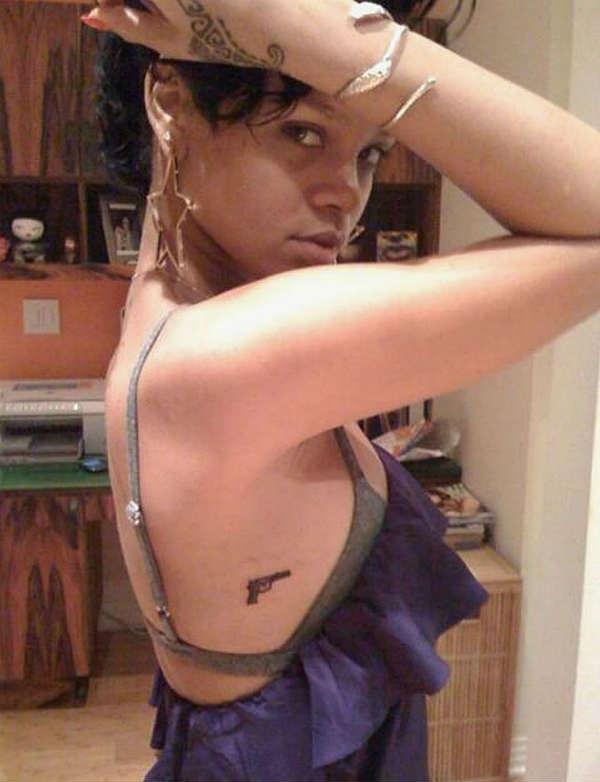 File photo
10. She had a tiny gun carved below her right armpit in 2009.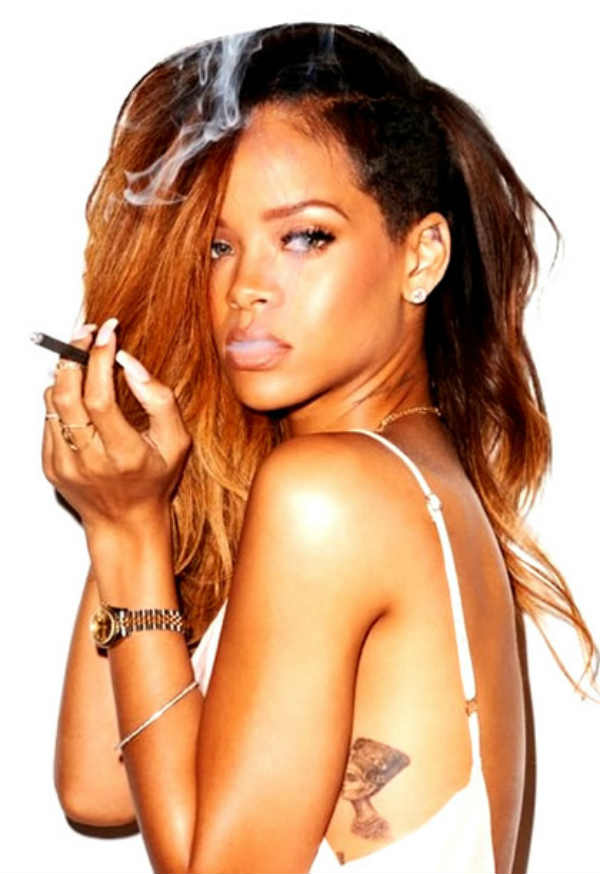 File photo
11. Another Egyptian tattoo is placed perpendicular to her left armpit, which is rarely visible. The tattoo is a mug shot of queen Nefertiti who was an icon of beauty and had many titles including Hereditary Princess, Great of Praises, Lady of Grace and Sweet of Love.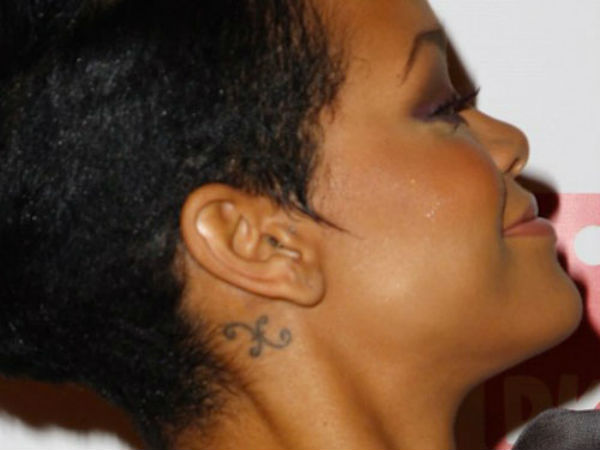 File photo
12. She has a Pisces sign engraved behind her right ear.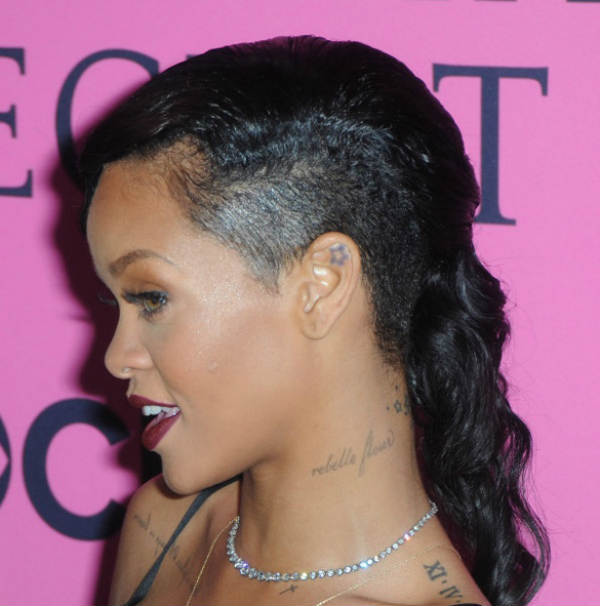 File photo
13. In 2006, Rihanna had a star inked inside on the outline of her left ear.
14 It was in August 2010 that Rihanna got a tattoo of the text 'rebelle fleur' written in script on the left side of her neck, which translates to 'rebel flower'. The text in itself relates to her personality.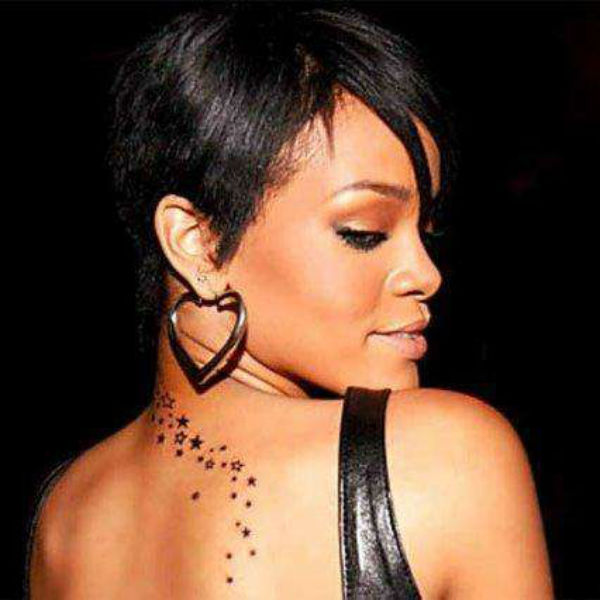 File photo
15. Her famous tattoo is on the back of her neck. It was started in LA and got finished in New York. The bunch of stars that she has are quite similar to the tattoo that Chris Brown carries behind his ear.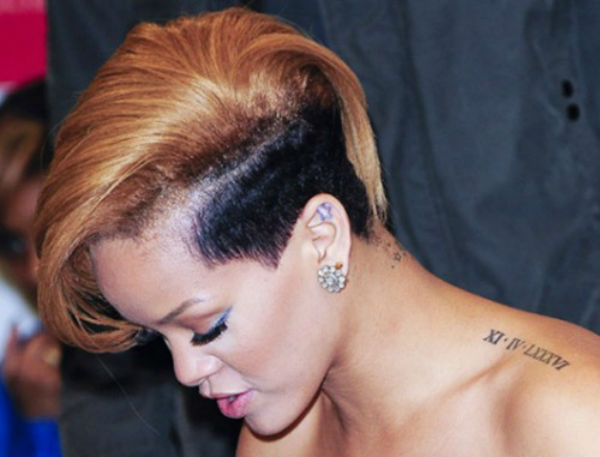 File photo
16. As another text tattoo, Rihanna got the birth date of her best friend Melissa inked on her left shoulder. It is in Roman.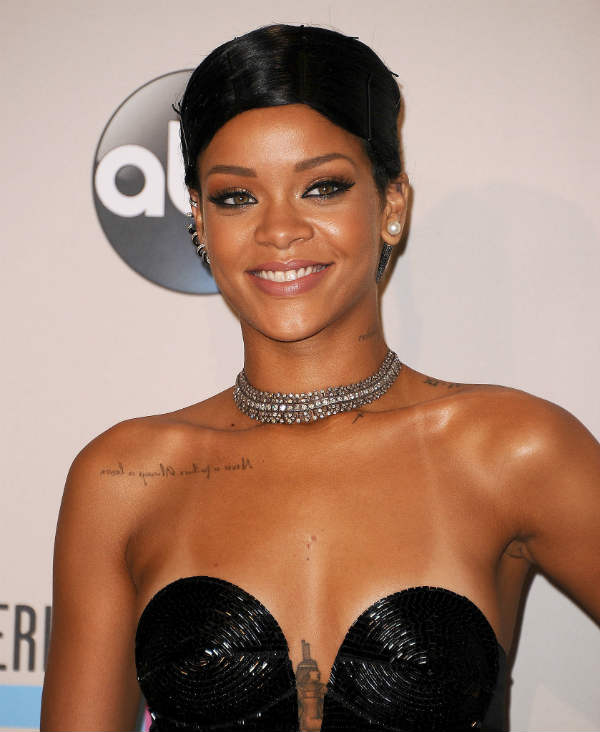 File photo
17. Below her right shoulder, there is some text. The rather inspiring line reads, "Never a failure, always a lesson". Talking about the tattoo, Rihanna herself explained that it is her own motto in life for everything. She had it written backwards so that she can read it while looking into the mirror.
18. She has also got a tiny 'cross' inked on her left collarbone.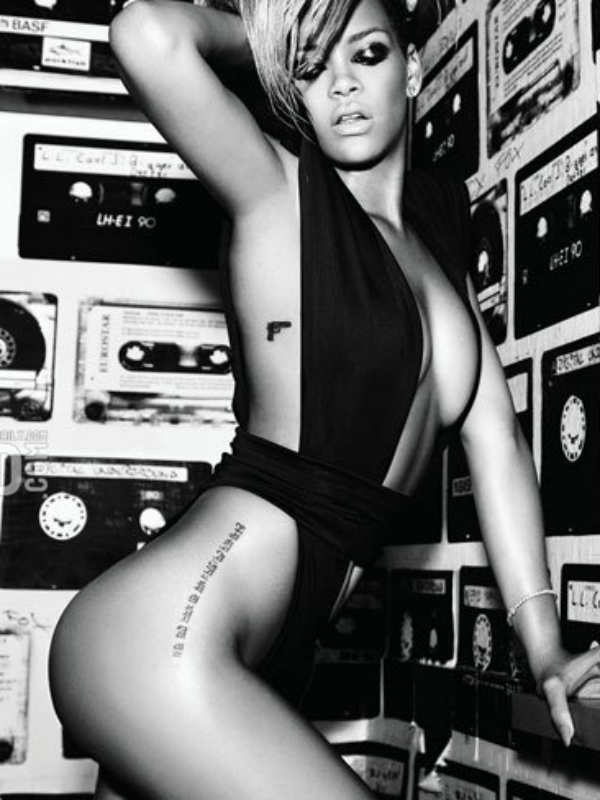 File photo
19. Rihanna has a Sanskrit prayer inked on the left side of her body running down to her hip. Unfortunately, the tattoo was misspelled and translates to "long suffering, truthfulness, self-restraint, inward calm, fear and fearlessness" instead of "forgiveness, honesty, suppression and control".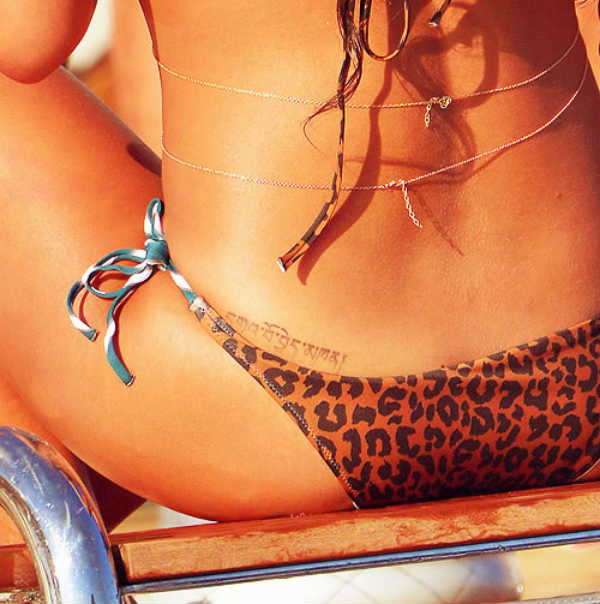 File photo
20. Rihanna has a tattoo that says 'lover' in Tibetan on her left hip that she got inked in 2012.