Viral Video: Neck stuck between iron rods; most people suggest the wrong solution!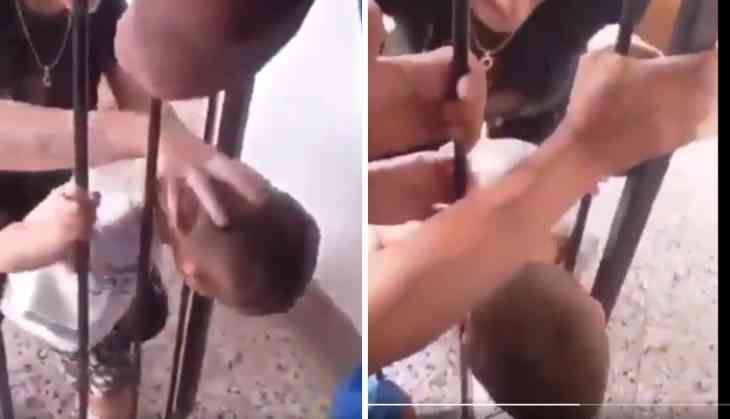 Child with his head stuck between iron rods
Brain Twister Viral Video: Neck stuck between iron rods; most people suggest the wrong solution!
In our fast-paced world, it's easy to become overwhelmed and flustered when faced with difficult situations.
However, as the viral video of a child with his neck stuck between iron rods demonstrates, remaining cool and using our presence of mind can be the difference between success and failure.
The video shows two elders trying to pull apart the rods with a lot of effort, while the child's neck remains stuck. It's only when the child slithers through the rods in the direction of his nose that he is able to free himself. The solution was simple, but most people who watched the video suggested the wrong solution of pulling the rods wide open to let the boy's head slide through it.
The reason for this mistake is that people fail to calmly analyze the situation and figure out how the boy's head can pass through the rods if the rods are too close. By remaining calm and using our presence of mind, we can avoid making hasty and incorrect decisions.
February 1, 2023
In our daily lives, we encounter many situations that require us to think on our feet. It could be a sudden change in plans, an unexpected challenge, or a difficult conversation with someone. In these moments, we need to take a step back, breathe, and assess the situation calmly.
We also need to avoid getting too caught up in our emotions. Fear, panic, and anger can cloud our judgment and lead us to make poor decisions. By staying calm and rational, we can approach the situation with a clear head and come up with a better solution.