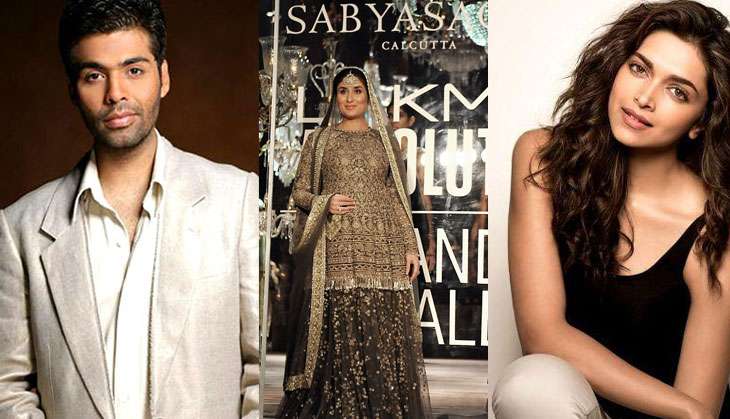 Over the last few years, Bollywood celebrities have been visibly working to break the mould and shatter stereotypes.
The word 'sex' has managed to jump right of the closet and is currently enjoying its new-found freedom. Sly and conciliatory rebuttals have been replaced with uninhibited opinions. Stars are going out of their way to dispel the myth of celebrity rivalries. Social media is awash with Bollywood celebrities sharing photos and posts encouraging each other on both personal and work fronts. And we couldn't be happier.
Bollywood stars are coming out of their shells. Whether it is about opening up about mental illnesses, or their thoughts on relationships, sex lives, or their opinions on current issues, stars no longer have qualms about expressing these.
The winds of changes are blowing and it is extremely liberating to watch our favorite stars lead the pack. Here are a few areas where Bollywood celebrities have surprised us all with their refreshing candour:
Opening up about depression
Bollywood stars like Deepika Padukone and Karan Johar managed to do what countless campaigns failed: start a conversation about depression and mental illness.
Deepika won acclaim when she accepted on a public forum that she was battling depression while at the peak of her career.
Watch her tell-all interview with NDTV here:
Following in her footsteps, ace director Karan Johar recently revealed that he had also been afflicted with depression.
The latest star to admit to having battled depression is Rustom actress Ileana D'cruz.
Not only did the stars dismiss the stigma surrounding depression, but encouraged countless fans to recognise the symptoms and seek help as well.
What's more, Deepika Padukone also unveiled a foundation dedicated to help people battle the illness.
Dispelling the hooplah around pregnancy
Soon-to-be mum Kareena Kapoor Khan is the latest entrant in the list of Bollywood celebrities who have embraced their pregnancy.
Stars like Shweta Salve and Carol Gracias are a far cry from the yesteryear actress of tinseltown, who often kept their pregnancies under wraps, fearing its adverse effect on their career.
Star mom-to-be of the moment, Kareena Kapoor Khan is in no mood to slow down. She has made it clear that being pregnant does not make her any less productive. We couldn't agree more.
Also Read: Kareena Kapoor, Carol Gracias and the birth of Pregnancy Pride
Being candid about their sex lives
Bollywood is as hush-hush about sex on screen as it is off screen. But we seem to have left the days of using flowers to depict intimate scenes behind us for good. Thank God!
Kangana Ranaut raised a few eyebrows when she admitted that she was sexually active. She said that this did not make her a whore or a prostitute like the society would believe. More power to you, Kangana.
Read more:

Katti Batti actress Kangana Ranaut speaks about love making scenes
Stars have often been candid about their sex lives on Karan Johar's show, Koffee with Karan. In one episode of the popular chat show, Vidya Balan was asked about what men do not know about women. "We like it, need it, and want it as much as they do!" she said.
Watch Nargis Fakhri and Freida Pinto discuss sex on the show here:
Addressing divorces
The year 2016 has seen way more Bollywood splits than we can handle. However, it remains to be said that instead of engaging in mudslinging, Bollywood stars have handled their separations with dignity.
It is refreshing to see stars releasing joint statements and asking people to respect their privacy. Stars like Hrithik Roshan, Konkona Sen Sharma and Farhan Akhtar, were quick to address the reports before conspiracy theories could take wings.
Read More: Arbaaz Khan -Malaika Arora Khan divorce rumour: People should stop writing bullshit, says the actor
Ranvir and I have mutually decided to separate, but continue to be friends and co-parent our son. Will appreciate your support. Thank you.

— Konkona Sensharma (@konkonas) September 14, 2015
Breaking the taboo around menstruation
It would be wrong to say that the taboo surrounding periods is a thing of the past, considering that the monthly bodily function is still talked about only in hushed voices.
However, some of Bollywood's leading ladies including Kareena Kapoor Khan, Kangana Ranaut, Parineeti Chopra and Shraddha Kapoor have thrown themselves into the campaign to break the stigma.
The stars have been working to spread awareness about menstrual hygiene and have been urging people to talk about menstruation openly.
Fighting the wage gap
Bollywood's leading ladies have decided that they are done with the apparent wage gap in the film industry.
Stars including Priyanka Chopra, Anushka Sharma and Aditi Rao Haydri have spoken up time and time again about the existing wage gap.
Shah Rukh Khan has also admitted to the wage gap. "We can start with pay being equal. In our company, we believe in putting female stars' names before the male stars' names. These are insignificant things in comparison to what needs to be done, but having said that, when I see women working in Bollywood, or other industries, I feel there is a certain movement of equality," he told BBC in an interview.
Read More: International Women's Day: When Kangana, Anushka, Deepika bared all... off screen
Ending the stigma surrounding surrogacy
Surrogacy has often been a matter of controversy in India. However, stars like Aamir Khan and Shah Rukh Khan have been open about expanding their respective families using surrogacy. Their announcements helped remove the stigma surrounding IVF, adoption and other such options.
Tusshar Kapoor also made news recently when he became a single parent to a baby boy.
Opening up about sexual abuse
Many look up to Bollywood celebrities as role models. Sometimes, rightly so. Kalki Koechlin shocked everyone when she opened up about having being sexually abused as a child. Anurag Kashyap also admitted to having been molested as a child. Pink actress Taapsee Pannu recently admitted that being eve-teased had changed her outlook about life. A number of stars have also been candid about having faced the casting couch during their early days in the film industry.

All these stars also encouraged people to recognise and address sexual abuse to nip the evil in the bud.

Watch Kalki speak about Child Sexual abuse in an interview with NDTV here:

From instances like Radhika Apte opening up about the casting couch, to Sonam Kapoor admitting to her guilt about being a 'star kid', the film industry is changing, for the better.

Bollywood, please continue to be as amazing as you are.

--Edited by Blassy Boben