No option but to talk to Pakistan. Smoke and mirrors will lead nowhere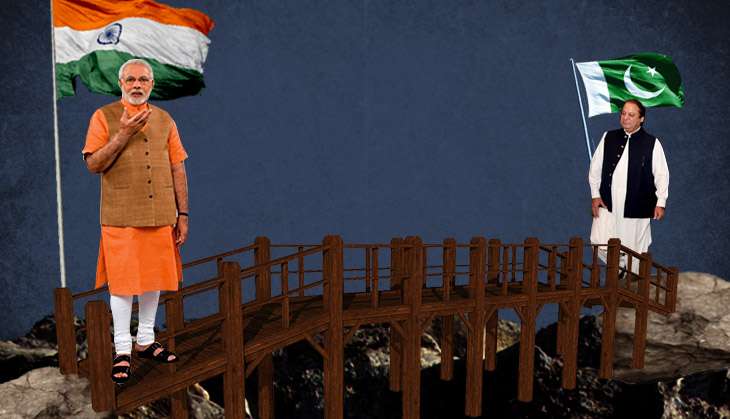 A senior policy maker pointed out that by talking up a storm about military and diplomatic options before it, the Narendra Modi government was simply following an ancient Indian war-tactic where kings would let lose their herds to create a dust storm before a battle so that the attacking army would be confused about the size of the rival's cavalry.
All this talk may keep Pakistan guessing. It also helps to buy time with his own supporters who expected a more radical response from the belligerent nationalist rhetoric they had heard from the Prime Minister and from persons in or close to his government.
It is doubtful whether the options that the government is examining against Pakistan will be able to ensure retribution of the sort that his audiences have come to expect.
Much has been made out of India trying to isolate Pakistan diplomatically. In this the Modi government seems to be becoming a victim of its own propaganda. Speeches at the UN General Assembly allowed for venting but changed precious little. Even the US, a strategic partner of India, has not condemned the Uri attack as cross-border terrorism. US Secretary of State John Kerry situated it against the ongoing violence in Kashmir and condemned terrorism in general. China is not with India on Pakistan's cross-border terror and opposed Jaish-e-Mohammad chief Masood Azhar being put on the list of wanted terrorists by the UN.
The Organisation of Islamic Cooperation (OIC) is ranged against India's human rights violations in Jammu and Kashmir. Although India has tom-tommed Bahrain and Saudi Arabia condemnation of terrorism they have not named Pakistan. Even amongst India's neighbours only Bangladesh and Afghanistan are with it on Pakistan's cross-border terrorism.
Russia, an old and tested friend does not seem to be keen on isolating Pakistan. It is conducting military exercises with Pakistan, something that would have been unthinkable only a few years ago.
So, what kind of diplomatic isolation is the Modi government talking about?
What options does India have?
Tinkering with diplomatic links is an active option before the government. Yet the option of expelling the Pakistan High Commissioner or downsizing the Pakistani diplomatic mission in India is not even on the table. A reciprocal reduction in India's mission in Islamabad would follow but at least India would have shown its displeasure by attenuating its diplomatic engagement with Pakistan. That the government was not serious about downsizing the links was evident from the fact that the Uri-Chakauti trans-border bus service functioned normally barely 24-hours after the terrorist attack. And from Tuesday even cross-LoC (Line of Control) trade has been resumed.
Violation of an international treaty on the other hand is so difficult that everyone thought that talk about reviewing the 56-year-old Indus Water Treaty was something that the media had raked up. However, the Prime Minister held a very public meeting on the issue and declared with his usual bombastic flourish, "Blood and water cannot flow together".
Yet all that has happened is that the Indus Water Commission meetings have been suspended. Statements were made that India would start using its share of water in the rivers allotted to Pakistan (Indus, Chenab and Jhelum) in the treaty to its fullest and hasten to build the run-of-the-river projects at Kishanganga and Baglihar. These actions are not prohibited in the treaty. The Indus Water Commission has been made temporarily infructuous by withdrawal of its Commissioner, that is all. India cannot and has not threatened to withdraw from the treaty.
Even as the Prime Minister is fulminating in New Delhi, the Indian Indus Water Commissioner left for Washington to attend a meeting with the World Bank on Pakistan's appeal against the international arbitration court decision on the Kishanganga project!
It is well known that no water diversion can take place overnight - dams and canals are required to do that and they take years to build. In any case, how would harming Pakistan's farmers help India achieve its goal of curbing India-centric terrorist groups in Pakistan? By hurting ordinary Pakistanis, the distinction between the people and an anti-India establishment in Pakistan is being obliterated. Shrinking the peace constituency in Pakistan does not help India.
Now, there is talk of withdrawing or suspending the MFN facility extended to Pakistan. The Most Favoured Nation or MFN facility means nothing like what its name suggests. What it means is that India will not discriminate against Pakistan in trade under World Trade Organisation (WTO) Rules and would treat it like any other nation it trades with.
Although GATT (General Agreement on Tariffs and Trade) rules allow for trade restrictions due to security considerations, the threat to suspend or withdraw MFN status means little. The total official bilateral Indo-Pak trade for 2015-16 was $2.6 billion, of which $2 billion comprised Indian exports to Pakistan. Although trade with Pakistan is only 0.4 per cent of India's overall trade worth $ 643.3 billion in the same year, withdrawing the MFN status would end up hurting Indian exporters if Pakistan suspends trade with India.
In any case, Pakistan's share in the official bilateral trade is so miniscule that it is not going to persuade its ruling classes to give up on their terrorist proxies. More importantly, the majority of those engaged in trade and commerce in Pakistan has always been in favour of good relations with India. They are a part of the peace constituency which needs to be expanded, not shrunk.
On 27 September, the government announced that it would stay away from the 19th SAARC Summit scheduled to be held in Islamabad in early November. Pakistan in any case is a reluctant player in SAARC.
Significant regional cooperation agreements in the region are already taking place outside SAARC and without Pakistan. The Motor Vehicle Agreement between BBIN countries (Bhutan, Bangladesh, India and Nepal) signed in 2014 will enhance regional connectivity after Pakistan shot down a similar SAARC level agreement earlier. A Joint Working Group is already exploring the scope of power trade, inter-grid connectivity and the possibility of setting up joint power projects between the four countries.
The possibility of a seamless movement of people, goods and vehicles and power trading coming into being between these four SAARC countries has not bothered Pakistan.
The postponement of SAARC is unlikely to have much of an impact on it except accentuating its sense of marginalisation in the region. The question then is: Will Pakistan feel the pinch of isolation so much that it would give up on terrorism as an instrument of its foreign policy?
Then there is the suggestion that India distance itself from the recognition of the Durand Line as the official boundary between Afghanistan and Pakistan; and that this will hurt Pakistan while being welcomed by Afghanistan. When successive regimes in Afghanistan, including the Taliban, have not recognised the Durand Line, India's acceptance or rejection of the Durand Line is unlikely to matter to Pakistan.
That leaves only the options of exploiting Pakistan's vulnerabilities in Balochistan, Sindh and Pakistan Occupied Kashmir and considering limited military action at timing of India's choice. On Balochistan, India has already indicated its changing posture. Backing criminal elements in Sindh, especially in Karachi, or fomenting trouble in PoK is unlikely to make Pakistan sue for peace with India. Nor will limited or low-intensity war do that.
The only way out is to wind down the rhetoric of rage, retribution and paranoia and use diplomacy to restart a dialogue with Pakistan on all issues including Kashmir.
Additionally, India must also reach out to the separatists in Kashmir and restore normalcy in the Valley at the earliest.
The Indian public needs to get out of the crisis mentality being created by keeping the cauldron of hate on constant boil. There is no need to oversimplify the complex relationship with Pakistan or make specious arguments about punishing or confusing the enemy.
Dealing with Pakistan is going to be a long haul. Modi should explain this to his followers who have been fed his ultra-nationalist rhetoric. Indian nationalism cannot find redemption in destabilising Pakistan.
There is also no need for a daily media referendum on the government's ability to do this or that. Modi is there for the next two and half years. That is ample time to deal with Pakistan in a manner that leads to the desired results.
ALSO READ
Abdul Basit summoned again by MEA; given more proof that Uri attackers came from Pak
India aims a big weapon at Pak: could pull its man from Indus Water Commission