There's a lot of anger among Bundelkhand migrants: Yogendra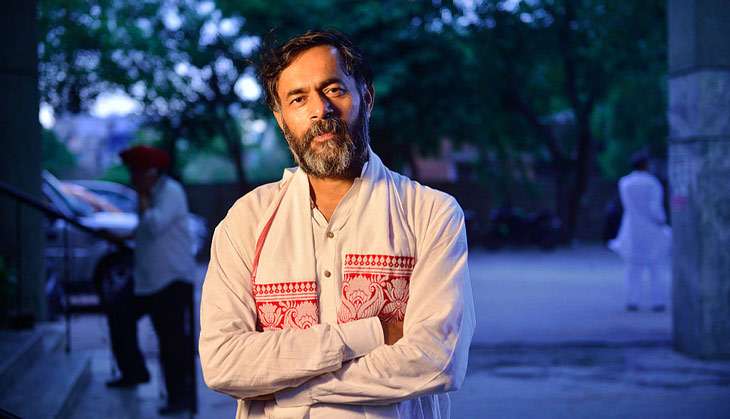 The phenomenon
Bundelkhand\'s economy depends on migrant labourers finding work in places like Delhi
This year, the number of migrants is extremely high, owing to the drought back home
The ground situation
Yogendra Yadav and his Swaraj Abhiyan recently concluded a Pad Yatra across the region
Yadav says the numbers being reported are much lower than the reality
More in the story
How the labourers are being exploited in Delhi
What can be done to improve the situation in Bundelkhand?
The Sarai Kale Khan flyover in New Delhi has become a refugee camp for drought-hit migrants from Bundelkhand.
Recently, social organisation Swaraj Abhiyan concluded its Pad Yatra to the drought-affected parts of Bundelkhand. Catch spoke to its leader, Yogendra Yadav, to get his insights into the Bundelkhand exodus, what it entails for the region's labour market, and lasting solutions to drought and migration.
Also read: Invisible tragedy: Bundelkhand is facing a famine. Where's the State?
Here are excerpts from the interview.
In the one hour that we stood under the Sarai Kale Khan flyover, we saw at least five families from Bundelkhand arrive from the nearby Hazrat Nizamuddin railway station. The numbers seem quite high. Is this an unusual influx of migrants from Bundelkhand?
The economy of Bundelkhand has always depended on migrant labour. But this year, the numbers are unusually high. Migration always happens post-Diwali. So, the fact that it's happening at this time of the year shows the desperation.
I was at Jhansi station post-Diwali last year, and it was packed with people waiting to migrate. I checked whether this number is unusual and I was told, yes, it was.
There have been two recent attempts to put a number to the migration.
A TV channel made an assessment recently that 18 lakh people migrate each year to Delhi, based on train tickets. While it may not be an accurate figure, it is definitely interesting. It doesn't include people doing stop-journeys or people travelling by other modes of transport.
Also read:Politics of hunger: Bundelkhand widow falsely accused of selling daughter
The second is an Action Aid report that is being released now, which tries to capture the numbers. Neither is accurate; the numbers are much higher.
Can you corroborate the numbers from your Bundelkhand Pad Yatra?
We have done two surveys in Bundelkhand - in October 2015 in the Uttar Pradesh part and January 2016 in the Madhya Pradesh part. Both surveys showed that the number of people migrating were much higher than previous years.
I found anecdotal evidence that these were not just agricultural labourers, but often land-owners holding large tracts. I met persons who had more than 10 acres of land.
Life is much worse for big farmers, because they cannot do manual labour in their own villages, and have nothing to fall back upon. This trend was seen everywhere.
Also read:No respite in sight: why is Bundelkhand's drought crisis only worsening?
So we can say two things: the numbers are higher than usual, and the composition is slightly different than in the past. The fact that bigger farmers are perhaps migrating for the first time is an important thing to note.
The labour market under the Sarai Kale Khan flyover has become exploitative because of an excess supply of labour. Labourers we met were promised Rs 400, but were ultimately paid only Rs 200.
Yes, it is a very exploitative situation. A glut of labour during a time when the construction industry has not expanded means it is a push factor (more labour than jobs) rather than a pull factor (job creation, and then labour arriving to do it).
The over-supply means wages will go down, and that will happen only through backdoor cheating.
There is a problem in Delhi formally accepting Bundelkhand's refugees, that this might empty their villages further. Where does the solution lie?
The solution does not lie in Delhi, it lies back in Bundelkhand. You don't want to reinforce the feeling that Delhi is the solution to Bundelkhand's problems.
First, we must provide MGNREGA. There might be arguments for and against MGNREGA, but there cannot be an argument to not use MGNREGA during the drought to provide relief, and offer some way of staying home.
Also read:He died hungry: farmer Sukhlal's death the latest blot on Bundelkhand
The second solution lies in boosting the rural economy through MGNREGA. Under the revised drought policy that has been approved, the number of man days can be increased from 100 to 150. However, this hasn't happened in a lot of areas. People we met had only gotten 20-30 days of work in an entire year.
Which districts were these people from?
The people we met were largely from Tikamgarh, but also from Mahoba, Chhattarpur and Damoh.
You see, Tikamgarh, Chhattarpur and Damoh are in the Madhya Pradesh part of Bundelkhand. Madhya Pradesh has the worst MGNREGA performance. If you compare the performance on either side of the state border, you will see a striking difference between the jobs generated in UP versus MP.
UP has improved remarkably in just the last few months, since the government is actively pushing widespread implementation of MGNREGA. However, it is a short term solution. In the long term, we have to boost the rural economy.
How do we do that?
One, through water conservation, and through educating people about its necessity. No big projects, lots of big money in small projects. Encourage producing crops which need less water.
The other solution is to give better minimum support price for dal (pulses). Bundelkhand is a dal-producing area. A better MSP would have boosted production.
The migrants hold much raw anger against the Narendra Modi government. Do you think this will translate into anti-BJP votes in the next Assembly elections in UP and MP?
I don't know. Yes, there is anger. But all this anger translates into something, provided there is an alternative. The Madhya Pradesh Congress, being what it is, is hard to imagine as an alternative.
Also read: Bundelkhand drought: Centre offers 'water train', UP says it's of no use
Some times, people can be so disgusted that they are willing to vote for anyone. We don't know if it has reached that stage yet.
Yes, this drought is worse than previous years, and yes, the Modi government and the Shivraj Singh Chouhan government put together is terrible.
Madhya Pradesh, I can say without hesitation, is the worst of three states we walked through, the others being Maharashtra and Uttar Pradesh.
Edited by Shreyas Sharma
More in Catch:
India's shame: Bundelkhand woman eats mud for 12 years to survive
Bundelkhand refugees find shelter and wait for hope under a Delhi flyover
Bundelkhand is the epicentre of drought & people don't even know it: Yogendra Yadav