Bundelkhand refugees find shelter and wait for hope under a Delhi flyover
Who and where
Thousands of Bundelkhand residents have made their way to Delhi from their drought-hit villages with hopes of finding some daily labour.
Why
With severe droughts in Bundelkhand, harvests have failed for two consecutive years making it impossible for farmers to survive.
With no compensation for crop failure and no revision in the drought policy for rural employment, families are left starving and jobless.
More in the story
Why these refugees hate Narendra Modi
The problems these refugees are facing in Delhi
It is half past seven in the morning at Delhi's Sarai Kale Khan bus stand. Despite the usual bustle of cars, buses and train sirens echoing at a distance, there is an unusual pensive quiet.
If you look past the criss-crossing pedestrians and the clouds of dust, you will spot hundreds of men, women and children sitting on their haunches next to their belongings, faces empty of expression.
They sleep where they wait and wake up and wait some more. The flyover has turned into a permanent shelter for Bundelkhand's drought refugees who are waiting in quiet desperation for work that pays.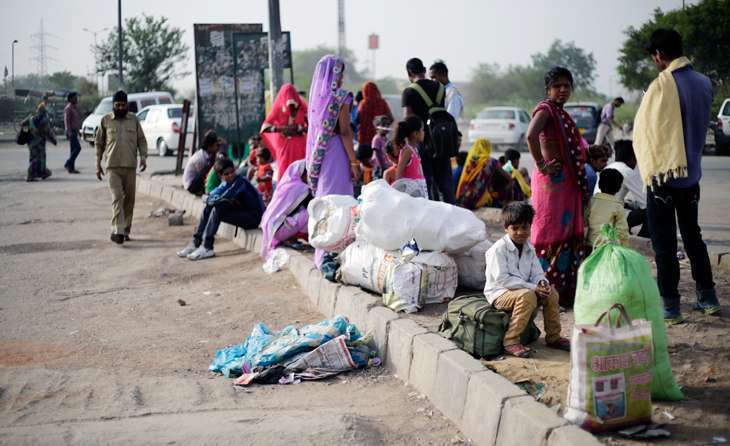 Vikas Kumar/Catch News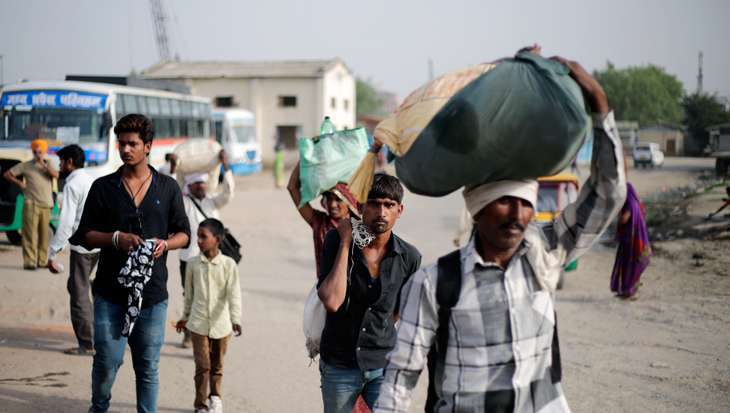 Vikas Kumar/Catch News
Bundelkhand's refugees
Yamuna Das is 55. He sits on a plastic sheet like hundreds of others, and waits for his first roti to be served to him. His wife Kamla, kneads a dough to prepare the first of the two meals they will get to eat for the entire day.
It's been four days since Das and his family left their home at Bundelkhand's Tikamgarh district. They owned just two bighas of land in which they had sown wheat. But spring and winter harvests have been failing for two consecutive years.
To make matters worse there were hardly 30-days of work they got as a family under MGNREGS which promises a minimum of 100 guaranteed work days annually per family and 150 guaranteed work days in drought-hit districts.
Lack of compensation for crop loss and no revision in the drought policy for rural employment trickled into Das's household.
Eventually they were forced to make a choice between sleeping hungry at Tikamgarh or heading to Delhi. Having visited Delhi earlier once and having worked as a mason for a constructor, Das picked the known devil.
So Das, Kamla, their son Bablu, Bablu's wife and kids crammed into a sweaty unreserved train compartment at Tikamgarh and reached Nizammuddin station.
Then they walked to the Sarai Kale Khan flyover, spread out this plastic sheet. And they have been waiting since.
"No contractor has come so far. We'll wait some more. If we find no work we'll move to Gwalior or Agra," says Das.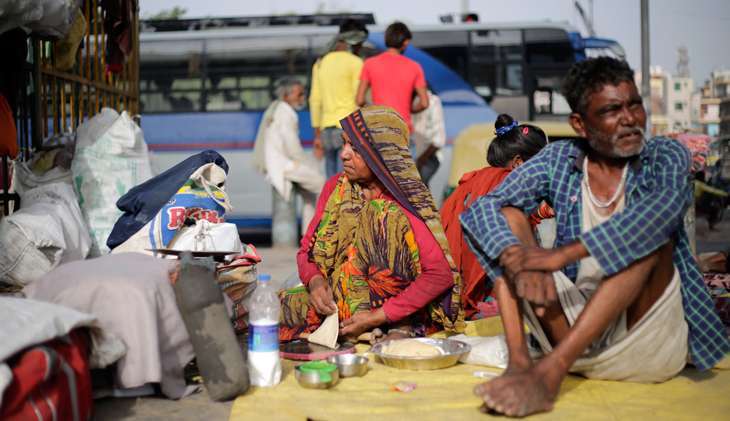 Vikas Kumar/Catch News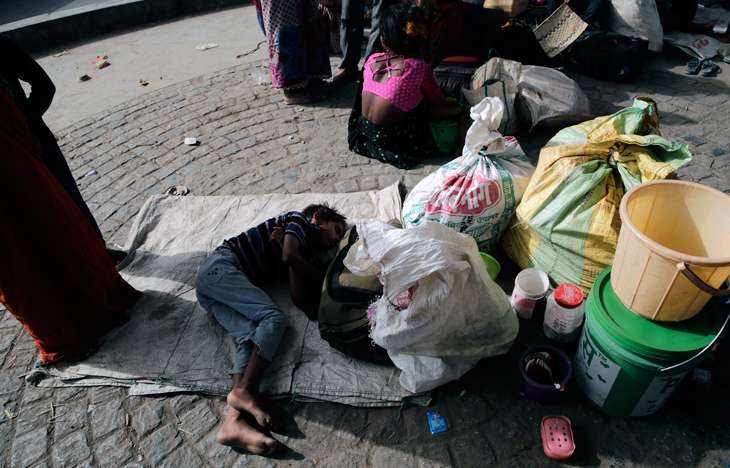 Vikas Kumar/Catch News
The exodus
In early April, a news report by News 18 said that at least 18 lakh people migrated out of Bundelkhand to Delhi between April 2015 and March 2016.
The research was based on the sale of unreserved compartment train tickets in Delhi-bound trains from Bundelkhand's ten major drought hit villages. The figures translated to about 10% of the population of Bundelkhand.
The following figures were reported:
Atarra - 99,294
Banda -1,03,567
Jhansi - 7,45,968
Mauranipur - 66,939
Mahoba - 2,88,313
Khajuraho - 1,71,852
Kulpahad - 28,920
Harpalpur - 17,0821
Manikpur - 54,657
Chitrakoot - 61,452
These figures included both first-time migrants and those returning to Delhi, like Das, to look for work.
Experts believe that 18 lakh is still a modest figure and doesn't include children, those boarding from other stations, those without tickets and those who travel by bus and other modes of transport or via local labour contracts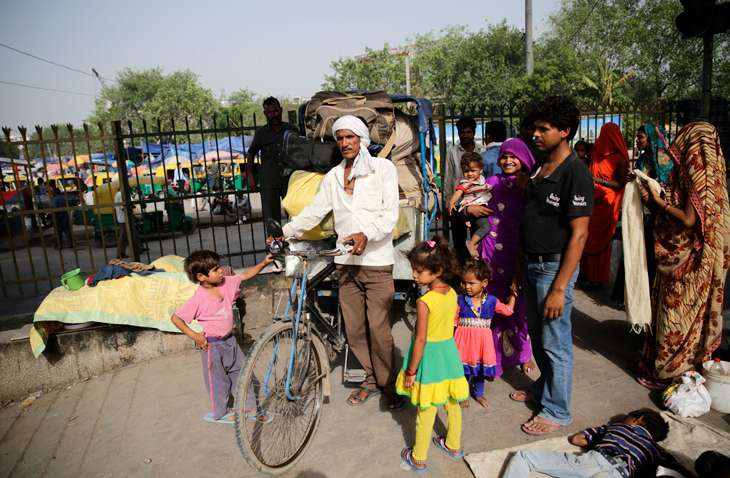 Vikas Kumar/Catch News
"When I was in Jhansi the station was teeming with people standing in queues to book their tickets in Delhi-bound trains. Migration is common to Bundelkhand's economy, but only after Diwali. To move to Delhi at this time of the year only shows that this drought has affected people like never before. The figures of migrants would be far higher than 18 lakhs if a proper study was conducted," says Yogendra Yadav, co-founder of Swaraj Abhiyan in an interview to Catch. Yadav recently returned from a Pad Yatra to Bundelkhand.
Yadav also found something else. "It isn't just the poor landless labourers who have moved. The ones who are equally crushed are land owners owning rather large land holdings, who have too much pride to work as daily wagers in their villages. They make their way to cities and hunt for manual wage labour," he said.
Bastion of anger
Poonam wakes up at 4 AM in the morning. She has to wake up to go use the toilet at the maidan nearby before others do it.

"We don't have money to pay to go to use the public toilet," says her husband Santosh. For Poonam, Santosh and their three kids, toilet expenses would alone cost Rs 600 a month.

For these drought refugees, a public tap and the railway station serve as watering holes. Most just drink water for breakfast and wait for Gurudwara volunteers to come serve them langar. And each day they hope to find work instead and not just sit in the queue, waiting.

"With the Congress in power we earlier used to have MGNREGS, we would get crop loss compensation and we at least had food and water. Modi sarkaar has crushed us totally. We are beggers

today

stripped of dignity," says Rakesh who arrived with his wife and kids from Bundelkhand's Tikamgarh district just eight days ago.

When Rakesh talks his lower chin hangs loosely. Diagnosed with a severe thyroid deficiency he was prescribed medicines worth Rs 5,000 for three months. When he couldn't afford them, the doctor recommended him to go for a surgery that would cost Rs 25,000. He clearly cannot afford it.

Rakesh has stirred a hornet's nest at the traffic signal. People circle in swearing and abusing Modi.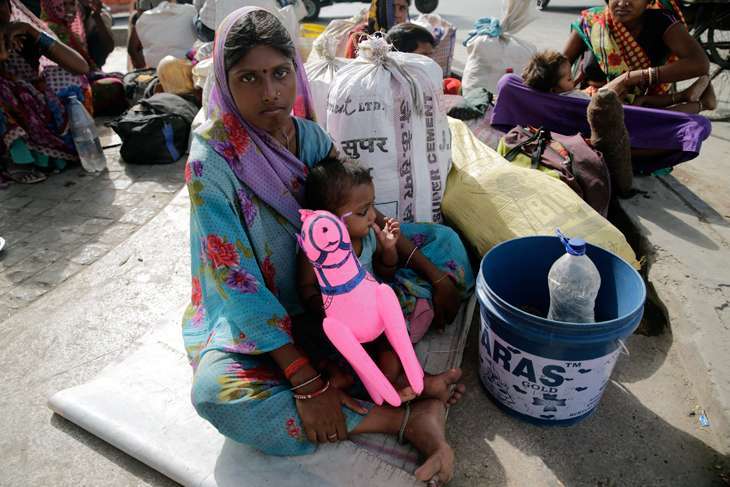 Vikas Kumar/Catch News
"When a PM is always roaming around abroad what can the f****r understand about the plight of the poor? If he cares enough ask him to come spend a day with us," dares Santosh from Bundelkhand's Chhattarpur district.
"We will make sure that the BJP is voted out of power. Anybody else but not the BJP," says Rakesh and there is furious agreement from all around.
Falling through the cracks
Rakesh Aharwal is from Bundelkhand's Damoh district. "Not a g but an h in Aharwal. Also not a u but an o in Damoh," he says, pointing the errors in my notes.
"I passed my class 12 with a second division. But look at where the education system has placed me. Find me a job. I'm willing to do anything," pleads Aharwal who moved with his wife, three girls and two boys to Delhi a few days ago.
While he does find work every other day the contractors exploit the desperation of several like Aharwal.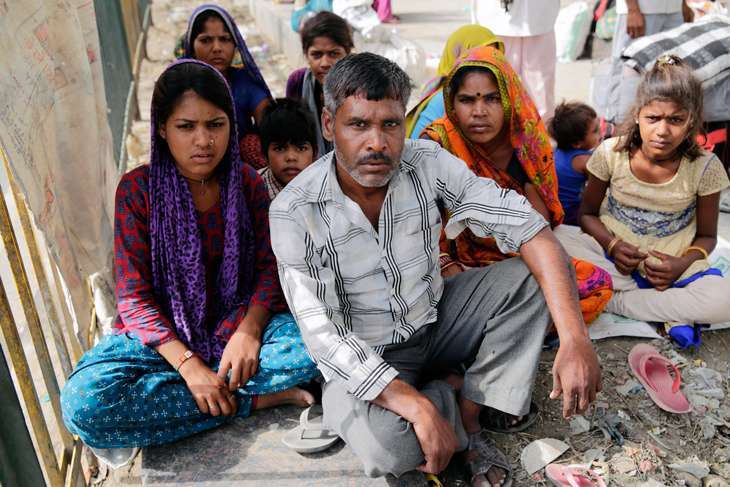 Vikas Kumar/Catch News
"They promise Rs 350-400 a day but end up paying us only Rs 200 a day. We take it because there is nowhere else to go," he says.
"There is no doubt that desperation is being exploited. But the solution cannot be from Delhi. We need to fix things back in their home so that they are not forced to leave," says Yadav, pointing to solutions like improving the reach of MGNREGS and boosting the rural economy.
What makes it worse is that migrants like Rakesh don't have a single Delhi-based identity card to avail government support like ration.
Aharwal complains that without id he can't get access to a sim card which is essential to put out a word to potential contractors that you are available for work in Delhi and outside.
The children of these refugees are not allowed to attend the neighbouring government schools and at least be fed a hot mid-day meal. Illiteracy and malnutrition is rampant making the environment under the Sarai Kale Khan flyover ripe for child labour and begging.
Hope floats
A rickshaw enters the settlement under the flyover. Mahesh Guha is dressed in jeans and a fitting t-shirt. He stands confidently and instructs the rickshaw walla to pile all his belongings and take it to the bus stop.
"I'm off to Leh with my family. I've gotten work for six months," he says busily, not without showing off.
Guha is perhaps the only unmistakably beaming face under the flyover. He says the 'contacts' he made helped him fetch this offer. Also one gathers, perhaps the fact that he is a man of many skills. He can do masonary, plastery, polishing, cutting and laying tiles and some plumbing work as well.
His contractor has promised him Rs 500 a day. His wife Teeja , who has two small kids, will also earn at least half by helping at the construction site.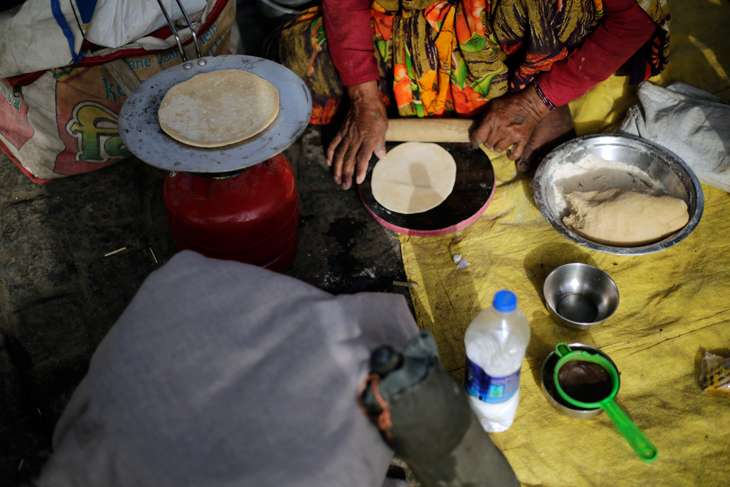 Vikas Kumar/Catch News
"This is our first time to Leh," says Guha explaining that they will be on a 38-hour bus journey from Delhi.
Teeja stands next to him in a purple chiffon saree, barefoot but for her cheap stone studded anklets. When asked if she has warm clothes and shoes for Leh, she smiles and says, "We'll figure it out. We'll get off the bus and get whatever we need," she says with abandon as the family walks away towards a slightly better life, at least for now.
Edited by Jhinuk Sen
Also reads:
Invisible tragedy: Bundelkhand is facing a famine. Where's the State?
Politics of hunger: Bundelkhand widow falsely accused of selling daughter
Bundelkhand drought: Centre offers 'water train', UP says it's of no use