Bundelkhand is the epicentre of drought & people don't even know it: Yogendra Yadav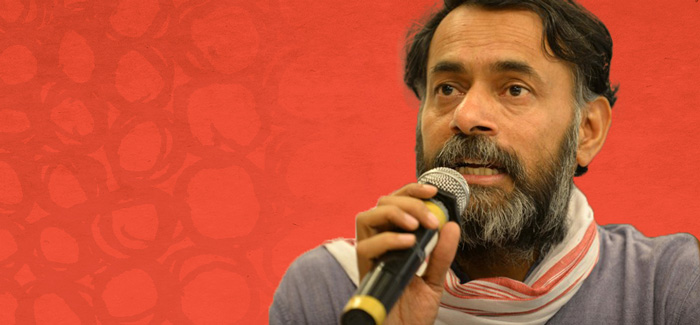 The tragedy
The Bundelkhand region is reeling from a third successive drought
Yogendra Yadav, just back from a visit, says it\'s worse than in Marathwada
40% villagers haven\'t had dal for 30 days, 60% can\'t afford kids\' milk
The response
The state and central government response has been indifferent, says Yadav
Most farmers who lost crops in March are still awaiting compensation
They\'re being told to repay loans \'while corporate debts are restructured\'
Social scientist-turned-politician Yogendra Yadav has just returned from a visit to the drought-affected Bundelkhand, a region spanning 13 districts in Uttar Pradesh and Madhya Pradesh.
It was his third visit to drought-hit regions of the country. In October, he had toured seven states, and in November he carried out an "additional survey" in Bundelkhand.
Read- Uttar Pradesh: with 3 consecutive droughts, Bundelkhand on the verge of famine
The visits were under the flag of Swaraj Abhiyan, which he co-founded last year after splitting from the Aam Aadmi Party. Unlike AAP's anti-corruption theme, Yadav and the Abhiyan have made the welfare of farmers their central concern. While the Abhiyan does not yet call itself a political party, Yadav says it's a political body, which may be preparing to become an "electoral force".
In this conversation with Catch, Yadav describes how the Bundelkhand drought, which he says is worse than that in Maharashtra's Marathwada, is fast turning into a humanitarian crisis. Scarcity of food and drinking water risks the lives of both villagers and farm animals.
On the larger issue of the neglect of farmers, Yadav talks about how farmer politics is fragmented and why organising them under a single banner is "one of the most significant things waiting to happen in Indian democracy".
NG: You have travelled across several drought-affected regions. What made you go back to Bundelkhand?
YY: As we travelled in what we called Samvedna Yatra across the most severely drought-affected districts of the country, it became clear that the epicentre was not what people believed it to be, namely Marathwada. The epicentre was Bundelkhand. Access to rain in Marathwada was perhaps worse and the water table had dipped much lower. But it's in Bundelkhand that the drought appeared to be turning into a famine.
There was a distinct possibility, a distinct threat, which was clearly visible. The rainfall was quite deficient but what made it so devastating was that the drought came on top of two previous crop failures. The kharif crop of 2014 had failed because of drought, while the rabi crop of 2015 had failed because of hailstorms or excessive unseasonal rain. And this was the third successive failure.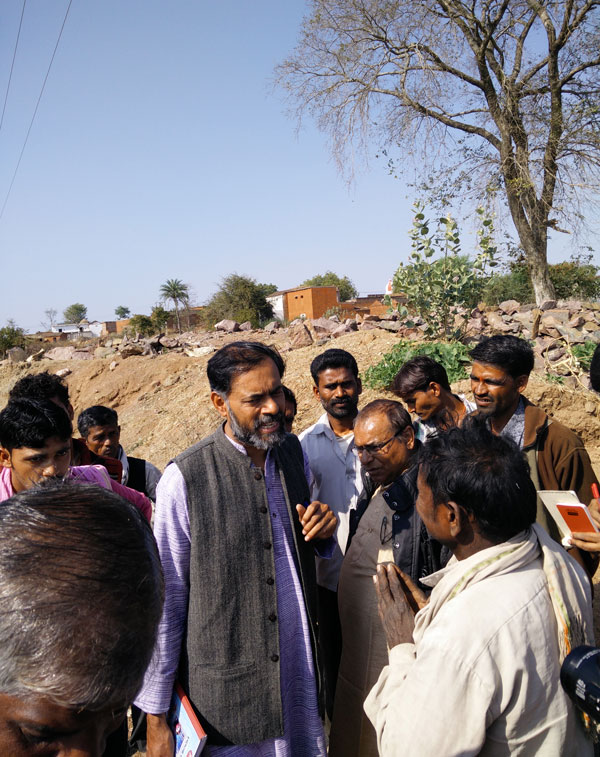 So, farmers were already depleting their stocks. The social infrastructure and capacity to bear something like this was so low to begin with that this region, more than any other place in the country, posed this challenge. That's why we went back in November to carry out a survey. We did that mainly in the Uttar Pradesh part of Bundelkhand, where we thought the situation was much worse.
We requested Jean Dreze to join and help us design a scientific survey which we carried out in November. And the results were quite depressing.
NG: What did you find in the survey?
YY: The media highlighted the mention of fikaar, or ghaas ki roti. But that was not the central finding of the survey. For me, the worst part was that 40% of villagers in Bundelkhand said they had not consumed dal for 30 days, 60% had not been able to offer milk to their children, 40% rural households had been forced into 'distress sale' of their animals.
About a quarter of them have had to pawn their land, an equal proportion have had to pawn their ornaments -- all in the last one year. This confirmed our suspicion that it could be a bigger tragedy unfolding than anyone was willing to acknowledge.
Towards the end of December, there were again reports about the situation turning grimmer, and I felt we must revisit this place and take a closer look.
NG: Most people in Bundelkhand say this is the severest drought they have witnessed in a long time. Do you think the state's response has been adequate?
YY: When people say this is the biggest drought, it may seem incorrect to those who go strictly by meteorological data, which shows the country has see bigger droughts in the past. Bundelkhand has, going strictly by rainfall data, seen worse droughts than this. But because this comes on top of a series of rainfall-deficient seasons, it's the last straw on the camel's back.
And we are witnessing multidimensional distress - there is non-availability of irrigation water, serious shortage of drinking and household water, and an almost water emergency for animals. There is fodder crisis and people are forced to sell animals, to just leave them, to just let them off.
Then, there is a crisis of purchasing power as there are no employment avenues. This has led to an exodus of the poor seeking employment opportunities outside Bundelkhand, which in turn has led to touts and middlemen squeezing them more than ever before.
Drought is a very unglamorous tragedy - no footage, no blood, no breaking news: @_YogendraYadav
In some cases, fall in labour demand and in labour rates due to excess labour supply has forced some of them to return to Bundelkhand, to no employment in any case.
There is also a crisis of indebtedness. Farmers are unable to pay their outstanding loans. The loans they had taken for this crop has sunk. And institutions are not willing to lend them money just when they need it the most, so they go to private moneylenders who charge rates that an urban audience can't even imagine. Interest rates of up to 60% per year are not unheard of.
So, this is the multidimensional crisis that we are witnessing in Bundelkhand now.
The trouble is that drought is invisible. That's because drought is a very unglamorous tragedy -- no footage, no blood, no breaking news. And no touching stories involving the well-to-do, since most touching stories are those where the reader feels he or she could have been in their place. That's why drought doesn't make for touching stories. The victims of drought are so distant from our social universe it's difficult to empathise with them.
NG: Have the governments, state and central, responded adequately?
YY: Of course, not. Their response has been indifferent to say the least. That we were headed towards a drought was quite clear by the middle of August. It was officially confirmed on 30 September, the last day of the monsoon. Yet there was no action planned by most state governments till the end of the year or at least the end of November.
Most states were reluctant to even declare drought. Madhya Pradesh declared drought earlier, but Uttar Pradesh did not till late November. The water crisis was quite clear. There were some attempts in UP to improve hand-pumps but I don't think there was a similar attempt in MP.
Also read- Terror attack: 50% of India is reeling from drought. Here's the impact at a glance
The cattle were being let loose on a massive scale in the second week of October when I was travelling through UP. No one was even aware that millions of cattle were being let loose. I remember it was such a shocking sight. No one knew this was happening.
The real need for MGNREGA had begun by the end of July or early August. Actually, it had begun in April when the previous crop had failed. And for 7-8 months, the government did not do anything. It has just started in UP, but still not in MP. In UP too, it has started selectively and partially.
The governments knew in April that crop compensation to the farmers was a crying need. Yet, UP is still to compensate the farmers for the damages they suffered in March. MP has been swifter and more responsible on this count.
Anyone who understands our rural economy knows that farmers are in no position to pay back their loans, or even electricity dues. But governments are demanding it, and even penalising defaulting farmers. This when they are offering restructuring packages to all big corporates in the country.
The gross mismatch between the nature of the crisis and the nature of the state's response should make us hang our head in shame. And to re-think democratic theory.
NG: Uttar Pradesh is going to polls in 2017. Do you see a point when the people you met during your visit would say that they won't re-elect their leaders because they have not taken charge of the situation?
YY: This is the tragedy of farmer politics. And this is why I spoke earlier about revisiting democratic theory. Democratic theory has often wondered how minorities, especially microscopic minorities, can have a voice in democracy. There is no clear answer to this. But here an overwhelming majority does not have a voice. Their most elementary need goes unrepresented and unfulfilled.
This is because while every political party needs the votes of the farmers, they know they are not going to vote as farmers. They vote as Yadavs, Jats, Thakurs, as something else. Simply because there are over 50% farmers in the country does not mean they control 50% of the votes. Unless the farmers are mobilised to foreground themselves as farmers over and above everything else, this paradox will remain.
Govt penalises farmers for not repaying loans while restructuring corporate debts: @_YogendraYadav
The difficulty in creating farmer politics is that farmers are fragmented. First, they are fragmented along the very deep geo-climatic diversity of India. A jute farmer of Bengal has absolutely nothing in common with the Bajra farmer of Rajasthan or the plantation worker in Kerala. They live in different universes altogether.
Second, there is a class divide. Rich farmer's politics and the marginal farmer's politics are very different. And the landless worker is often in contradiction to them. So, bringing all of them together is not easy.
Third, there is a regional divide. Then there are caste and religious divides.
Finally, since agriculture is a state subject, agricultural policies are fragmented along regional and state lines. So, in a sense, farmer politics is constantly, routinely fragmented. Bringing it together in the form of a farmer politics is really a challenge. But unless this happens, political parties don't need to care for farmers.
NG: Do you see yourself taking part in this 'farmer politics'?
YY: Yes, of course. For us, it's very consciously a part of creating farmer politics. Creating farmer politics is one of the most significant things waiting to happen in Indian democracy. Therefore, bringing farmers together to represent their collective interest is a crying need of the hour. I believe that politics is yuga dharma, a duty, so doing farmer politics is very much a duty.
Read more- Total Recall: how the match is fixed against Indian farmers
For us in the Swaraj Abhiyan, we started Jai Kisan Andolan even before the drought yatra. We marched to the parliament in August under the banner of the JKA. We have already brought several dozen farmers' groups together on the platform of JKA. And we are exploring the possibility of bringing farmers from all over the country together on the questions of crop compensation, on crop insurance - which is a fraud on farmers - and on the larger question of farmers' income.
So, in that sense, we are very much into farmer politics except we hope that we don't do shallow politics, which is of one party blaming the other for the distress of farmers. We hope it's deep politics.
NG: Which would include electoral politics?
YY: In Swaraj Abhiyan, we have not for a moment said we are an NGO, which is away from politics. From day one, we said we'll look for alternative politics. Alternative politics should include electoral politics as well, although I hope alternative politics is not limited to electoral politics.
So yes, anyone who wishes to unite farmers must have an ambition to create an electoral force which makes farmers' views matter in national politics. But this should be done only after considerable preparation - organisational and ideological.
More in Catch:
95% of MP's drought-affected farmers are angry with their govt. Here's why
AAP emerges as a serious contender for Punjab assembly polls
Forest Rights Act is being diluted. What does that mean for millions depending on forests?
No booze is good news?: CM Chandy on prohibition, elections & more