Terror Central? why arrest of 'ISIS India chief' puts Thane under the lens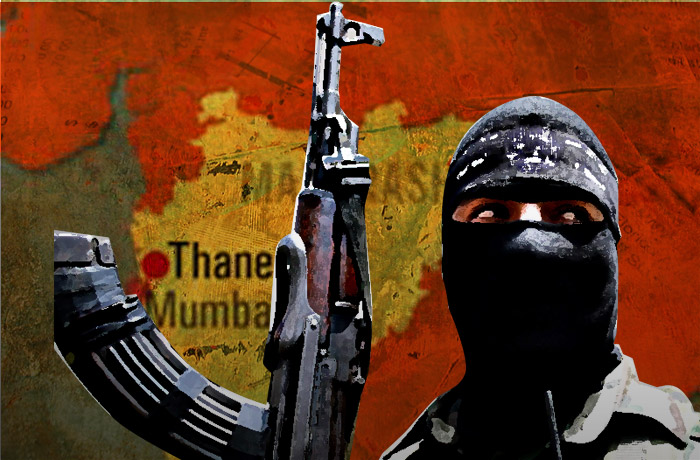 The arrest of over a dozen alleged ISIS operatives on 23 January has returned Thane district under the spotlight for its "terror connection".
In early morning raids across Maharashtra, Andhra Pradesh, Karnataka, Delhi and Uttarakhand, the National Investigation Agency Saturday arrested at least 15 men who had allegedly been persuaded by the ISIS to carry out attacks in India.
In Maharashtra, the raids were conducted in Mumbai, Aurangabad and Thane, and led to the arrest of three men. They have been identified as Mohammed Hussein Khan, 36, of Mazgaon, Mumbai; Mudabbir Sheikh, 35, of Amrut Nagar, Mumbra; and Imran Pathan, 26, of Vaijapur, Aurangabad.
Also read - How many Indians have joined Islamic State so far?
They were later produced in court, which sent them to three days transit remand. NIA sleuths said they would now take them to Delhi for "further investigations".
Sources in Maharashtra's Anti Terrorism Squad, which was involved in the raids, claimed the three men had links with the ISIS. Mudabbir, they alleged, was in fact the "commanding officer of the 14-member ISIS branch in India".
"He was actively involved in brainwashing gullible youth from financially weaker sections of the Muslim community in order to recruit them for ISIS," the sources said.
"He systematically radicalised them by sending them literature on the ISIS and what it was doing across the world. He would provoke them to join the terror outfit."
Mudabbir is a commerce graduate "with a certificate in computer science", the ATS sources said. He was staying in Flat 404 of Reshma Apartment, in Amrut Nagar. He had quit his job as a software developer with a company in Goregaon in 2013 "because the work schedule didn't allow him to offer prayers five times daily".
Mudabbir spent all his time in this flat and only went out to pray at a nearby mosque, the sources said. He was "always glued to his laptop, chatting with youths, mainly from Ahmedabad and Hyderabad".
NIA sleuths were "alarmed after checking his conversations in several chat rooms on the internet". In these chats, the sources said, "he was referred to as Nayeb, which means deputy". He also allegedly frequently mentioned Abu Bakr al Baghdadi, the leader of the ISIS, in these chats. The sources alleged that he "was in constant touch with Baghdadi over VoIP calls".
Mudabbir is said to have come in contact with the ISIS in 2013 while searching for online jobs for web designers. They radicalised him, and he soon "rose to become the recruiter and leader of the ISIS in India".
In 2015, four men from Thane joined the ISIS in Iraq. One of them, Arif Majid, has since returned
"He was in contact with youths form Delhi, Hyderabad, Uttarakhand, Karnataka as well as with some people from Iraq," the sources said.
Having been alerted to Mudabbir's "suspicious activities", the NIA put him under surveillance about six months ago. "We were tracking his every move online as well as his activities in Mumbra," a senior ATS officer said.
"He rarely came out of his house except to offer prayers, five times a day," the officer added. "He did not speak to anyone in the neighbourhood or at the mosque. He would simply go to the mosque after the azaan, offer prayers and return home."
"We arrested Mudabbir after getting concrete evidence against him and 15 others across the country."
On terror radar
Mudabbir is the fifth person from Thane district to have been arrested for association with the ISIS. Fasaj Sheikh, Aman Tandel, Saeem Tanki and Arif Majid had gone to Iraq to join the terror group last year. The NIA has since brought Arif back, while the others are still there.
Indeed, the district has repeatedly come under the spotlight for "terrorist activities" since the 1993 Mumbai serial blasts.
Also read - ISIS and its ideology: Does India need to worry?
Soon after the 1993 blasts, the police had found 2,830 kg of RDX allegedly brought for the attacks from Mumbra, and arrested one suspect Ahmed Afroz.
Abu Hamza, an accused in the parliament attack was arrested from Thane in June 2012.
Three Maruti Wagon R cars used in the Ahmedabad blasts of July 2008 were procured from Navi Mumbai.
Mumbra is becoming epicentre of terror activities. We better be alert, says ex-officer, Crime Branch
Two alleged Lashkar-e-Tayyiba operatives, Razak and Rasheed, were arrested from Talasari village in the district soon after the 2008 Mumbai attacks.
Indian Mujahideen operatives had sent out emails taking responsibility for the December 2010 Varanasi blast from Vashi.
Ajmal Kasab and his accomplices had entered Mumbai through Dahanu in Thane.
"The list of such incidents is long and alarming. Apart from this, we had arrested Jungli Pathan, a Pakistani who was living illegally in Thane. Also, five people with terror links were arrested from Ghansoli, Kalamboli and Koparkhairnane in Navi Mumbai. Ken Heywood, a foreign national was arrested from Navi Mumbai. He was illegally living here," said a police official attached with the Thane ATS.
"All these instances only underline that Thane is the preferred hideout for anti-national elements to strike in Mumbai."
Also read - This former ISIS hostage has an unexpected message: don't fear the ISIS
"Thane city and adjoining areas should be under constant surveillance of the security agencies if we want to keep Mumbai and the rest of the country safe from terror activities," the official added.
The official pointed out that rapid and uncontrolled urbanisation has made Thane a security nightmare.
"Thane district's proximity to Mumbai and rapid urbanisation are the key aspects which help anti-national elements operate discretely from towns like Mumbra, Kalyan, Navi Mumbai, Bhivandi and Mira Bhyandar. The district is their preferred destination since the real estate rates are still within reach of middle and upper middle classes," a retired officer of Crime Branch, Thane, said.
"Anti-national elements take advantage of the situation. Posing as software professionals, they rent houses in these towns and start their activities," the officer added.
"This is a real cause of concern. Mumbra is rapidly becoming the epicentre of terror activities in the country," he said. "We better be alert."
More in Catch - Delhi University graduate wants to join ISIS, father seeks NIA help
3 men fleeing to join Islamic State arrested from Nagpur airport
Suspected Al-Qaeda terrorist arrested from Cuttack reveals shocking details