SIMI encounter: How media wrongly labelled undertrials as 'terrorists'
MP Police and ATS killed 8 men Monday after news of a jailbreak
The deceased, alleged SIMI members, were all undertrials
Several newspapers however branded them 'terrorists'
When eight undertrials were shot dead in Madhya Pradesh on Monday, the media sat up and took notice. As it should have had. But then, somewhere down the line, a section of the media dropped the ball.
The coverage started early, with the news of the eight alleged members of Students Islamic Movement of India killing a guard at Bhopal Central Jail and fleeing. Soon, there was news about a police team on hot pursuit who tracked them down to a forested area quite a few kilometres away from the jail and shot them in an 'encounter'.
ALSO READ: SIMI encounter: a simple graphic to show the gaping holes in the police story
By evening, however, there were video clips and reports floating around that suggested the encounter was staged (something that isn't uncommon in India).
ALSO READ: SIMI shooting: Here's India's track record when it comes to fake encounters
Soon social media was abuzz with whether it was an encounter, a staged encounter. By the time for 'Prime Time News' there was enough masala for the day with claims and counter-claims by political parties.
ALSO READ: Opposition parties demand judicial probe into SIMI encounter, BJP miffed
Needless to say the media was excited, as it should be. But what many seemed to have forgotten was who the eight were. Either that, or this section of the media chose to shrug off their journalistic responsibility to align with a narrative offered by the State.
ALSO READ: Dead men walking: the SIMI encounter was about more than just a jailbreak
The octet shot dead were UNDER TRIAL. None of them were convicted of crime. They faced serious charges - murder, robbery, sedition, jailbreak and they allegedly belonged to SIMI, a banned organisation. But all that didn't make them criminals, for they were not convicted. But a section of the media has declared them 'terrorists'.
Now, the job of a journalist is undoubtedly a high-pressure one and lapses are understandable. Some initial errors are understandable as not all information was available. But even if those were mistakes, many media houses left them uncorrected. As a result several newspapers went to print proclaiming the dead as 'aatankis' (terrorists).
Leading the pack is Dainik Jagran, a brand which takes pride in being the 'world's largest-read newspaper'. 'Eight terrorists who fled Bhopal jail killed' read its headline, plastered across six of its seven columns. A double-column space on the right hand was made into a gallery for short bios of 'The terrorists who were killed'.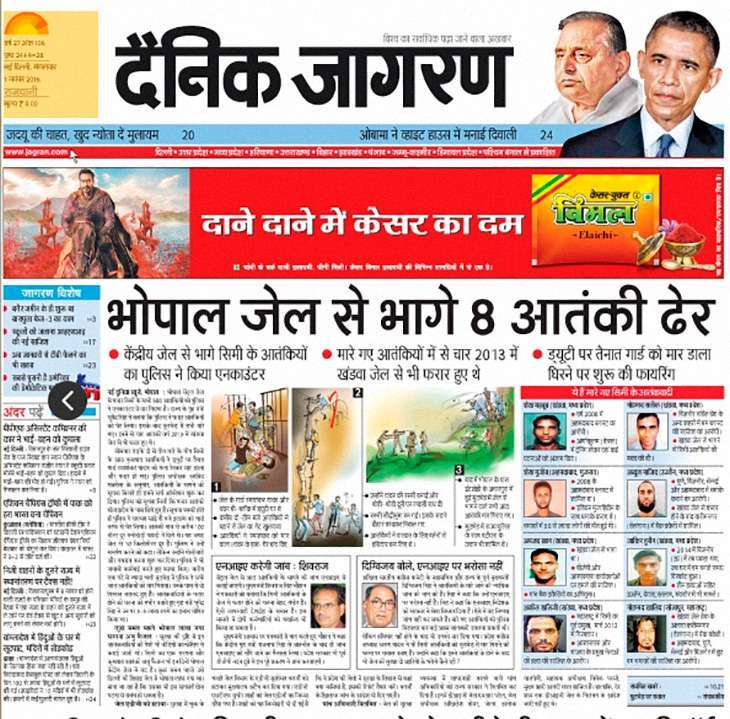 Not to be left behind, Dainik Bhaskar (which would like you to believe you read the most-trustworthy and 'No.1' newspaper,) has this to say: 'In 8 hours police and ATS kills all terrorists and take revenge'
.
It claimed this was the first such instance of 'terrorists' being killed in such short time after taking to their heels.