North East is a hub of small arms. And they are coming in from abroad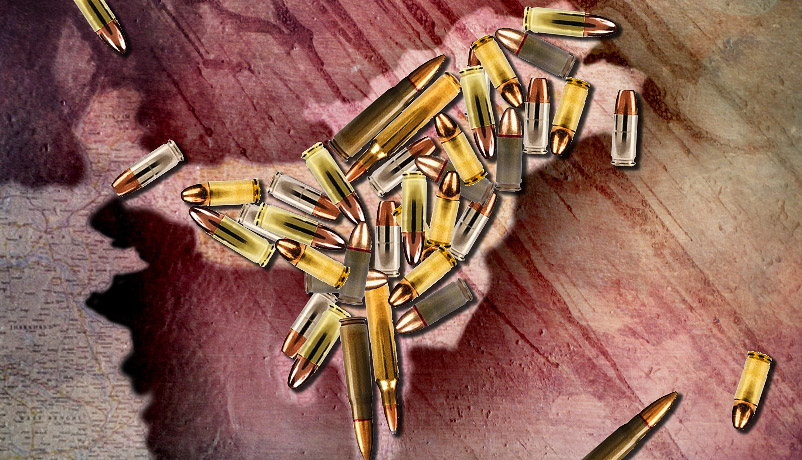 At risk
Illicit small arms have proliferated West Bengal, Bihar, UP and all northeastern states: NIA probe
People\'s Liberation Army may be helping CPI (Maoist) procure foreign-made arms
More in the story
Where are these coming in from?
As many as 11 states in India are affected by proliferation of foreign-made illicit small arms, according to an National Investigation Agency (NIA).
An official in the Union home ministry said small arms in varying quantities were found in West Bengal, Bihar, Uttar Pradesh and the northeastern states. And they made their way in from neighbouring countries.
The official said pistols and assault rifles were the most easily available. "Small arms of various kinds are supplied from hubs in Myanmar, China, Thailand and south east Asia."
Also read: Terror Attack: 50% of India reels from drought
What are small arms
According to the United Nations, small arms can be defined as "man-portable lethal weapon that expels or launches bullet or projectile by the action of an explosive."
Small arms are man-portable lethal weapon that launches bullets through explosives: UN
Also read: Why is BJP backing an outfit inspired by Mussolini
Any weapon designed for individual use fits this description. That includes revolvers and self-loading pistols, rifles and carbines, sub-machine guns, assault rifles and light machine guns.
According to another definition, any firearm that can be fired by the hand and whose caliber is below 12.67 mm is called a small arm.
In the past few decades, several consignments of weapons have been seized from the North East.
Interrogation of gunrunners indicate there are several stake holders including
criminal gangs

a section of the Army in the neighbouring countries
Following the trail
According to intelligence reports, the south-western Chinese province of Yunnan has emerged as a hotspot for these weapons since the mid-1990s. Factories in Myanmar also manufacture assault rifles and pistols, after importing components from China, a source said.
This hasn't stopped despite the Indian government taking up the issue with China and Myanmar.
Investigation by this author revealed two main routes in the North East for transporting these weapons: One starts in Moreh, Manipur, and roughly follows National Highway 39, touching Imphal, Kohima and Dimapur.
The other route is more active now and starts in the hilly frontier of Mizoram's Champhai and passes through the southern districts of Assam. In February, two Myanmarese were apprehended in the district with weapons.
Also read: ISIS and its ideology: Does India need to worry?
The more the weapons move in away from the border, the more they cost: If an AK-56 assault rifle costs about Rs 4 lakh in Moreh, by Dimapur, the cost goes up to Rs 4.5 lakh. Middlemen and militant outfits take commissions from dealers.
Worrying alliance
The NIA has started forming an inter-state grid to gather information on the illicit trade, home ministry officials said. "This is the first step towards curbing the menace. The grid is expected to yield details about routes, hubs and agents engaged in the trade and also assist in seizure. The system will be put in place within six months," an official said.
Whether the banned CPI (Maoist) has been receiving weapons from abroad will also be assessed, another official said. The party had tied up with People's Liberation Army of Manipur in 2008 for procuring weapons.
There is evidence of cadres from these outfits visiting each other's camps in Chhattisgarh and Myanmar. Several PLA cadres were arrested after the NIA was asked to probe the linkages between the two outfits.
Also read: Indians lost $28 billion to cybercrime last year