Anup Chetia is out of jail. What does that mean for India?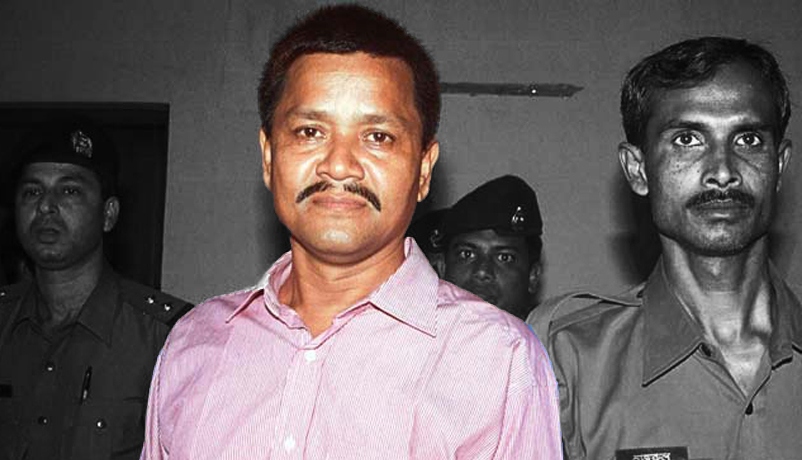 After liberation
Ulfa General Secretary Anup Chetia released from Bangladesh jail after 18 years
Chetia is expectd to back chairman Rajkhowa in talks with Centre
Willing Centre
MoS Home Kiren Rijiju recently said talks will be taken to logical conclusion
Most Ulfa demands already met by govt - sources
More in the story
What will Chetia\'s inclusion mean to the talks
Who will benefit politically if the talks are successful
United Liberation Front of Asom (Ulfa) General Secretary Golap Barua aka Anup Chetia has finally been released from a jail in Dhaka after 18 years.
His wife and daughter returned from Bangladesh last year. He was arrested in 1997 soon after he returned from Geneva, where he had gone to make a case before a United Nation agency for the independence of Assam.
Now Chetia is expected to support and participate in the peace talks between the pro-talks ULFA faction, headed by Chairman Arabinda Rajkhowa, and the Centre. The talks started in 2011.
Chetia's engagement will give the peace process more legitimacy. He will join other senior and middle-rung leaders who have thrown their weight behind the exercise for a negotiated settlement deemed extremely essential to protect the identity and interests of the indigenous communities in Assam against the unabated illegal influx from Bangladesh.
Ulfa Chairman Arabinda Rajkhowa backs talks with Centre; Chetia is expected to support the talks
Among their major demands is a grant of Scheduled Tribe status to six communities in the state. That would entail reservation of seats in the Assembly and also provide other safeguards.
Bonus for BJP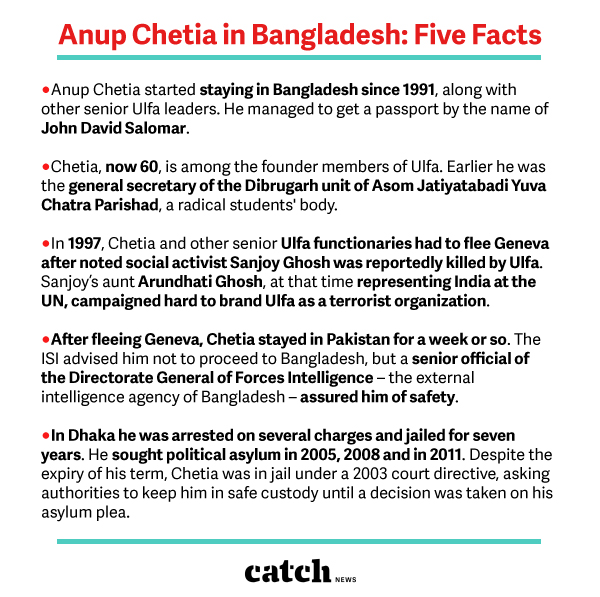 Union Minister of state for Home Affairs Kiren Rijiju said the talks would soon be taken to a logical conclusion. According to sources, a majority of the demands has already been accepted by the government.
If the BJP can accomplish what it had committed, then the forthcoming accord could have a favourable impact on the party's fortune in next year's Assembly polls. It will have ample fodder to demonstrate its efforts to resolve the Ulfa tangle.
Chetia's support could help the party gain some acceptability in the Moran-Motok pockets of upper Assam that are still considered Ulfa bastions, where the Congress has more support. Chetia himself hails from the Motok community.
Although there have been defections from the Congress and Asom Gana Parishad (AGP) to the BJP in recent months, the saffron party's grassroots organization in the state is still weak. Observers familiar with the ground reality agree that the party will not win more than 30-35 of a total of 126 assembly seats if the polls are held without granting the ST status to the indigenous communities.
A couple of weeks before last year's general elections, Prime Minister Narendra Modi had promised in Guwahati that he would put an end to illegal immigration, with all safeguards. That hasn't been done yet. On top of that, the Centre recently allowed members of minority communities who came into India from neighbouring countries on or before 31 December, 2014 to stay on.
These have triggered adverse reactions. An early accord with the Ulfa seems to be the only way for the BJP to gain advantage.
Chetia - past and future
Sources close to Chetia's family in Jeraigaon don't think he will delve into politics immediately. Rather, his objective will be to ensure that Assam gets a "fair deal" from the Centre and the mistakes of the 1985 Assam Accord are not repeated.
However, his return is a further blow to the campaign of independence by his cousin and Ulfa Chief of Staff Paresh Baruah, who continues to maintain camps in the jungles of Myanmar. Baruah is now left almost alone and it is getting tougher for him to generate funds to run the show and recruit cadre for operations.
He is aware about the situation, which explains why he has started focusing on aspects like forming a government-in-exile with all separatist rebel groups from the North East and taking assistance from other countries.
For Baruah, the campaign must go on irrespective of the outcome and talks can be possible if and only if New Delhi agrees to discuss on the sovereignty of Assam. Chetia and the other senior functionaries know that the government would never accept the precondition. They are willing to negotiate and clinch an accord even if it means giving an advantage to the BJP.
Views are the author's
The author is a senior journalist in Guwahati and author of 'Rendezvous With Rebels: Journey to Meet India's Most Wanted Men'.