Lawless roads: gun-toting UP cop rams my car, pushes me - and gets away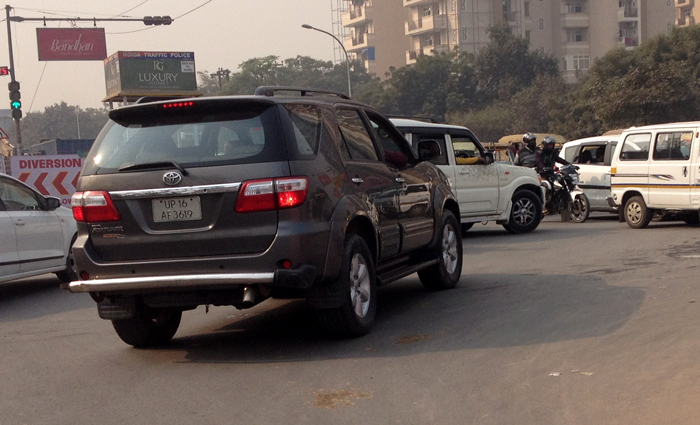 A traffic-packed Monday morning commute to work is hardly a fun way to start the week. And surely not if your car has been hit deliberately - not once, but twice. Not by an ordinary citizen, but by an Uttar Pradesh policeman with a gun.
The hefty cop in plainclothes, travelling in a Fortuner SUV with the licence plate UP 16 AF 3619, rammed my stationary car from behind at a busy traffic intersection in Noida Sector 51, a short distance from the Noida City Centre metro station.
Read-Caught on camera: UP Police officials showering money on dancing girls during a religious programme
When I looked back with an irritated expression to see who it was, he hit the car again, only more fiercely, leaving a big dent in the rear.
He then drove up alongside, and instead of being apologetic, started yelling and abusing my driver, blaming him for waiting too long at the intersection - even though there was no space anywhere for both our vehicles. He then tried to drive away after being unable to brazen his way through.
But I caught up with him at the next signal to protest. He got out of the car and yelled, "Tu hai kaun?". Before I could say anything, he walked over to me and tried to push me. I would have hit the ground had it not been for my sharp reflexes. I could not believe a man had actually tried to shove me publicly, in broad daylight, in what is part of the National Capital Region, with my husband in the car.
Even as I mistook him for a "goonda" most of us law-abiding citizens have learnt to steer clear of, and my husband said we should call the police to sort things out, he announced he was a cop. "Main policewala hoon."
I visibly disappointed him with my reaction. I challenged him by asking for his ID. At this point, he fled. But not before I noticed a revolver sticking out from under his sleeveless jacket. And took a photo of his vehicle.
The Uttar Pradesh government took note of the incident.
@Raheelk @yadavakhilesh @Rezhasan up police have traced the car. A police party will pick him soon for interrogation.

- Government of UP (@UPGovt) December 21, 2015
Traffic in Noida is an ever unfolding exercise in breaking the rules. But what do you do when those violating the law include the keepers of the law?
Ex-soldier, not cop
The armed person who deliberately hit my car yesterday lied about being a policeman. He is an ex-soldier who runs a security agency.
He was caught by the UP police in less than 24 hours.
Many thanks to @UPGovt @uppolicepr @Cop_RK & @yadavakhilesh. Turns out guy who hit wife's car lied abt being cop, he's ex-soldier.

- Rezaul Hasan Laskar (@Rezhasan) December 22, 2015
All said & done, guy who hit my wife's car yestd may have lied abt being a cop but he was armed & dangerous. Menace on the roads.

- Rezaul Hasan Laskar (@Rezhasan) December 22, 2015
More in Catch:
Watch: UP Police thrashing woman charged with theft inside police station
Corporate games: can mining baron Anil Agarwal fry fish in its own oil?
Rescuing sex from violence: Agents of Ishq is giving sex a good name
What the row over the army's 'goodwill tour' says about Kashmir's polity