Corporate games: can mining baron Anil Agarwal fry fish in its own oil?
The case
Anil Agarwal\'s Vedanta India plans to merge with oil company Cairn India
Cairn India shareholder R Dasgupta has moved court against the merger
Dasgupta alleges minority shareholders in Cairn will lose out if the deal goes through
The back-story
Vedanta, both India and abroad, have grown by borrowing heavily
Fall in global commodity prices have made Agarwal\'s business less profitable
Cash cows like Cairn and Hindustan Zinc can bail him out of the situation
More in the story
How Vedanta tried to take control of Cairn India using Cairn\'s own cash
A series of complex transactions to mend the books of Agarwal\'s empire
Why the deal will harm Cairn India and its shareholders
Maachher teley maachh bhaaja is a Bengali phrase for the culinary practice of frying a fish in its own oil. Can the analogy be extended to a set of convoluted corporate transactions?
This is the story of how one of the richest men of Indian origin, who heads one of the world's biggest privately owned mining and metals conglomerates, is seeking to protect his highly-leveraged balance sheets at a time when commodity prices across the globe have collapsed. (A company is said to be highly leveraged when it has huge liabilities on its books.)
It's the story of how Anil Agarwal, founder and chairman of Vedanta Resources Plc, is trying every trick in the book to salvage the debt-laden accounts of his companies.
Here's how it goes:
Vedanta Resources, which is listed on the London Stock Exchange, is Agarwal's flagship. It is the controlling entity that holds the metal magnate's global business empire together.
Read- No end to Adani's Australian nightmare: CEO accused of poisoning a river
Agarwal, about to turn 62, is desperate to merge two of his India-listed companies Vedanta India and Cairn India, a cash-rich oil producer which he bought from Cairn Energy Plc in 2011.
The intention is to bail out both Vedanta India and the parent company - Vedanta Resources -- with funds extracted out of Cairn India.
The hitch
But a minority shareholder has thrown a spanner in Agarwal's works. R. Dasgupta - who holds 10,000 shares of Cairn India - has gone to the Bombay High Court, challenging the proposed merger, the Hindu reported last week.
According to Dasgupta, the proposed merger between Vedanta India and Cairn India will hurt shareholders, including the government-owned Life Insurance Corporation of India. The proposed merger would also violate the law of the land.
A Vedanta spokesperson denied the allegation.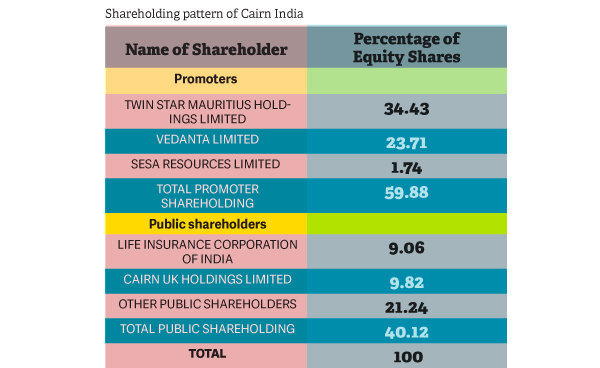 The modus operandi
However, the spotlight on Agarwal's controversial moves is unlikely to recede.
He has a vast empire across continents. It has been built by debt-fuelled transactions that have burdened the books of Vedanta and the liabilities now seem unmanageable.
Consider this:
As a stand-alone company, Vedanta India has a humongous debt of Rs 37,579 crore, while its estimated core earnings in this financial year is Rs 5,350 crore.
On top of high debts, the collapse in commodity prices over the last couple of years across the globe seems to have become the proverbial last straw that broke the camel's back.
In India, apart from Vedanta India - which is struggling with debt -- Agarwal's empire includes cash cows like oil-company Cairn India and Hindustan Zinc Ltd (HZL), an erstwhile public sector undertaking that Agarwal controversially acquired in 2002.
Also read- Green clearances: how the NDA govt is dismantling public hearings
The temptation to milk these cash cows seems irresistible.
Both have issued special dividends to the parent company. There have also been inter-corporate loans. But such financial manoeuvrings have not helped Vedanta's debt problem much. Hence, plans were drawn up to merge the subsidiaries listed on the Indian stock exchanges.
When talk about this merger first came out in public, Agarwal tried to deflect criticism by telling the Press Trust of India "It all depends on shareholders... How value can be created."
But a Barclays report substantiated the fears expressed by Dasgupta in court. It said the risk/reward scenarios were much more favourable in an independent Cairn than if it merged with Vedanta India.
Naturally, Cairn India's minority shareholders, including LIC, would hardly be excited about a merger that offers them a price much below what the company's shares were trading at.
The process & the problems
Agarwal is nothing if not disingenuous. He has sought to use Cairn India's cash to repay the debt raised to buy Cairn in the first place. This is what Dasgupta objects to.
In addition to running against the interests of Cairn India and its public shareholders, the merger with Vedanta India would also be violating section 67, sub-section 2 of the Companies Act, 2013, which expressly forbids such self-funding of any acquisition.
In effect, the merger would give Agarwal unfettered access to Cairn India's $2.8 billion cash pile, which would help ease the debts of Vedanta Resources PLC, in which he is a majority shareholder.

The Vedanta group acquired 58.5% in Cairn India through Vedanta India and Twinstar Mauritius Holdings Ltd (TMHL), a special purpose vehicle owned by Vedanta Resources PLC.
The acquisition by TMHL was funded by $4.43 billion borrowed from banks -- secured against Cairn India shares -- and a parent company loan from Vedanta Resources.
In August 2013, Vedanta India acquired TMHL from Vedanta Resources. In doing so, Vedanta India assumed the 'Cairn acquisition debt', including a debt of $3.8 billion.
Now, in effect, with the merger of Vedanta India and Cairn India, Agarwal wants to help himself to Cairn India's money to pay off the debt he accrued to buy it in the first place.
Earlier, in 2014, Agarwal had to repay a part of the $3.89 billion owed by Vedanta India to Vedanta UK. For this he made a convoluted arrangement: a $1.25 billion repayment facility was routed through a Cairn India subsidiary, CIHL, back to Vedanta UK through its wholly owned subsidiary THL Zinc.
Argument and counter-argument
When the Bombay Stock Exchange questioned the deal in 2014, Cairn India said the repayment facility was extended by its subsidiaries. It was a 'related party transaction' for which prior approval of the audit committee was taken.
However, Dasgupta's lawsuit alleges that the promoters of Cairn India -- which is Vedanta India -- illegally diverted assets worth $1.25 billion (about Rs 8,000 crore) towards repaying the very loan taken and assured by Vedanta UK to buy Cairn India shares.
The lawsuit says, "Cairn India's promoters and directors colluded via various layers of subsidiaries . involving multiple transactions staggered over a period of time to deliberately camouflage the entire transaction so that it becomes difficult for the public shareholders to determine the illegality involved on the face of it."
In sum, Dasgupta has called for the repayment facility extended by Cairn India in 2014-15 to be declared illegal and the planned merger stopped.
He has also sought the court's directions to convene a meeting of the board of directors of Cairn India to set aside the approval granted for the merger.
The court has asked Cairn India and Vedanta India to reply to Dasgupta's petition by 5 January 2016.
Vedanta's response
We sent a detailed questionnaire to Agarwal, outlining the petition's allegations:
the proposed merger of Cairn India and Vedanta India would be in contravention of the Companies Act
the merger was against the interests of Cairn India and its public shareholders
the directors of Cairn India have been derelict in their fiduciary duties and their duties of good faith and trust
This was their reply:
"We deny the allegations and would like to clarify that Vedanta Ltd and its subsidiaries including Cairn India follow the laws of the land in all their activities and operations. The proposed merger of Cairn India with Vedanta and the loan transaction mentioned by you is in line with provisions of Companies Act and listing regulations," said Roma Balwani, President, Group Communications, Vedanta Ltd.
More in Catch:
#NirbhayaCase: the juvenile and why he must get another chance at life
15 photos from history that should have been way more famous
What the row over the army's 'goodwill tour' says about Kashmir's polity
Punter turns 41! Revisiting Ricky Ponting's notable achievements in cricket