Corruption uninterrupted: new report still ranks India among most corrupt countries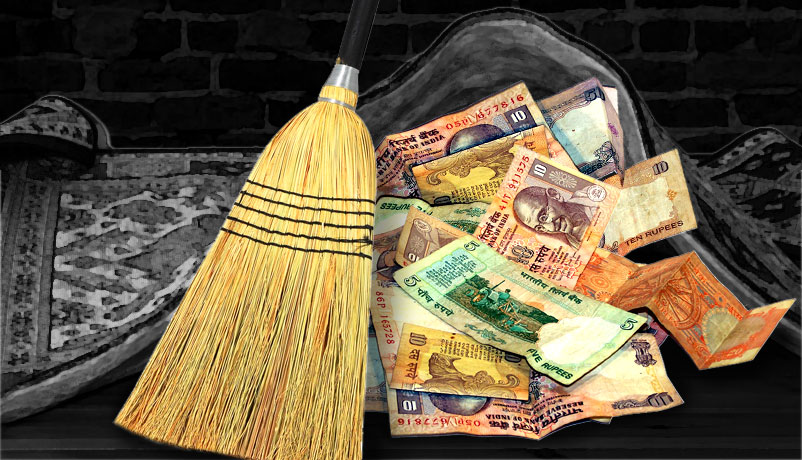 Kerala Chief Minister Oommen Chandy is currently fighting fire for his alleged role in the Solar scam. Earlier this week, he was questioned for 11 hours over his possible involvement. This is after allegations that Chandy's personal staff took a bribe of about 2 crore rupees for getting contracts, became public.
Read- Oommen Chandy has 2 lifelines left: High Court and high command
However, in India such allegations do not come as a surprise.
A big promise during Prime Minister Narendra Modi's political campaign was to end corruption. But there seems to be little improvement according to Transparency International Corruption Perception Index 2015, which ranked India 76 out of 168 countries (with 1 being the least corrupt).
Though India was ranked 85 in 2014, this year's progress in rankings is largely due to the movement of other countries in the table.
Denmark retains the top spot for the second consecutive year, while North Korea and Somalia fare the worst at 167. The biggest decline has been observed in Libya, Australia, Spain, Brazil and Turkey. The highest increase in corruption ended up being in Greece, Senegal and UK.
Coming back to India, corruption is not the only financial irregularity that plagues this country. Everything from illicit finances to unaccounted money exists.
Here we explore the scale of these challenges and the numbers themselves will indicate the magnitude of the situation:
that's India's Corruption Perception Index score in 2015.
Interestingly, India's score in 2014 was the same.
Marginal, almost negligible, improvement is observed from 2013 when the score was 36.
The score indicates the perception of public sector corruption, where 0 indicates highly corrupt and 100 is very clean - based on survey data collected from institutions specialising in business and government policies.
The report says that in India, governments came to power on anti-corruption campaigns but are now 'falling short of bold promises'.
Also read: 8 ways Modi plans to tackle corruption and terror financing
rupees
the estimated loss to the economy between October 2011 and September 2012. This is according to media reports that were aggregated by erstwhile Ernst Young, a leading financial firm.
At this cost, India could purchase approximately half of the 36 Rafale jets it plans to buy from France, but with no idea of monetary resources.
During this period of one year, financial loss to the economy also rose by more than 100%.
is the rank of the Infrastructure and Real Estate sector, perceived to be the most corrupt by respondents.
Infrastructure is a sector that gets high Union government investments, creates jobs and drives economic growth.
The Stamps and Registration department (crucial to the Infrastructure sector) is most prone to bribes, according to an analysis by IpaidaBribe, a citizen driven initiative.
Infra sector is followed by Metals & Mining, Aerospace & Defence, and Power & Utilities.
Government and political leaders often play the biggest role in corrupt practices in these sectors.
In the Infrastructure and Real Estate sector we've had scams like Adarsh and DDA, where the role of leading politicians and ministers like Ashok Chavan were dragged into it. Then there was the Coal scam which questioned even the former Prime Minister's integrity, and Sukna Land scam where a former high level army personnel was found guilty.
the number of factors which lead to corruption in India, according to EY.
Weak law enforcement, complicate tax and licensing system, trying to gain advantage in business deals and unwillingness to get permission the right way.
Unfortunately, corruption inflates costs of goods and services, converts public wealth to private asset, diverts resources and impacts investment negatively.
There were at least 4 bills which could have prevented or checked corruption in India.
Unfortunately, two of them are pending- The Prevention of Corruption (Amendment) Bill, 2013 and The Lokpal and Lokayuktas and other related Law (Amendment) Bill, 2014.
There were two others which eventually lapsed. These were The Prevention of Bribery of Foreign Public Officials and Officials of Public International Organisations Bill, 2011 and The Public Procurement Bill, 2012.
rupees
the average amount of illegal money flow from India between 2004-13.
India ranks 4th in illegal money flow, only better than China, Russia and Mexico, according to Global Financial Integrity, a global non-profit.
This amount is a product of tax evasion, crime, corruption and other illicit activities like hawala transaction and so on.
This amount is almost two-thirds of India's central plan outlay of 2015-16 - the amount that goes for the funding of social programmes of all ministries, subsidies, pensions etc.
Need another jolt? Rs 6,313,004 crore. That was the amount of trade mis-invoicing (misreporting of commercial transaction that leads to illicit money flow across borders) in India from 2004-13.
Read more: On World Anti-Corruption Day, here are 8 rules we love to break
rupees
the amount of illicit money that has been recovered, in the form of property seizures and penalties by the Enforcement Directorate and other government agencies in the past. This was carried out under The Prevention of Money Laundering Act and Foreign Exchange Management Act.
Central Vigilance Commission, an apex government body to address governmental corruption received 27,343 corruption cases from 2010-14. That translates into 15 corruption cases daily!
During the same period, The Central Bureau of Investigation received an average of 52 cases against central government officials every month. But they could chargesheet only 36 cases.
the number of corruption cases registered by the CBI in the first four months of 2015.
This indicates that corruption has not disappeared from India after Modi came to power.
Ironically, in the recent past, BJP party President Amit Shah and Finance Minister Arun Jaitley have often highlighted that the word 'corruption', has disappeared from India.
Poll promises in India are hard to believe. How can we, when 70% of political party funds are unaccounted for?
Edited by Anna Verghese