Corruption in AIIMS: whistleblower Sanjiv Chaturvedi intensifies fight with JP Nadda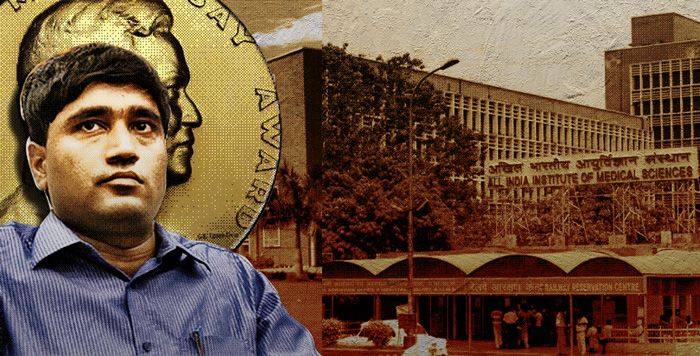 The tussle
Whistleblower Sanjiv Chaturvedi has told the Delhi HC that health minister JP Nadda is blocking a corruption probe
Chaturvedi was chief vigilance officer of AIIMS, and was relieved of the duty in August 2014
He alleges this was done at the behest of Nadda, who later became health minister
The history
Chaturvedi exposed a large number of corruption cases in Haryana, before being transferred to AIIMS
He has been honoured with the Ramon Magsaysay award for exposing corruption
He asked for a probe into AIIMS deputy director Vineet Chaudhary
More in the story
What\'s the connection between the official under the scanner, Chaudhary, and Nadda?
Arvind Kejriwal wants Chaturvedi to be transferred to Delhi. What\'s stopping this move?
He's picked big fights before. He won the Ramon Magasaysay award this year for his 'exemplary integrity, courage and tenacity' in exposing corruption in public office.
Now, whistleblower and Indian forest services officer Sanjiv Chaturvedi is intensifying another big fight. His opponent is Union Health Minister JP Nadda.
On 10 November, Chaturvedi filed an affidavit against Nadda in the Delhi High Court alleging that Nadda is protecting people accused of corruption and trying to suppress a CBI inquiry against them.
The story so far runs like this.
Chaturvedi -- who had taken on the system in Haryana and was transferred 12 times and had 5 cases against him during his tenure there -- was appointed the central vigilance officer at AIIMS (All India Institute of Medical Sciences) in 2012.
Soon after, Chaturvedi felt there was huge corruption in projects worth Rs 7,000 crore at AIIMs and ordered a departmental inquiry into Vineet Chaudhary, a senior official from the Himachal Pradesh cadre and deputy director (administration) at AIIMS.
Read- Meet Sanjiv Chaturvedi: anti-corruption crusader, Magsaysay winner
In May 2014, when the BJP-led government came to power, Harsh Vardhan became the health minister. On Chaturvedi's recommendation, Harsh Vardhan ordered an inquiry into Vineet Chaudhary.
Nadda, surprisingly, leapt into the fray and wrote three letters to Vardhan asking him to stop the enquiry. These letters were made public through RTI and have been submitted to the court.
The result of this intervention was that the enquiry against Chaudhary was stopped. Chaturvedi himself was removed as chief vigilance officer in August 2014. And within six months, in the first cabinet reshuffle, Nadda replaced Vardhan as the health minister.
Sanjiv Chaturvedi was honoured with a Ramon Magsaysay award in 2015 for exposing corruption
It is interesting to note that Vineet Chaudhary is an officer from Himachal Pradesh. Nadda himself is a Rajya Sabha MP from the hill state, and Chaudhary was his secretary when Nadda was the health minister of Himachal Pradesh in 2002.
A subsequent report by the Parliament Standing Committee on health also mentioned huge corruption at AIIMS and bemoaned the absence of a chief vigilance officer, thereby vindicating Chaturvedi's stand.
But the inquiry against Chaudhary is still on hold.
Also read: Placebo: The chilling undercover film that tracks student suicides in AIIMS
An NGO, Centre for Public Interest Litigation, had taken the matter to the High Court, seeking to stop Nadda from interfering in any corruption cases related to AIIMS. It is in this matter that Chaturvedi has filed an affidavit, in response to a notice from the court.
After Chaturvedi was removed, he had written a letter to Vardhan saying: "On the one hand, the prime minister has declared, 'Na khaoonga, na khaane doonga' and on the other hand, in the most prestigious medical institute in the country, right here in Delhi, certain corrupt elements have succeeded in achieving what they could not in the past two years." His removal had created a furore: the media had pleaded his case; AIIMS staff had expressed support; and the Aam Aadmi Party had held protests backing him. But Chaturvedi was made deputy secretary at AIIMS - a toothless post - and left to stew. As Chaturvedi told Catch, "The government should sack me if they feel I am unfit for service. Why are they paying me a salary for doing nothing.'
Back to the present
Earlier this week, all of this came back into the limelight because Chaturvedi tried to donate Rs 20 lakh -- his Magasaysay award money - to AIIMS to be used as funds for poor patients but the AIIMS administration refused to take the money without a signature from the health ministry - currently under Nadda.
Chaturvedi alleges this was done to humiliate him and says he was "forced" to donate his money to the Prime Minister's Relief Fund instead.
Read more: Who is Magsaysay winner Sanjeev Chaturvedi and why he is disappointed with the Modi govt
In the meantime, it is a matter of concern that AIIMS does not have a vigilance officer at present.
Nadda has never broken his silence on the issue. In July 2015, when the matter was gaining traction, he had promised to look into it.
Catch tried to reach out to Nadda via email, phone and SMS, but he didn't respond.
This story has been modified and corrected on 13 December.
More in Catch:
No Panchayat for illiterates: 5 disturbing things about the Supreme Court verdict
Sorry Daddy movie review: The granddaddy of c-grade cult cinema
What is killing Rajasthan's 'foreign breed' cows? Hint: it's not beef eaters
What political vendetta! Congress looks more like a spoilt brat