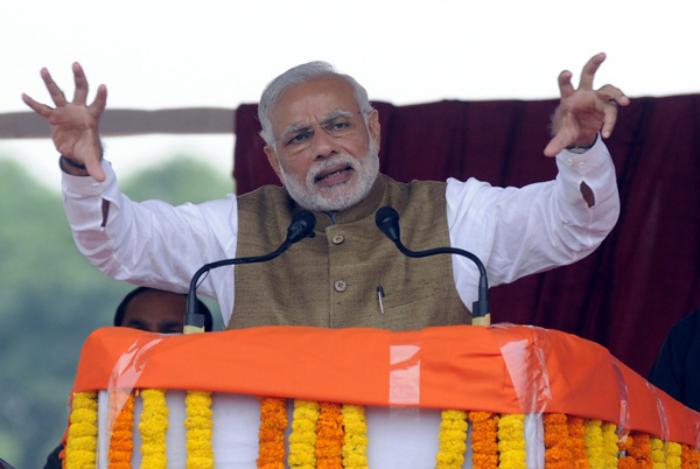 On Wednesday, Prime Minister Narendra Modi addressed the Sixth Global Focal Point Conference on Asset Recovery organised by the CBI in New Delhi. At the conference, Modi highlighted steps taken by the NDA government to combat corrupt practices and called it one of the "principle challenges" for governments all over the world for betterment of the poor and marginalised. Here are eight major talking points from his address.
1. Modi spoke of the "unsparing" measures taken by his government towards eradicating corruption from the bureaucracy, claiming that 45 senior bureaucrats had been relieved of duty or sanctioned pension cuts for "unsatisfactory performance and delivery in public service".
2. Drawing attention to the Special Investigation Team set up under direction of the Supreme Court to look into black money, he drove to paint a committed picture of his government towards the cause. He also mentioned the enactment of 'Black Money Undisclosed Foreign Income and Assets and Imposition of Tax Act' as well as an amended 'Prevention of Money Laundering Act' with stricter penalties and deterrents.
3. To substantiate measures taken to address the issue overseas, Modi said India has entered the Inter Government Agreement with the United States, putting into effect the Foreign Account Tax Compliance Act. This allows Indian tax officers to automatically access financial account information of Indians overseas.
4. "Our mission is to build a prosperous India. An India where our farmers are capable, our workers satisfied, our women empowered and our youth self-reliant," Modi said, adding that this mission might be daunting, but is not impossible if corruption was dealt with an iron fist.
5. The PM also referred to the Paris terror attacks of 13/11 as a "grim reminder" of the flexible and adaptive methods acquired by terrorists to enhance their funding requirements.
6. Pointing towards the darker side of economic liberalism and globalisation, he maintained that it had made it easier for terror outfits and organised crime to cover their money trails more easily. Consequently, it should be ensured that the investigation agencies are not limited by borders either.
7. Addressing an audience comprising investigators from over 33 countries, Modi called for "systemic safeguards, and targeted economic sanctions based on credible counter-terrorism intelligence."
8. He repeatedly emphasized on international cooperation to combat corruption, recovery of stolen assets across countries and strengthening counter-terrorism intelligence.
The Prime Minister said that he hoped to establish governance that treads a balanced line between system and policy, in a structure that is "sensitive, transparent and accountable."