#HydStudentSuicide: here's how you got your "facts" totally wrong, Ms Irani!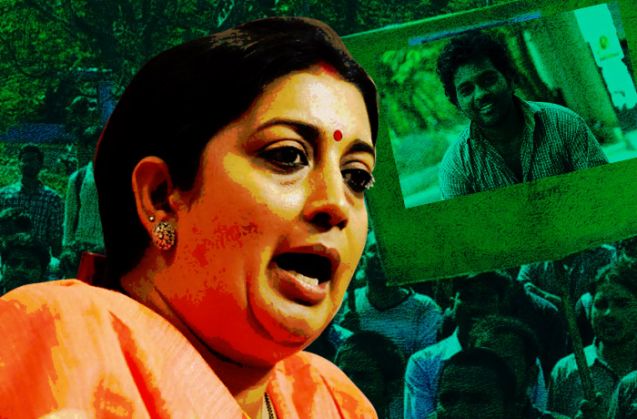 On the face of it, HRD Minister Smriti Irani's press conference on Rohith Vemula's suicide was a welcome move. Governments are meant to engage with public opinion; explain themselves; put facts in public domain.
The trouble is, while she tried to claim high moral ground, Irani's presser disingenuously - one could say deceitfully -- glided over several glaring facts.
Read: What killed Hyderabad university Dalit scholar Rohith Vemula?
The thrust of Irani's argument was this: there had been a "misrepresentation of facts" about Rohith's suicide and a "malicious attempt" to project the issue as a caste battle. Her other key contention was that her ministry had not acted out of turn in any way.
"Please don't ignite passions," she said repeatedly, "the truth is, this is not a Dalit vs non-Dalit issue."
One might wish this were true. But it's not. And with that one statement, Irani stripped Rohith's act of its charged political, ideological and social context.
Here's a look at why this is not merely wrong but dangerous at more than one level.
Irani's identity crisis: Dalit vs non Dalit
First, Irani asserted Rohith's death was "not a Dalit vs non Dalit issue" because the "other boy" who had complained against Rohith and his friends was an OBC, or another backward caste.
She also spelled out that Bandaru Dattatreya, the minister whose intervention ensured Rohith's suspension is a Yadav, also an OBC.
This is a patently absurd argument. Surely Irani knows the history of Dalit oppression is not restricted to Brahmins and upper castes. OBCs and Yadavs have always played a big role in it. In fact, physical caste violence is often more prevalent among OBCs than Brahmins. The Yadav-Dalit conflict has long blighted Uttar Pradesh as has the Jat-Dalit enmity in Haryana and Punjab.
Secondly, though Irani mentioned that Rohith and his friends were part of the Ambedkarite Students Association (ASA), she deliberately glossed over the fact that Susheel Kumar, the "other boy" was a part of the ABVP, the student wing of the BJP.
The ABVP is the ideological antithesis of Ambedkarite politics. The brawl between the two sets of students, therefore, was not just a scuffle over some individual grouse, but an old struggle between the forces of Manu and Ambedkar that is playing out on university campuses across the country.
The suicide note was not Rohith's political statement, his life was. Don't confuse the two @smritiirani
Rohith wasn't just a Dalit student. He was an Ambedkarite scholar, employing his intellectual capital to speak out against what he saw as wrong - the Muzaffarnagar carnage, women's rights, the execution of Afzal Guru and Yaqoob Memon. For this, the ABVP had called him and his friends "goons", which is what led to the scuffle. In fact, even after the suicide, members of the BJP have labeled Rohith as "anti-national" for espousing such views.
More false truths
Irani's third prevarication was to hold up Rohith's eloquent "police-certified" suicide letter as proof that there was no Dalit vs non-Dalit underpinning to his death. Rohith made no assertion against any organisation in this letter, she said. That is true. He didn't.
But while Irani kept reiterating that she had been "compelled" to address the press in "public interest", she failed to mention that she was being highly selective with the facts.
It would be unfair to deny Rohith the dignity of individuality and personal sadness his suicide letter clearly craves. Yes, he did not want to merely be a caste signifier. But his life was cruelly encased by caste.
Also read: We see Dalit as a problem, not a person. That's what killed Rohith Vemula
One of the travails that seem to have driven Rohith to take his life is deep financial distress. His student's stipend had been stopped. He mentions this in his last letter. But Irani failed to mention that to the country.
She also failed to mention a crucial earlier letter by Rohith. In December, a month before his suicide, Rohith had written to the Vice Chancellor of the Hyderabad Central University, asking him to give poison or "a nice rope" to Dalit students. He identified himself as a member of "the Dalit self-respect movement" and said persecution on campus against students like him was so widespread, the campus should facilitate euthanasia.
Does that sound like a young man not plagued by the oppression of his caste identity? Does this sound like a despair not triggered by a "Dalit vs non Dalit" world?
Mother, minister, and missing narratives
Unfortunately, Irani's dangerous sleights of hand do not end there.
During the press conference, she repeatedly evoked her faith in the police and the judicial process. Susheel Kumar, the ABVP student, had filed a case against the ASA students in the High Court; due process was underway: Irani said she was certain justice would be done to all parties.
However, the fact she again conveniently failed to mention is that both the police and the university have already filed affidavits before the court that prove Susheel Kumar had lied outright about the harm done to him by the ASA students.
Congress MP disputes @smritiirani claim: I never said there were anti-social elements in the varsity
Kumar claimed he was roughed up by 40 ASA students. The ABVP later claimed he had to be hospitalised as he was vomiting blood and complaining of pain in the lung as a result of the assault.
Both the Cyberabad police and the university authorities have told the court this is an "exaggeration".
According to the affidavit filed by the university registrar B Pandu Reddy, the hospital found Susheel Kumar had only a few scratches on his left shoulder. "The proctorial board too found no hard evidence against the ASA students," Reddy told the court.
Why did Smriti Irani, both as minister and mother - two identities she repeatedly evoked in her presser - fail to address these incriminating facts?
Read: Rohith is the 23rd Dalit student suicide in institutes like AIIMS and IITs
Why did she fail to mention that Rohith, a Dalit student who had secured admission on merit and dreamed of reaching the stars, was suspended from the university on a false complaint, made by the student wing of her party?
If Susheel Kumar's malefide complaint to the police, and the ABVP's false claims, is not proof of an ideological Dalit vs non Dalit faultline, what is?
Blame games and the riddle of two letters
There are two other aspects of the case, Irani glossed over.
First, her ministry and the BJP have been under opposition fire for their role in getting the ASA students suspended from the university hostel.
After the ASA-ABVP students clash, BJP leader and Union Minister Bandaru Dattareya had written a letter to the HRD ministry urging sufficient action against the "casteist and anti-national" ASA students.
The HRD ministry wrote to the university five times asking for a response to Dattatreya's letter. Political opponents have been demanding Dattatreya and Irani's resignation over this.
Read more- #RohithVemula: 4 things Dalit intellectuals believe should shape our debate
At her presser, Irani explained this away as merely "procedural" acts by her ministry. She also produced what she clearly saw as an ace up her sleeve: a letter written to her ministry by Congress MP Hanumantha Rao on 17 November 2014 asking for corrective intervention in the University of Hyderabad.
According to her, as with Dattatreya's letter, her ministry wrote to the university six times to seek a response for the Congress minister as well. Hence, she concluded, her ministry was merely going by the rulebook.
Ostensibly, Irani may be right.
However, far from being scrupulous with facts, she again clearly played with them.
Hanumantha Rao's letter had expressed concern over the situation students from marginalized communities were facing in the university. Seven students had committed suicide in three semesters. There were also rapes and kidnappings. He wanted a probe into the deteriorating atmosphere at the university.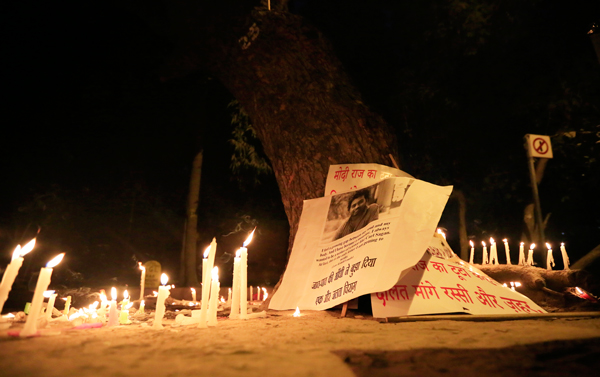 Dattatreya's letter was about a mere scuffle between students, in which no one was seriously injured.
While it's true that her ministry may have followed due procedure in seeking a response from the university to both letters, in terms of gravity, to equate the two letters is sheer travesty.
Why indeed did her ministry write five times to the university seeking action on the ASA students?
More proof and lies
Unfortunately, the list of Irani's prevarications is yet longer.
At her presser, she had said both the warden and the head of the committee that suspended Rohith and his friends were Dalits.
However, today, the SC/ST Teachers and Officers Forum in the university have issued a statement saying the committee was headed by Vipin Srivastava, an upper caste professor, and there were no Dalit faculty members in it.
In fact, they add, "It is unfortunate that, since its inception, no Dalit representation has been given in this council."
In a sharp indictment, the group also stated that they were laying down their administrative positions in response to the Hon Minister Smriti Irani's "fabricated statements".
The embarrassment of lies and half-truths do not end there.
Yesterday, Irani told the press that members of the Executive Council, which decided Rohith and other ASA activists' punishment, were nominees of the previous Congress regime, not the NDA's.
The minister again appears to have got her "facts" muddled. Here is what actually happened.
The Proctorial Board sent Susheel for a medical examination, which disputed his claim of injuries. The board, therefore, let the ASA activists off with a warning.
The final report, however, accused them of inflicting injuries on Susheel and ordered suspension of five students, including Rohith.
The ASA protested and discussed the discrepancies in the case with vice chancellor Prof RP Sharma. Subsequently, Prof Sharma revoked their suspension and asked for a new panel to probe the incident afresh.
But Prof P Appa Rao, the current vice-chancellor and Sharma's successor -- who was appointed by Irani's regime -- did not form a new committee and kept the five suspended students in the dark until the Executive Council expelled them from their hostels.
All of this happened after repeated reminders from her ministry to the university to take prompt action on Bandaru Dattatreya's claim that these students were "anti-national and casteist".
Again, it might be commendable that Irani felt "compelled" to reduce tempers and speak out in "public interest".
But truth is, given all that was glossed over, it would've been more honest if she had said she was compelled to speak out in "political interest".
Between the lines
Rohith Veluma's suicide has undoubtedly become a political arena for all parties.
But though Irani tried to stay out of being overtly political during her press conference, her compulsion to address the media was clearly driven by political calculation as well.
The BJP has been urgently trying to woo the Dalit voters in recent years.
Over the last year, it has even tried to appropriate Dalit icon BR Ambedkar, who stands poles apart from it ideologically.
Read more: Rohith Vemula death: Government will not intervene in suicide of Dalit scholar, insists Smriti Irani
Now, with crucial state elections coming up, the party can ill-afford to be seen as standing with anti-Dalit forces. Over the next few months,
the BJP will be tested in the electoral battlegrounds of Kerala and Tamil Nadu. The former has a 9.1 % Scheduled Caste population, the latter 7.2 % . How the BJP fares in these states will shape the larger political dynamics of the country by the end of this year.
In the midst of her presser, Irani said sharply, "If the Congress had addressed the issue of caste discrimination in the University of Hyderabad four years ago, Rohith Veluma would perhaps have still been alive."
It was a fair punch. The Congress, indeed, has much to answer for.
However, this particular punch has a boomerang: if Irani believes ending caste discrimination at Hyderabad University would've helped keep Rohith alive, clearly his suicide is indeed a Dalit vs non Dalit issue.
That makes her entire presser a major PR eye-wash. Any further facts to help dispel this one, Ms Irani?
More in Catch:
The French Connection: Republic Day parade to host a contingent from France
'A growing number of Pakistanis are against Hafiz Saeed now'
Health hazard: In many states, obesity has doubled in the last 10 years
The extreme, crazy world of Keirin: bicycle racing without brakes