'He had to die to make his point. And he did it': Rohith Vemula's best friend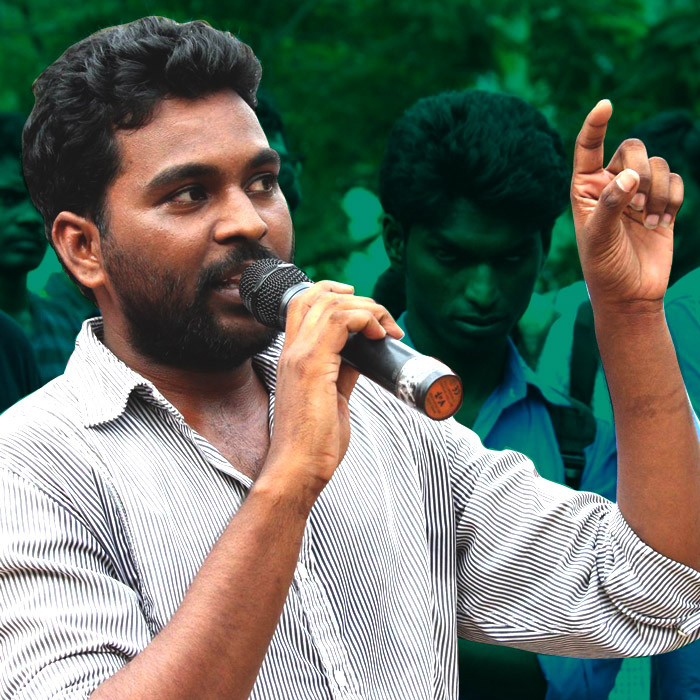 The suicide
Dalit scholar Rohith Vemula\'s suicide has kicked up a political storm

His best friend Kolagani Ashok Kumar discusses Rohith\'s life and what led to his death
The struggle
Rohith craved for the love of his family. His father was violent

Hyderabad Central University went after him because of his activism
More in the story
What were the events that led to his death?

What were Rohith\'s last few conversations?

How was Rohith as a person?
Rohith Vemula, a Dalit research scholar at Hyderabad Central University committed suicide on 17 January. His death has become a political flashpoint, with activists accusing the University administration of driving him towards taking his life.
Also in the picture is BJP MP Bandaru Dattatreya, whose letter to the University and the Union HRD Minister led to Vemula's suspension.
Also read - What killed Hyderabad university Dalit scholar Rohith Vemula?
However, Vemula's suicide note is surprisingly apolitical. What were the circumstances that led to his suicide? Catch spoke to Kolagani Ashok Kumar, his close friend and roommate for 6 years, about Vemula's life and the events leading up to his death.
He recounts in detail the last few conversations he had with Vemula whom he considered his best friend and "god-sent brother".
Some excerpts:
How did you know Rohith?
I was living with Rohith anna since 2011. We were roommates and almost like brothers. Both of us hail from Guntur district in Andhra Pradesh. I know his family well. Rohith was one year senior to me in the MSc. degree course at Hyderabad Central University.
What was he like as a person? Can you tell us a little about his background? In his note, he speaks about having an "unappreciated childhood". Could you throw some light on it?
You are the first person to ask this question. Rohith was not a different man, he just thought differently.
From his childhood he stayed away from home for his studies. All through childhood, he missed fatherly love and appreciation. When my father used to call me once a day, he used to stay "you are lucky anna". He had serious issues with his father, who was a violent man.
He was thrown in hostel life again when he joined MSc in 2010. He used to say to me "you are lucky to have good family support". I believe that was a major wound in his life. If you see his suicide note, he clearly mentions he had to go through an "unappreciated childhood".
Rohith had serious issues with his father, who was a violent man
Rohith seemed like a tough guy but he was very emotional. However, he wouldn't open up easily. He would bottle up feelings and thoughts for weeks and then slowly open up over time. During our MSc, he cried on my shoulders many times. He told me many times that he needed love. Despite being his best friend, brother and roommate, my love and affection wasn't enough to pull him out of depression.
After dinner, he used to lie on the rocks in front of our hostel and stare into the sky. He mentioned in his suicide note that he was deeply connected to stars and nature. He was a thinker, he thought a lot, often late into the night.
I felt that he was obsessed with the internet. Perhaps he was using the internet as a way out of the deep loneliness he felt. I was like a brother to him, he used to scold me like one.
One day I got angry and asked him "Anna, why do you scold me?" That day, he cried like a baby and said he takes that liberty as he feels deeply connected to me. "You are my god-sent brother" he said. He took care of me like my parents would. Now, I miss my god-sent brother.
A very important aspect of his personality was the fact that he knew how to keep his personal life away from his political views. Those days, before joining Ambedkar Students' Association (ASA), I was a supporter of ABVP and he supported SFI. Yet, we were best friends. For all these years, we shared our clothes,our computers, books, everything. Now I am alone.
Did he have any doubts about his work as a political activist?
Being a Dalit activist, he had to struggle a lot. During his last days, he told me that he was being dragged into politics despite his will
Last year, he tried to quit politics thrice. He stayed away from the beef fest organised by ASA at HCU. But his picture was published in The Hindu as if he organised it. Rohith was upset about this. He came to the room and said "there's already a case pending against me". This irked the HCU authorities. ABVP was opposed to this beef fest. The authorities reopened the case and suspended Rohith without an inquiry.
His fellowship was the main source of income for his family. He broke when the University withheld it
He mentions in his note that the institution did not pay his fellowship money. Did that create problems for him?
The fellowship was his main source of income. He had to send money home. The University withheld his fellowship money because he was an activist. I don't think suspension affected him as much as the blocking of the fellowship money.
He appealed to the administration many times but they paid no heed.
Could you narrate the sequence of events from his suspension till his suicide?
As his scholarship money was being withheld, there was immense pressure on him. Also, all his friends were being targeted. He was finding it very difficult to handle and contemplated quitting politics
In November, he told me that he expected his fellowship money to be cleared in a month. He wanted to go home and start a small business. He had many ideas. He had a brilliant knack for business, nobody knew this about him.
In the first week of December, he decided he would not participate in any political activity on campus.
But he was dragged back in as the authorities wrongly indicted him.
After his suspension on 18 December, Rohith wrote a scathing letter to the Vice-Chancellor asking for ropes and cyanide for all Dalit students.. The VC didn't bother to reply. The administration left the students to die.
Rohith and 4 other suspended scholars were living in the open, like outcasts.
I and another friend Rohith Reddy weren't there at that time. This is when the stress started building up on Rohith anna. He used to sleep and bathe in the open. It was hot during the day and cold at night.
On 14 January, he called Rohith Reddy and asked him to meet. But Reddy couldn't meet him as he was busy with lab work.
He was singing Dalit protest songs with the other suspended scholars the evening before he died
Around 7.30 pm on the day before he committed suicide, he was singing Dalit songs of protest with other suspended scholars.
He looked happy that day. Looking at him that evening, I thought Rohith was fine. The next day, he killed himself.
What happened after the suicide? There were reports that his body was cremated secretly.
After his body was discovered, around 500 policemen entered the campus. They lathi-charged the students and tried to take his body away.
They first tried at 1:30 am and then at 3:30 in the morning. Finally, at around 6:30 am they managed to forcibly take his body to the morgue.
At the mortuary, his mother refused to sign the form. She didn't know what had happened to her son. She wanted answers. Finally, the police convinced his brother and a few other students present to sign the form.
ASA and SFI activists had arranged for buses for us to go to the cremation site which we thought would be held in Guntur, Rohith's hometown. But the police clandestinely cremated him in Hyderabad itself.
No one from the students' groups were informed. Only his mother, brother and elder sister were present along with 2-3 students.
Rohith has exonerated all his "enemies and friends" of any responsibility for his death. His long struggle as an activist and as a politically conscientious Ambedkarite is missing from the note. Why do you think that is the case?
Rohith was a proud Ambedkarite and struggled with his 'black' identity all his life.
There was one thing missing from his life - family love - which he clearly mentions. It was the suspension and the financial pressure that broke his will and made him weak.
He was targeted by oppressive structures all his life. He was treated as an outcast. But he saw no way out of this. I think he felt that someone has to die for things to change. And this is what he did.
The police lathi-charged students, forcibly took Rohith's body and cremated him clandestinely
When they placed his body in the casket, he was smiling. He had to die to make his point. And he did it.
He said nothing political in his suicide note. I think he did this for the people he loved - his family. He knew his family needed the money the government owed him.
He was such a strong person, we never thought he could do this. Now it's just Rohith Reddy and me. Reddy cannot muster enough courage to come back to campus. Everything will remind us of Rohith anna. I only want justice for his family. His family is my family.
More in Catch - Death Rows: Rohith is the 23rd Dalit student suicide in institutions like AIIMS and IITs
Rohit Vemula suicide: Students protesting Dait scholar's death brave water canons, lathicharge
Rohith Vemula death: Government will not intervene in suicide of Dalit scholar, insists Smriti Irani