He died hungry: farmer Sukhlal's death the latest blot on Bundelkhand
Death of a farmer
Sukhlal was a farmer from Gogarwara village of Lalitpur district in UP\'s Bundelkhand region
He was found dead on 6 May in Lalitpur city. There was no suicide note, only a dried up roti in his pocket
Rotten relief
Sukhlal\'s family had been going hungry for five or six days - they had no supplies
The administration has now sent some wheat, sugar and rice for relief - but the grains are rotten
More in the story
Kin speculate over Sukhlal\'s death - did he die of hunger or lost in religiosity?
Why didn\'t Sukhlal get help under the Antyodaya scheme for the poorest of the poor?
"Jiyo to aise jiyo ki zindagi nikhar uthe, maro to aise maro ki maut chamak uthe."
Live in a way that your life shines bright, die in a manner that death itself sparkles
This is one among many aphorisms inscribed in the diary of Sukhlal, a farmer who lived in the Gogarwara village of Lalitpur district in Uttar Pradesh's Bundelkhand region.
The small hand-written notebook is a window into the mundane travails, as well as the internal strifes of Sukhlal's life.
Read- Bundelkhand drought: Centre offers 'water train', UP says it's of no use
Scattered among the pages of this diary are religious teachings, some Sanskrit shlokas, bhajans and Urdu couplets. It also contains the details of Sukhlal's finances: a debt of Rs 1,720 from Narayan, the account of 100 days of milk supply, Rs 200 taken from Mahendra for the sowing of seeds etc.
Sukhlal lost his life trying to strike a balance between his spiritual and practical life. On 6 May, he was found dead in Lalitpur city. Instead of a suicide note, pieces of dried up roti were recovered from his pocket. He had apparently succumbed to hunger.
This poor man from an ordinary village could hardly shine when alive, but his death is yet another glaring scar on the parched face of Bundelkhand.
The chulha lies cold
Bundelkhand is reeling under drought. However, most recorded deaths have been caused by hunger.
On one corner of Sukhlal's yard lies a small chulha (stove), whose cold ash reveals the condition of his family. Wife Teja says they have not cooked food for the past five or six days.
The last time ration supplies came to the house was in April, and all the utensils lie bare. There is one piece of roti left in the basket. Three children are dependent on the mid-day meal served at school for survival.
Kashiram, the eldest son of the family, has turned pale. His wife is too reticent to come out of her room. The married daughter has arrived to mourn the death of her father.
"My father had borrowed Rs 60,000 for my marriage, as well as the wedding of my sister. The rains have eluded this area for three years. He had incurred a total debt of around Rs 1.5 lakh. This was too much for my father to bear and he was consistently under depression," recounts Kashiram.
Religion, hunger and online registration
On 4 May, Sukhlal left home for the last time. He informed the shopkeeper outside the village that he was going to Ujjain for the Simhastha Kumbh, but did not utter a single word to any of his family members.
Also read- Drought Diary: Gujarat govt in denial; wheat crop fails in Uttar Pradesh
Speculation is rife over the cause of his death. The administration has still not confirmed he died for the want of food.
The headman of Sukhlal's village, Kanhai Rajak, offers a strange theory. "He had turned saintly for some time and spent most of his time worshipping God," he says.
But, what does religiosity have to do with his death?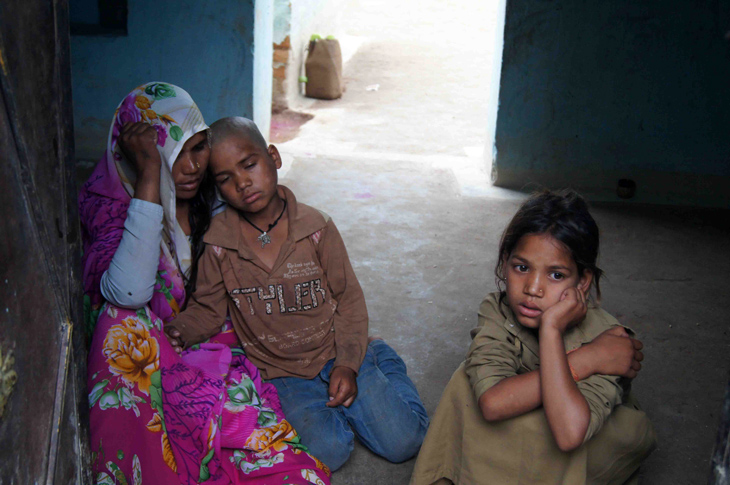 Photo: Abhishek Shrivastav
Sukhlal's nephew explains: "My uncle was neck-deep in debt. He was too old for hard labour. When the rest of his family migrated to Delhi for employment, he took refuge in religious beliefs. He felt this was the only way to escape his tensions."
However, Sukhlal's elder brother Lacchu disagrees. "There is little doubt that he died of hunger. But, he should have, at least, told us the real condition. He kept all his troubles to himself and never disclosed it to anybody. His family was really facing dire circumstances. It had nothing to eat," he surmises.
The people of Gogarwara village and its adjoining areas are used to migrating in search of greener pastures. Sukhlal's wife would also frequently go to Meerut with her four children to work as a construction labourer. This had been going on for a long time. She had returned from Meerut in February.
Headman Rajak says Sukhlal's name was not on the list of beneficiaries of the Antyodaya Anna Yojana, a scheme to provide food to one crore of the poorest Indian families..
"Most of the lists are now prepared online. Sukhlal might not have registered himself online," explains Rajak.
Like most other backward community members of the village, Sukhlal did not even possess a BPL card. He spent most of his time sitting at a place along the highway and indulging in prayers and rituals. His water-bottle still lies at the same place.
Of rotten relief and unanswerable questions
The whole village of Gogarwara is mourning Sukhlal's demise. Many journalists have arrived to report the death. Two shops along the highway remain closed - one of them belongs to Sukhlal's nephew.
The village pradhan and other panchayat members are busy distributing the first batch of the relief material sent by the Samajwadi Party government on Saturday. Ironically, this is also the day when a water tanker has reached the village for the first time.
Read more- #DroughtDiary: Marathwada reservoirs at 3% of capacity, 11-year-old dies while fetching water
Sukhlal's tragic death begs many questions: How could a person with a family of three brothers die in a village that has around 1,400 residents? How did the family not have anything to eat for five days? Why were neighbours unaware of the family's plight? Why didn't anybody came forward to help?
"What can we do? Everybody in the village is facing the same situation. Only those who have enough for themselves can help the others," replies Sukhlal's elder brother with moist eyes.
Still, the tragedy has brought some hope to the villagers. The local administration has supplied wheat, sugar and rice to the family after the death - though family members open the wheat bags to show rotten grain inside.
The rest of the villagers throng every visitor in the hope of getting some help in the name of Sukhlal.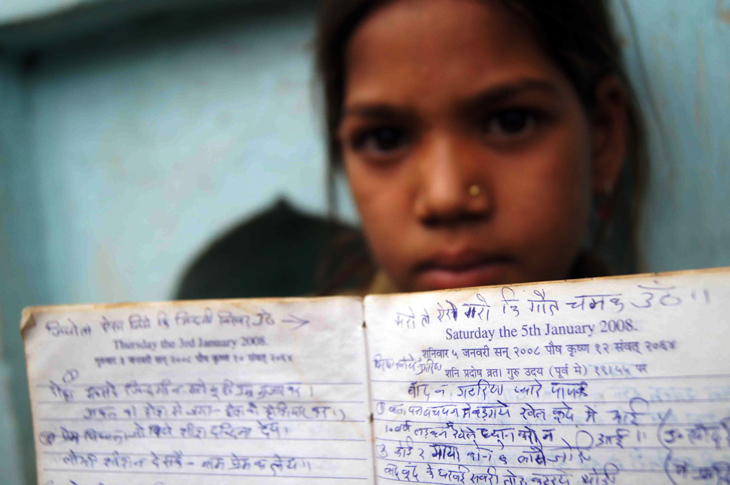 Photo: Abhishek Shrivastav
Meanwhile, Sukhlal's old mother and elder sister are inconsolable. Sitting on the doorsteps, the wailing mother never ceases to chant the name of her son. The children are at a loss to understand anything.
After seeing Sukhlal's beautiful handwriting in the diary, we ask how educated he was.
"A Class V pass out," somebody replies.
"No, no. He had studied till Class VIII," interjects Sukhlal's little daughter, as she collects some of the scattered pages of his diary and hands it over to the elder sister.
Translated by Deepak Sharma
Edited by Shreyas Sharma
More in Catch:
Why is J&K police still holding the Handwara girl in custody?
A letter from 'Gau Mata' to Rajasthan students, Holy Cow!
Nepal: India's emasculated responses have emboldened KP Oli
SC upholds diesel ban but gives breathing space to BPO industry