Cornered in Uttarakhand, Congress hits back at BJP over #HCUcrackdown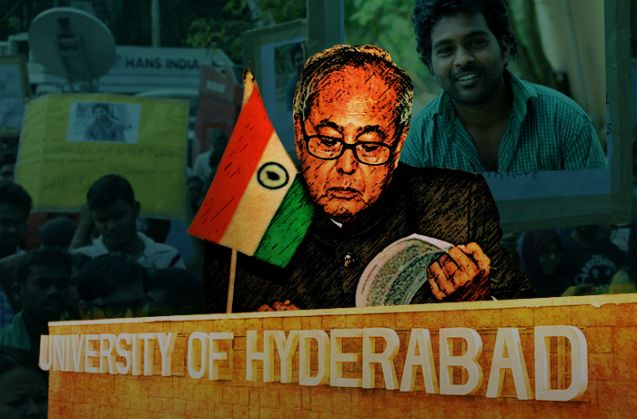 Confronted by a serious threat to its government in Uttarakhand, the Congress today decided to up the ante against the BJP. And the issue it chose was Rohith Vemula's suicide and the recent crackdown at the Hyderabad Central University.
A party delegation led by the Leader of Opposition in the Lok Sabha Mallikarjun Kharge and former home minister Sushil Kumar Shinde submitted a memorandum to President Pranab Mukherjee with a long list of demands.
Read: What killed Hyderabad university Dalit scholar, Rohith Vemula?
The delegation also included former Delhi chief minister Sheila Dikshit, and MPs Anand Sharma, Jyotiraditya Scindia, Ajay Maken, Randeep Singh Surjewala, Rajeev Satav, RPN Singh, Ashok Tanwar, Raj Kumar Verka, Arshad Rizwan and Roji John.
The memorandum sought to draw the attention of the President, as the visitor to central universities, towards "acts of atrocities and violations of basic legal rights of students and teachers across campuses" - particularly at Hyderabad University - by the "ministry of HRD and several ministers" of the Narendra Modi government "in connivance with the state government of Telangana".
The party alleged that "a reign of terror" has been "let loose by the university administration". It claimed that when Vice Chancellor P Appa Rao resumed office on 21 March "despite the fact that an FIR was pending against him, students and faculty "justifiably" protested. In retaliation, the VC "under full patronage of his masters in the ministry of HRD and other ministers, resorted to a premeditated and planned, unprecedented brutal crackdown" on the protestors.
Under the patronage of his masters in HRD ministry, VC Appa Roa launched a brutal crackdown: Congress
The memorandum requested Mukherjee to invoke his powers as "custodian of the Constitution and visitor to the university" to suspend the VC pending inquiry, change the entire leadership of the university, and ensure a probe is initiated against Union ministers Smriti Irani and Bandaru Dattatreya. Other demands include:
The police should expedite its probe in the cases filed against the VC.

Criminal cases against students and teachers should be quashed forthwith by the governor, who is also chancellor of the university.

Return the university to normalcy by restoring free mobility in and out of it.

Criminal investigation against the policemen who neglected their duty under Section 4 of the SC/ST Prevention of Atrocities Amendment Act, 2016.

Proceedings against Irani and Dattatreya be started forthwith and they be made to step down pending completion of inquiry.

A smooth transition of the university's leadership by replacing the VC in consultation with the students and the faculty.

The chancellor should be asked to ensure adequate compensation for Rohith Vemula's family and a job for his brother at the university.

The central government should start the process of enacting an anti-discrimination law for institutions and universities and bring it in the second half of the Budget Session.
Edited by Mehraj D. Lone