Army deployment in Bengal: Mamata flays Parrikar for 'near-defamatory' letter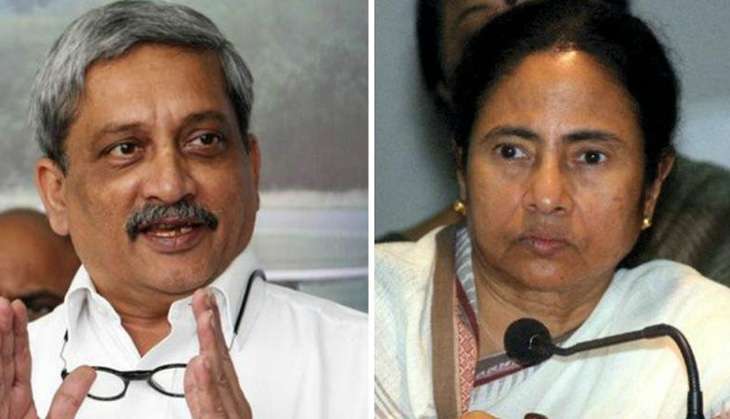 The protracted war of words between Mamata Banerjee and Manohar Parrikar continued Friday with the West Bengal chief minister objecting to the defence minister's use of "near-defamatory" words in his latest letter to her.
Mamata is at loggerheads with the Narendra Modi government over the deployment of the army in Bengal for a military exercise on 1 December despite the state denying permission for it. In his letter Friday, Parrikar rapped Mamata for "dragging the military into a controversy" which he claimed has hurt their morale.
While politicians may have the luxury of making "wild and unsubstantiated allegations against each other", the defence minister wrote, "one needs to be extremely careful while referring to the armed forces".
"Your allegations in this regard run the risk of adversely impacting the morale of the country's armed forces," he told the chief minister, "and the same were not expected from a person of your standing and experience in public life."
Also Read: Army deployed at toll booths in Bengal, Mamata labels it 'coup-like situation'
In her reply, Mamata didn't pull any punches, "Your general observation about political parties and politicians having the luxury of making wild and unsubstantial allegations may be apt for your party, but we do not belong to that group."
"I take strong exception to your wild assertion that my articulation of the rights of the state government vis-a vis army deployment without clearance has impacted the morale of the armed forces," she told Parrikar. "You have also in the last paragraph chosen to convey the laughable idea that you are the sole spokesperson on behalf of the people at large. I do not think that it behoves a minister of the Union Government to pass near-defamatory remarks on a chief minister of any state and I trust that you will rectify this attitude."
Mamata clarified that her complaint was not against the army but the central government and its polices as the army acts under its direction. "I have never seen such political vendetta by misusing the role of an esteemed organisation," she wrote, referring to the army.
The Trinamool Congress supremo asked the defence minister that before planning "any largescale exercise in a civilian area", the defence ministry should correspond with state officials at the highest level and a "written clearance should invariably be taken before the initiation of such an exercise".
Also Read: Kolkata Police: We denied permission to Army to conduct 'routine exercise'