A fighter to the end, Jayalalithaa leaves behind a complicated legacy
S Murari
| Updated on: 10 February 2017, 1:37 IST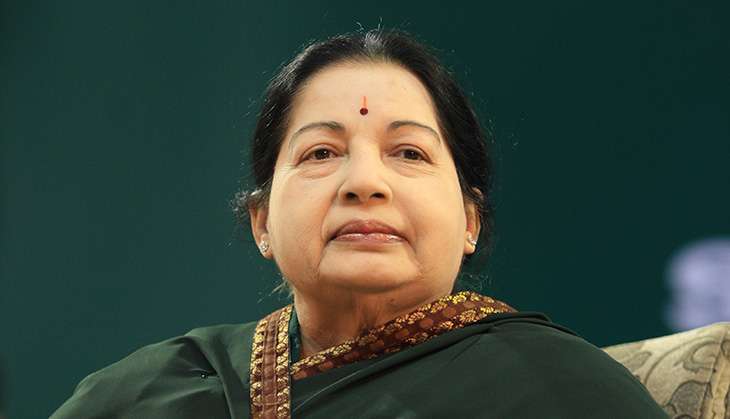 J Jayalalithaa, chief minister of Tamil Nadu and general secretary of the All India Anna DMK, died the way she lived: a fighter who never easily called it quits. If the 68 years of her life were a saga of endless struggle, her end, brought on by a cardiac arrest after 75 days of hospitalisation, was equally marked by suspense and drama.
According to a press release by Apollo Hospital in Chennai, where Jaya had been admitted since 22 September, the chief minister passed away at 11.30 pm Monday. Her body is being taken to her Poes Garden residence, from where it's expected to be taken to Rajaji Hall in the morning for people to pay their respects.
The AIADMK has chosen Jaya's trusted lieutenant O Panneerselvam as leader of its legislature party at an emergency meeting. Governor Vidyasagar Rao swore in Panneerselvam as the new chief minister at a solemn ceremony at Raj Bhavan sometime after 1 am. All other outgoing ministers were sworn in as well. The new government is expected to announce a state funeral for the departed leader.
Also Read: From glamour queen to politician, the extraordinary story of Jayalalithaa
The biggest challenge for Panneerselvam will be to keep the flock together. An AIADMK without Jayalalithaa is vulnerable to pulls and pressures from its rivals - not only the DMK but also national parties such as the BJP and the Congress, which have been waiting to gain a foothold in Tamil Nadu since the state came under Dravidian rule back in 1967.
It took tall leaders like Jayalalithaa, Karunanidhi and Jaya's mentor MG Ramachandran to keep the national parties from taking power in Chennai, even while they maintained good relationships with them in New Delhi.
Although the 1972 split, when MGR walked out to form the AIADMK, weakened the DMK, politics has remained polarised between two leaders - first between Karunanidhi and MGR, and later, between Karunanidhi and MGR's legatee Jayalalithaa.
Karunanidhi, 92, is hardly up to the challenge of holding the fort; he is right now hospitalised in Chennai. Unlike the AIADMK, however, the DMK's succession plan is already in place with general secretary MK Stalin chosen the heir apparent.
Indeed, it was Stalin who led the party's campaign in the last election and proved his mettle by getting 90 seats in the 234-member Assembly, although he couldn't wrest power from Jaya. He is now the leader of the Opposition.
However effective the DMK may have been as an Opposition, it could not outdo the AIADMK even when Jaya was battling for life in hospital, as the party's clean sweep in three recent Assembly bypolls showed.
Inheriting a legacy
Jaya had the advantage of acceptance by the people as MGR's successor. As she said during the turbulent phase of the AIADMK when MGR was battling for life in a New York hospital in 1984, this was enough for her to inherit the vote bank. It was effective too, and together with her charismatic leadership and relentless campaigning, brought voters to the booth.
Although MGR returned to assume power again in 1985 after successful treatment in New York, he did nothing to contain the two factions that had emerged in his absence, one led by his factotum and movie producer RM Veerappan and the other by his heroine of many a film, Jayalalithaa.
When MGR suffered a stroke and renal failure and was admitted to the same Apollo Hospital, Jayalalithaa was denied access to him by his wife Janaki, at the instance of Veerappan.
Also Read: Amma returns: decoding Jayalalithaa's historic win in Tamil Nadu
After MGR's death in December 1987, the AIADMK split, with Veerappan taking 90 legislators with him and Jaya about 30. To spike Jaya's ambition, Veerappan made Janaki the chief minister, but Jaya turned the trial of strength in the Assembly into a battle royal, and Janaki's ministry - although it carried the day with the help of an obliging Speaker - was dismissed.
Power did not fall into her lap easily, however. She lost the 1989 Assembly election as the AIADMK had split and a triangular fight enabled Karunanidhi to return as chief minister after 13 years. Janaki, crushed in that election, quietly and gracefully gave way to Jayalalithaa, handing over not only the party's funds, running into crores of rupees, but also helped her get back the two-leaves election symbol.
The symbol, and an alliance with the Congress under Rajiv Gandhi, led to a sweep of the 1989 Lok Sabha election. Jaya thought that if Rajiv returned to power, she could get Karunanidhi's government dismissed. But as luck would have it, VP Singh became the Prime Minister.
Jayalalithaa, having gone into a shell, came back only after VP Singh's government was toppled in late 1990 and the Chandra Shekhar regime obliged her by dismissing the Karunanidhi government in January 1991.
The assassination of Rajiv in Tamil Nadu by the LTTE, which was patronised by Karunanidhi, led to a sweep by Jayalalithaa in the 1991 polls and a humiliating defeat for the DMK.
Power plays
The 1991-96 rule of Jayalalithaa proved to be not only autocratic but also totally corrupt. So much so that the people threw out her government lock, stock, and barrel.
She bounced back in 2001. Although barred from contesting elections due to conviction in two corruption cases, Jaya took over as the chief minister, only for the Supreme Court to direct her to step down and get her name cleared in the two corruption cases, which she eventually did.
The legacy of that era was the disproportionate assets case which resulted in her conviction by a special court in Bengaluru in September 2014. The conviction was a shock from which Jaya never fully recovered, even though she was acquitted by the high court.
Karnataka's government appealed the verdict in the Supreme Court, which reserved its order. Now that Jayalalithaa is no more, the charges against her will abate. But the other accused, including Sasikala Natarajan, who was for long the power behind Jaya's throne, will face jail if the apex court upholds the lower court's verdict sentencing them to four years rigorous imprisonment and imposing a fine of Rs 100 crore each.
Politically, the moot question is whether the BJP and the Congress will find space in Tamil Nadu in the post-Jayalalithaa phase. In a succinct comment in the Assembly, Jaya once said parties like the BJP and the Congress could not be expected to fight for Tamil Nadu's cause in inter-state disputes such as over the sharing of Cauvery, Mullaperiyar and Krishna waters, as they had bases in Karnataka and Kerala.
Although Jaya proved her mettle in politics and led a mass-based party like the AIADMK for nearly two decades, she allowed herself to be led by others - be it her mother to whom she was deeply attached and who pushed her into cinema, or MGR, her mentor, who brought her into politics, or Sasikala, who got her embroiled in corruption cases.
In a television interview in 2001, she had said, without any rancor, that while her dearest wish was to be left alone to lead her life, she had now become the prisoner of her followers.
That way, perhaps, she was more to be pitied than censured.
Also Read: Jayalalithaa: what happens if a demi-goddess falls ill?