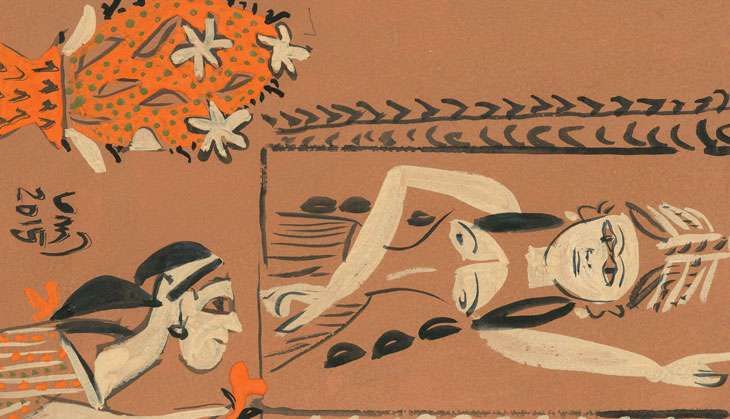 The experiments of K G Subramanyan -- artist, teacher, poet and theorist - across various mediums on everyday life situations will be showcased at the 13th edition of the Festival of the Arts at IIC.
Vijay Kowshik, a renowned artist himself, has curated Subramanyan's works.
"Since I knew him for so long and had seen his art works evolving over six decades I felt I should have an exhibition of his works which have not been shown in Delhi before," Kowshik tells Catch.
But this isn't the only reason for Kowshik to display his curatorial skills. He has had a special relationship with Subramanyan, who passed away earlier this year.
Fondly known as Mani, Mani sir, Mani da in the world of art, for Kowshik, Subramanyan was Mani Kaka. Kaushik's earliest memories of Subramanyan are of Mani Kaka visiting his parents in Delhi in the 1950s.
"We called him Kaka and his wife Sushila Masi since both studied at Santiniketan during the time my parents were there. He was very skilled with his hands and made small toys for us with paper, strings or whatever he got his hands on," recalls Kowshik fondly.
He even remembers the time when Mani Kaka's daughter came into this world. "In 1956 they were overwhelmed with joy when 'Uma' their daughter was born," he says.
Block your dates. The 13th IIC Festival of the Arts is about to start in Delhi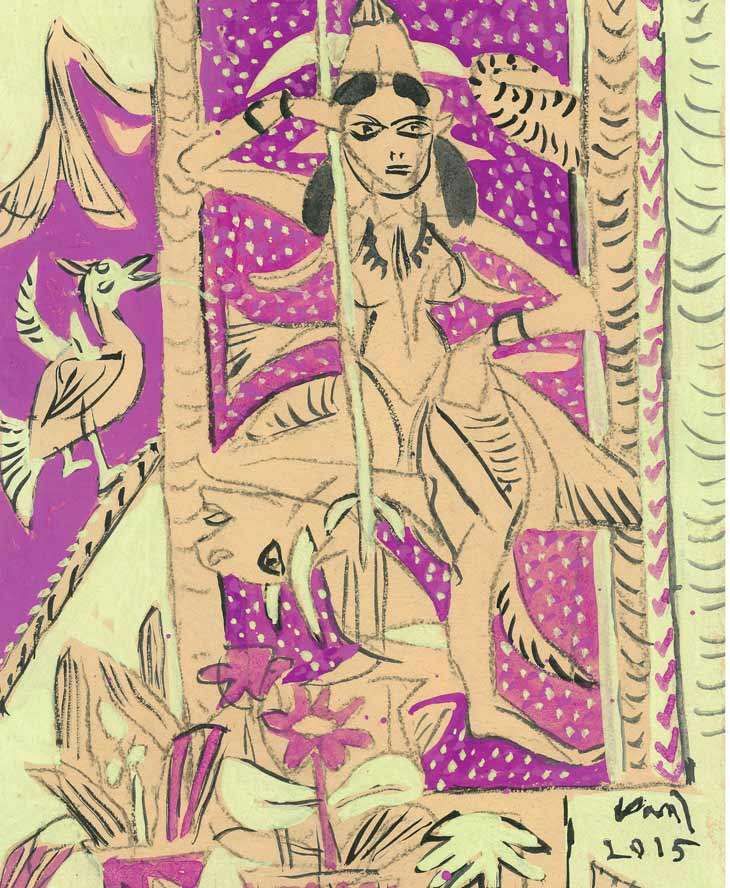 Challenge of curating
Curating the works of Subramanyan is no easy feat. But it was an idea that had been playing on Kowshik's mind ever since Subramanyan passed away.
"When I went for his last journey (Vadodara) I wanted to do a show of his which would be talked about for a long time," says Kowshik. It was also the city where Subramanyan had spent the last years of his life, a place that Kowshik kept visiting every two years or so to meet the lengendary artist.
"The paintings on display at IIC are from collections in Pondicherry, Kolkata and a few are from Delhi. Mr Navin Kishore of Seagull Foundation and Prof Siva Kumar of Santiniketan have been very helpful.
"The works convey spontaneity, simplicity, humour, wit and satire. These qualities are seen in his writings and, in fact, were obvious in his real life interactions."
Guru & Shishya
Kowshik was never a student of Subramanyan. Nevertheless as a student he would have made Subramanyan proud.
"I was not a student as such, but over the years in one on one interactions with him I have learnt a lot," he says.
"His students revere him. He was always interested in each student and listened patiently to their problems and gave suggestions. He was a great listener."
Asked if any contemporary artist came close to Subramanyan's calibre, Kowshik says, "Artists have their own styles and nuances. I don't think art comes in the competitive category. But I can say this that he was among the best."
The master's works
In 1963, Subramanyan created the famous mural at Rabindra Bhawan in Lucknow.

"Our family was also part of the group when it was installed in 1964," recalls Kowshik.

Following the installation, Subramanyan made many more murals including the Gandhi Darshan in New Delhi and two major works at Santiniketan.

"Later as a reader and professor at the faculty of Fine Arts in Baroda he galvanised the department into a throbbing entity encouraging each student to think independently and develop his own path."

Kowshik says Subramanyan's work is "evolved" and that he excelled in juxtaposing joy and sorrow.

"His animal drawings had intense simplicity. He used colours with great spontaneity sometimes as a backdrop to his powerful drawings. The content in his work had a lot of humour and often satire from everyday situations," says Kowshik.

He experimented across a range of materials -- terracotta, ceramics, cement castings with sand moulds and bamboo.
The academic
"In 1977, when my father was going to retire, he invited Subramanyan as a visiting fellow to Kala Bhawan, Santiniketan and subsequently he became a professor of painting there in 1980.

"During his time at Santiniketan plenty of path breaking works were undertaken in ceramics, paintings, murals," says Kowshik.

"At that time he had decided to settle down at Santiniketan, but in early 2000, Sushila Masi got ill and in 2004he shifted back to Baroda where she passed away in 2005. After this his very vigorous involvement with painting started again."

Kowshik also lists writing as one of Subramanyan's strengths.

"He wrote and sketched a number of books for children which have been popular. He also wrote books on art."

As a senior artist himself, Kowshik is happy with the contemporary art scene in India which he says is "by and large vibrant".

And he's happier to have managed to do justice to Mani Kaka's works.

In pictures: Juandres Vera makes art come to life