Kumbhar Hasan Umar is a famed potter from Bhuj in Gujarat. He takes up to five days to mould, fire and paint a batch of little bowls. Life was good till 2001, when the Bhuj earthquake levelled his home and his dreams. But when you belong to a legendary family of potters, and even carry the glorious "kumbhar" in your family title, life's experiments begin and end with clay.
Umar and his family remoulded themselves to deal with life's fresh blows and burdens, letting the lack of appreciation for their craft sink in, and moving on with the times. Trying to create what the world would like - the garish, the glazed. Trying to get used to the spoken and the unspoken verdicts - who cares for your craft? Who cares for the beauty that the little imperfections lend to your creations?
But they are not giving up yet. In fact, not ever.
Trial by fire: the grand old potters of Khurja will not mould for mass market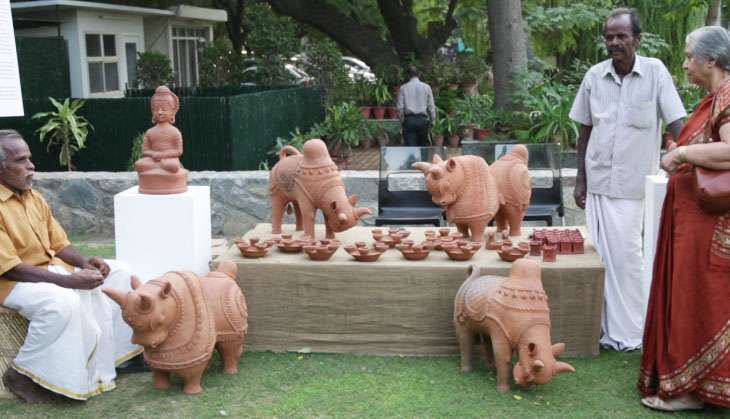 The Kumbhars
Umar's story is not his alone. The same thoughts, sometimes articulated, sometimes not - link almost all the old potters of India.
M Rangaswamy makes animal figurines - elephants, horses and bulls - to dedicate to the Lord Ayannar shrines in Tamil Nadu. It takes up to five people and five days to make one figurine. Once complete, they are placed inside a shrine - the figurine heads with their trademark head tilts in reverence to the god.
"It's only here that you see these figurines placed in a lawn. Or in some affluent people's homes. But traditionally their place is inside a temple or a sacred part of the house," says Rangaswamy, who is showcasing his pottery at an exhibition titled "In the Language of the Clay" at IIC.
Rangaswamy is patiently entertaining queries on his craft and his village from those present to see the potters' exhibition.
"You didn't get a special piece for me this time," an old patron of his works teases him. He indulges her a little, he knows how much she values his works, and how much he values people like her.
What irks him is when people repeatedly tell him that his craft is expensive, his creations overpriced - especially when it comes from those who would spend a fortune on an assembly line product, but would bargain hard for a hand-crafted item.
Harkishan Prajapati, a Delhi-based potter, also loses his cool when he gets told that his art is expensive.
Holding a medium-sized terracotta bowl, he asks, "If I am selling this for Rs 750 how is this expensive? I have spent almost a week working on this piece."
In the four decades or so that Prajapati has been making clay pottery he has not managed to own an outlet to retail his creations. He works from home, often on orders.
"The middle class does not seem to understand the worth of clay pottery. I have almost given up on them. It's only the rich or people who appreciate Indian arts who understand the hard work that has gone into each piece," he says.