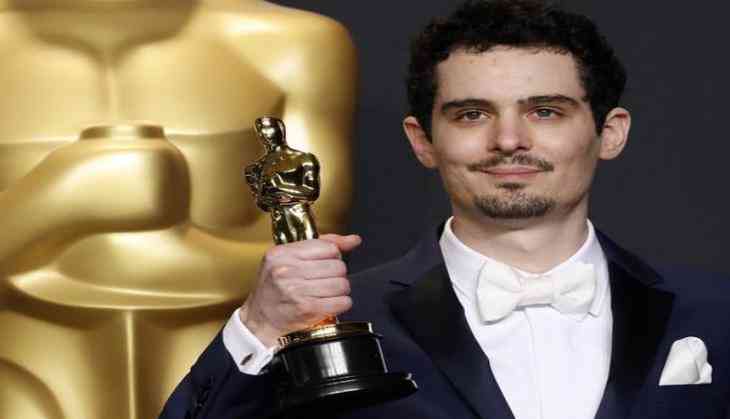 Oscar-winning director Damien Chazelle is heading to Netflix.
According to The Hollywood Reporter, Netflix has picked up 'The Eddy,' an eight-episode series coming from IMG.
Chazelle will executive produce the series, with the newly-minted Oscar-winner behind 'La La Land' also directing two episodes.
The show set in contemporary Paris, revolves around a club, its owner, the house band and the chaotic city that surrounds them.
Brit writer Jack Thorne, who was recently brought on by Disney to re-write 'Star Wars Episode IX', has penned the series, which will be shot in France and feature dialogue in English, French and Arabic.
"I've always dreamed of shooting in Paris, so I'm doubly excited to be teaming up with Jack, Glen and Alan on this story, and thrilled that we have found a home for it at Netflix," noted Chazelle.
Emmy-winning producer Alan Poul will also exec produce, while the original music is being written by six-time Grammy winner Glen Ballard.
Sharing his excitement on teaming up with Chazelle, Erik Barmack, Netflix's vp international originals, shared, "From the intense, complex relationship between a jazz drummer and his instructor in Whiplash to his dazzling duo of lovelorn Los Angelenos in La La Land, Damien's work is emotional and electrifying. His projects have a rhythm all their own, and we're incredibly excited for him, Jack, Glen, Alan and the production team to bring their vision for The Eddy to Netflix."
Adding, "We couldn't be happier that he will be shooting The Eddy in France and that we will bring this bold, global and multilingual series to our members around the world."
Alongside ' The Eddy', Chazelle is also gathering steam under his next feature, Neil Armstrong biopic ' First Man'.
Jon Bernthal recently joined the project, which will reunited the director with his ' La La Land' lead Ryan Gosling and will also co-star Kyle Chandler, Corey Stoll and Jason Clarke.
-ANI