As the lines immortalised by the Spiderman series go, "With great power comes great responsibility". And even Peter Parker would agree that given how much power pornography has in our world, this statement definitely holds true for porn websites.
And the best part is, they're actually doing their bit. While the popular PornHub has initiated many welfare drives under something called PornHub Cares - which recently launched a Save The Whales drive - porn website xHamster.com has gone one step ahead in the quest to save humanity. The site has basically banned all users in the American state of North Carolina from viewing porn on their website. All they can now see is a black screen.
Nope, it isn't a porn blackout like the one India experienced thanks to the Department of Telecommunication's blanket ban back in August 2015. Nor have they been hit by a sanskari wave.
North Carolina is being taught a harsh lesson by xHamster for persecuting its LGBT population. On 23 March, the state passed the House Bill 2, which stops cities and counties in its jurisdiction from passing any laws that favour or protect LGBT rights.
The porn website has further announced that it will remain blacked out for the state until the bill is repealed.
"We have spent the last 50 years fighting for equality for everyone and these laws are discriminatory, which XHamster.com does not tolerate," xHamster spokesperson Mike Kulich told Huffington Post.
Stressing that this move was a punishment for North Carolinians, Kulich added, "We will not stand by and pump revenue into a system that promotes this type of garbage. We respect all sexualities and embrace them."
Much like sanskari India, where taboo porn like "bhabhi devar sex" ranks high, North Carolina loves its share of "transsexual" and "gay" sex videos. But none of this is reflected in the state laws.
xHamster will soon replace the black screen with a petition urging people to demand rights for their fellow LGBT citizens, and ask for the bill to be repealed. "Hopefully, it will get as many signatures as the 'transsexual' searches," Kulich told Huffington Post.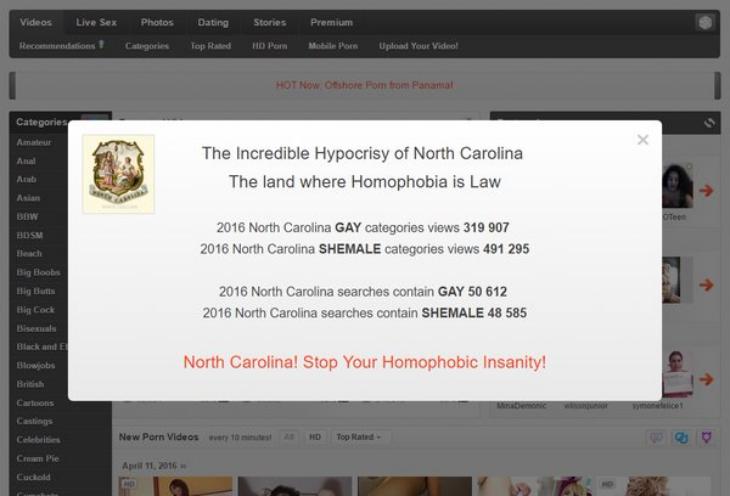 Photo: xHamster Twitter
The porn revolution India needs
It's no longer a matter of surprise when porn statistics place India high up on the consumption ladder. And this is probably a good thing, considering how sexually repressed we are as a nation. However, it isn't our porn habits that pose a threat to basic human rights, it is an absurdly ancient and completely unclear law - Section 377.
Much like North Carolina - which is a terribly small state, especially when compared to the world's soon-to-be largest population - India needs an urgent wake up call with regards to this law which deems "unnatural sex" illegal. 
'Unnatural sex' is any kind of sex that goes 'against the order of nature', basically everything barring baby-making. And that puts the LGBT community in a tough spot.
While India does not need another porn blackout (thankyouverymuch), perhaps it is time the country felt stupid about not being able to match up to the social consciousness of a porn website. And rectified that.
#377Hatao