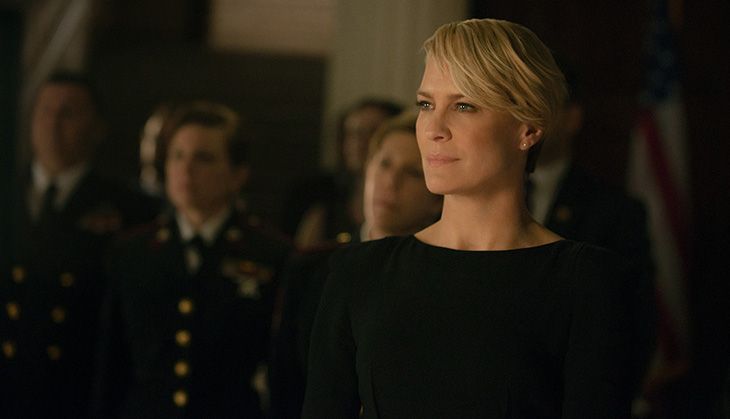 In the latest season of House of Cards, Robin Wright's character Claire Underwood truly emerges from the shadow of her on-screen husband Frank. Now, in a case of real life imitating life on screen, Robin Wright has managed something few women actually achieve - equal pay. But, while we may celebrate her success as a victory for all women, there's a caveat. Wright's victory was made possible because she is already entitled. It's something that plays out in different scenarios in every aspect of today's world.
When I was in class 9, we had an overzealous class teacher who adopted new measures to ensure discipline each week. Once, in an attempt to make all the students speak in English, she introduced a rule that cost us Re 1/- per word uttered in Hindi.
For a class that contained students from starkly different socio-economic backgrounds, this soon became a major differentiator, something our math-cum-class-teacher probably hadn't imagined. What made it worse was that the students who kept turning to Hindi for comfort were the ones finding it difficult to pay up the fines they accumulated.
One day in class, our teacher pulled up a student for not having paid Rs 12/- - her week's punishment. Unable to see how this was fair, I stood up and said, "I've always spoken in English, but that's because I don't come from a Hindi-speaking background. I'd like to learn the language though, and I'm not paying for it."
At first, the teacher looked like she would throw the duster at me. Surprisingly, she took a moment and agreed that maybe we could consider other ways of making students speak better English. This was a win, a win not so different from Robin Wright's, a win that I could only manage because I could articulate in perfect English how unfair the punishment was.
It was also a win because everyone in class treated me as though I'd developed superpowers overnight. While, in reality, I shouldn't have had to point out the absurdity of the rule in the first place.
Why is there a debate?
Robin Wright demanded the same pay as herHouse of Cardsco-star Kevin Spacey from Netflix. And she got it.
She could do so because A) She had starred in every single episode on the show, B) Like Spacey, she's listed as an executive producer, C) Unlike Spacey, she has directed seven episodes of the show, and most importantly, D) Robin Wright's character of Claire Underwood pulled in more viewers and, therefore, more money than Kevin Spacey's Frank Underwood last season.
As in my anecdote, the absurdity here lies in the fact that an already entitled person has to point out a huge flaw in the system for it to even be considered a real issue.
Wright had the power to threaten Netflix. At a recent charity event, Wright told the story of how she killed the gender wage gap. "You better pay me or I'm going to go public," she threatened the bosses. And that's awesome.
But how many women can actually afford to pull that stunt? And while it's absolutely important for empowered public figures like Wright to fight parochial bullshit like this, it's really unfortunate that they are seen as beacons of hope for the rest of us. Because no, they're not. The average woman is so far removed from the TV star's reality that she literally cannot afford to feel any vicarious sense of empowerment from Wright's victory. A life where questioning pay disparity cannot even occur because firstly, she wouldn't be privy to her male counterparts' salaries and secondly, she'd probably be all too thankful she has a job to look for signs of sexism.
So is this a problem across all economic groups? Why else is it a momentous occasion when Wright actually gets paid what she deserves?
So before we question the inherent absurdity in gender wage gaps, let's back up a bit and explore what happens to women in the same space as Wright when they don't resort to actual threats.
Netflix's sexist pay policy
Netflix is a global phenomenon. With its gigantic library of hugely successful shows and movies, it's well on its way to displacing the good old telly. House of Cards is one such show. Grace & Frankie is another.
Grace & Frankie is a story about two radically different women bonding over their gay husbands who have ditched them to be together. Given that the entire show is based on the unusual friendship between the two titular characters - essayed by Jane Fonda and Lily Tomlin - it's extremely odd that they get paid the same as their on-screen husbands.
"The show is not 'Sol and Robert' -- it's Grace & Frankie," Tomlin was once forced to say.
The problem here is the actual need to explain, demand, run petitions (yeah, that happened), threaten, or make Oscar speeches like Patricia Arquette to be taken seriously. This is what makes the gender pay gap even worse than it already is.

And these are celebs being forced to fight. Celebs who otherwise lead economically more secure lives than any of us could dream of.
The other kind of celebrity
But sexism isn't exclusive to just TV and movie celebs. The world of sports, where fair play is supposed to be a fundamental principal, also reeks of sexism when it comes to earnings. Take the case of the American women's football team.
Hope Solo, the captain of the team, has been instrumental in bringing home the World Cup multiple times. Hope Solo is also fighting to get paid as much as her male counterparts who've never even made the quarter-finals.
Earlier this month, Solo and four of her teammates filed a suit against the US Soccer Federation over pay disparity. Her team gets paid four times less than the sum the men's team does. What makes it worse is that the women's team has consistently performed better than the men.
We've brought in almost $20 million in revenue, while the men's team has lost $2 million," she told Vox. "So they didn't bring any revenue into the federation. Not to mention we had more viewership. We broke records."
In this battle though, victory for Solo isn't certain.
But is she any good?
What makes the pay parity issue one of dark humour is the documented research that proves that women are indeed the more productive gender in the workplace.
According to this Harvard Business Review article, "women are more likely to adopt more effective leadership strategies than do men". And this is mostly due to the complacency that men embrace owing to the relatively easier manner in which they got their jobs.
Studies like this make one wonder why bosses cannot look past sexism when it comes to pay. Maybe because that would require a cultural shift. And if the West, which prides itself on having more progressive values, is this laggardly, you know the situation in the Indian context is going to be grim.
Gender pay gap in India
According to recent data documented by hiring portal Monster.com, India is really big on sexism at work.
As far as their corporate data goes, the Indian female workforce is among the lowest paid in the world. While Indian men earned a median gross hourly salary of Rs 288.68, women made only Rs 207.85 per hour.
This gap grows in labour-intensive sectors like manufacturing, with a 34.9% pay disparity. In IT too, the gap is as high as 34%.
And before you dismiss this data as an exception, know that it was collected across a sample size of 30,000 across eight sectors. Also, it was recorded over a 33-month time period from January 2013 till September 2015. The World Economic Forum's Global Gender Gap Report 2015 backs this up. The report, a study of 145 countries, states that it would take another 118 years for women to close the pay gap.
And that's only if we start fighting now.
Edited by Ranjan Crasta