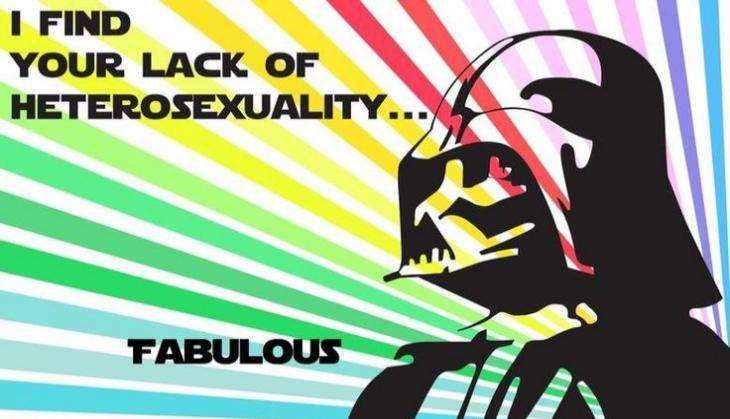 Andrew Leinonen and Joshua Yehl's friendship, like so many school-time friendships, was based on an almost nerdy hero-worship of Star Wars. As Yehl recounts, Leinonen bought a Force Awakens popcorn tin for the last movie out of sheer loyalty. He ended up not putting any popcorn in it because, of course, that would make the tin dirty.
Joshua lost Andrew (or Drew as he called him) in the horrific Orlando shooting at the gay nightclub Pulse. Drew and his boyfriend, Juan Ramon Guerrero, were among the 49 shot dead by shooter Omar Mateen.
There was only one way that Joshua thought he could honour his friend's memory. By reserving him a spot in the Star Wars franchise.
And to make that happen, Joshua started a Change.org petition hashtagged #PutDrewInStarWars addressed to Lucasfilm president Kathleen Kennedy and Disney CEO Bob Iger. The letter pleads that Drew Leinonen be added to the Star Wars family as himself.
Also read - A girl has a name: Game of Thrones is finally getting a dose of feminism
"How this is done -- using his likeness, running his name through one of those Star Wars Name Generators, etc. -- is totally up to you. You are all masters of your craft, so I know that whatever you come up with will be marvelous," he writes.
Calling this a tribute, Joshua adds, "This character will not only honor Drew but all of the other victims at Pulse in Orlando, including his boyfriend, and every LGBT person to ever lose their life to hate."
I've never met @JoshuaYehl but I'm pretty sure I want to fight anyone who has a problem with the #PutDrewInStarWars campaign

— Derek Stauffer (@TheComfortador) June 28, 2016
#PutDrewInStarWars Join this petition! honor Drew & other victims at Pulse!<33 @JoshuaYehl https://t.co/nzgz0qLlao pic.twitter.com/2649HOdDkQ

— Team RobinLordTaylor (@TeamRobinTaylor) June 28, 2016
Hell yes. #PutDrewInStarWars https://t.co/7P6b5TIrrZ

— Sara_✨ (@sosarasaid) June 29, 2016
Hey, @starwars, let's help @JoshuaYehl #PutDrewInStarWars! And remember, "there is no try."

— Aaron Rogers (@Merc074) June 27, 2016
And he makes a compelling point for the addition.
Star Wars has, with each passing installment, increasingly become more inclusive, progressive and markedly diverse.
"After A New Hope, steps were taken to expand and diversify the cast, giving us the smooth-talking Lando Calrissian and Rebel pilots played by people of color. The tradition of making Star Wars more inclusive continued with the casting of Daisy Ridley as Rey and John Boyega as Finn, the main protagonists of The Force Awakens. It's my hope that Star Wars will take another step forward by introducing their first-ever LGBT character in a movie," Joshua writes.
Also read - While you condemn Orlando shooting Modiji, do think of Section 377
Moreover, the series celebrates difference, even if it has recognised so itself lately. "This is a universe with Wookies, Jawas, and Hutts, so why can't there be a visible LGBT character on screen?" he asks in the petition.
On being asked about the possibility of an LGBT character in Star Wars, The Force Awakens director JJ Abrams said rather encouragingly, "The fun of Star Wars is the glory of possibility. So it seems insanely narrow-minded and counter-intuitive to say that there wouldn't be a homosexual character in that world."
So just maybe, Drew will make it in there.
But should he?
While it is almost unfortunate that Star Wars is taking so long to include a gay character, for one to be introduced on the back of the Orlando massacre would appear less radical and more apologetic.
The LGBT community or any other persecuted community in the world do not deserve these moments of recognition because something horrific has happened to them. And it becomes all the more tricky when there's a public demand.
While JJ Abrams is on the right track by keeping his options for diversification open, is it Drew that he needs to include in his next for viewers to make Star Wars LGBT-friendly?
Also read - Watch: On Star Wars Day, listen to Luke Skywalker crooning Celine Dion's All By Myself
As Joshua says in his petition, "It's vitally important that LGBT people are included in mainstream media because it will show that we don't need to be feared or hated or hidden. We can be part of the rebellion and we can fight evil, and we can do it while being who we are with pride." And, while that's a beautiful and completely legitimate thought, does the potential presence of his friend in fantasy series go beyond mere tokenism?
Lastly, would Kennedy and Iger be able to go against #PutDrewInStarWars now without insulting the memory of the 49 people who lost their lives so recently? That absolutely cannot be how the LGBT community wants itself represented. For a community that has held pride above all to stay sane, it would be a shame to be represented in Star Wars because the makers had no other choice.