Catch Team
| Updated on: 20 February 2017, 17:02 IST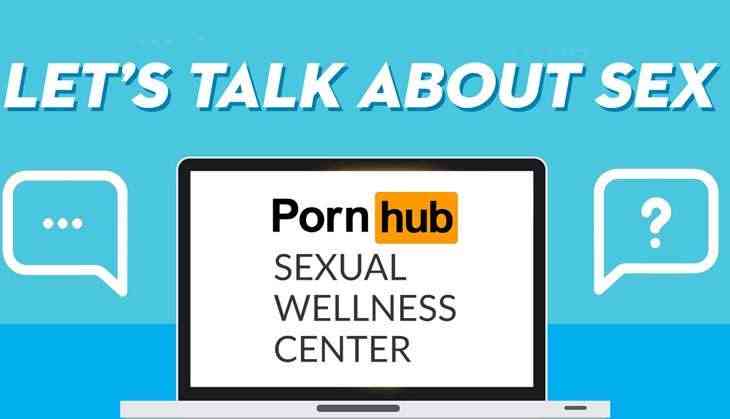 When it comes to sex, every single one of us has questions. And much like questions about banking, they are extremely important to address, yet they still usually go unanswered or, worse, unacknowledged. At least in sanskaari India.
Barring sex columns in newspapers and the completely messed up sex ed gathered from friends and porn, there really is no avenue - at least no consumable avenue - to learn more about the one activity where we're most vulnerable. And naked. And exposing impossibly sensitive parts of our body to experimentation.
But Pornhub hopes to change that. While also being the source of a lot that's misleading about sex, Pornhub has taken the responsibility to educate, rather than just excite. Through a newly launched Sexual Wellness Center available at the cheeky URL pornhub.com/sex/, the porn giant aims to provide original editorial content on information and advice regarding sexuality, sexual health and relationships.
The site will regularly be updated with features and educative videos, and they're all free to access.
So far, the page has articles on subjects ranging from 'Adult Male Circumcision', 'Antidepressants & Sexual Dysfunction' and 'What is Consent?', to 'What Happens at Play Parties?', 'Period Sex', 'Erotic Positions for Lesbians' and 'Love & Intimacy'.
Sex is serious business
For this task, Pornhub has roped in doctors, therapists, community leaders and experts. And no, none of them wear spandex bodysuits. At least not on camera.
"As the premiere destination for adult entertainment, catering to nearly 70 million daily visitors, we wanted to provide our fans with a trusted educational platform they can utilize as their go-to resource for information and advice when it comes to sex," Vice President of Pornhub, Corey Price was quoted as saying in a press statement.
"Think of us as a one-stop shop, available 24/7, to facilitate your needs, be it comprehensive information regarding STIs and safe sex, the latest in sex tech or advice on how to approach a friends with benefits arrangement," he added.
Also read -
Donald Drumpf beats Hillary Clinton, but only on Pornhub
In a welcome video on the channel, we are introduced to clinical psychologist Dr Laurie Betito, head of the Pornhub Sexual Wellness Center. A specialist in sex therapy, Dr Betito has over 30 years of experience in the field. The website mentions that she's also open to taking questions from readers.
Keen on reaching "the global audience", an opportunity Pornhub definitely provides, Betito says, "One thing I have realized is that no matter our background or desires, sexual education - mental, physical, emotional and spiritual - plays a vital role in our society."
Joining her would be human sexuality experts Dr. Kat Van Kirk and Dr. Zhana Vranglova, Trans community leader Sophia Banks, sex coach Dr. Stacy Friedman, sex tech writer Kitty Gray and Dr. Bryant Paul of the Indiana University Media School.
What makes this genius
Now this isn't Pornhub's first welfare initiative. Pornhub Cares has routinely made efforts to save whales, pay for women's scholarships in tech, work with PETA, support Movember, etc.
But this would be Pornhub's first effort to have a serious conversation in a serious manner. Pornhub Cares has always been playful, never forgetting to hat tip the parent company, filled with sexual innuendos in their content. Surprisingly, the Sexual Wellness Center steers clear of such frivolousness.
Also read -
Drop everything and watch PornHub. If you want to save whales, that is
Perhaps the tone itself sets an important premise - "Yes, we're Pornhub, but we understand sex education is no joke." Now while they're bound to editorialise, what with varied contributors, just by setting that tone, despite being Pornhub they've carefully detached themselves from the make-believe space of pornography.
This means that they aren't just targeting adults with sexual queries but also the impressionable young adults in need of some sex ed. The page is easily navigable and comprehensible to any English reading audience.
Under category 'Get Healthy', they've got 'Reproductive Health', 'STDs' and 'Your Body'. Under 'Sexuality', there's 'FAQs', 'Real Talk' and 'Relationships'.
Now these are all extremely relevant subjects that are never talked about enough. But conversations about them are never considered 'cool'. Since Pornhub, easily one of the 'coolest' websites on the internet, is willing to start the conversation, perhaps people will listen.
Also read - Sanskari India skips porn on Rakshabandhan & more such gold on PornHub
In India, especially, where the nexus between schools, parents and the government rarely allows sex ed to become a reality, this page could be a great thing to bring up casually in conversation. Constantly deprived of the space to understand sex, to see others as sexual beings, the lack of sex ed in India has created many problems.
But given Pornhub's statistics, we know that while India doesn't necessarily converse, it watches quite a lot of sex. Let's hope that Indians will now start reading about sex too.