Every 21 hours, a transperson is killed in Brazil.
In fact, 40% of all recorded trans murders in the world since 2008 have occurred in Brazil. What makes this figure all the more horrifying is that so far, in 2016, the number stands at a shocking 42% of all transgender killings.
All this data has been compiled by the Trans Murder Monitoring Project (TMM) - an initiative by Transgender Europe (TGEU) and the online magazine Liminalis. The project report further notes that of the 2,115 killings between 1 January 2008 and 30 April 2016, a total of 1,654 cases were reported in Central and South America.
Also read - How some women are fighting back against the 47,646 rape cases in Brazil
Brazil stands out with the maximum number of killings - 845, followed by Mexico (247), United States (141), Colombia (108), Venezuela (104), Honduras (80) and India (55).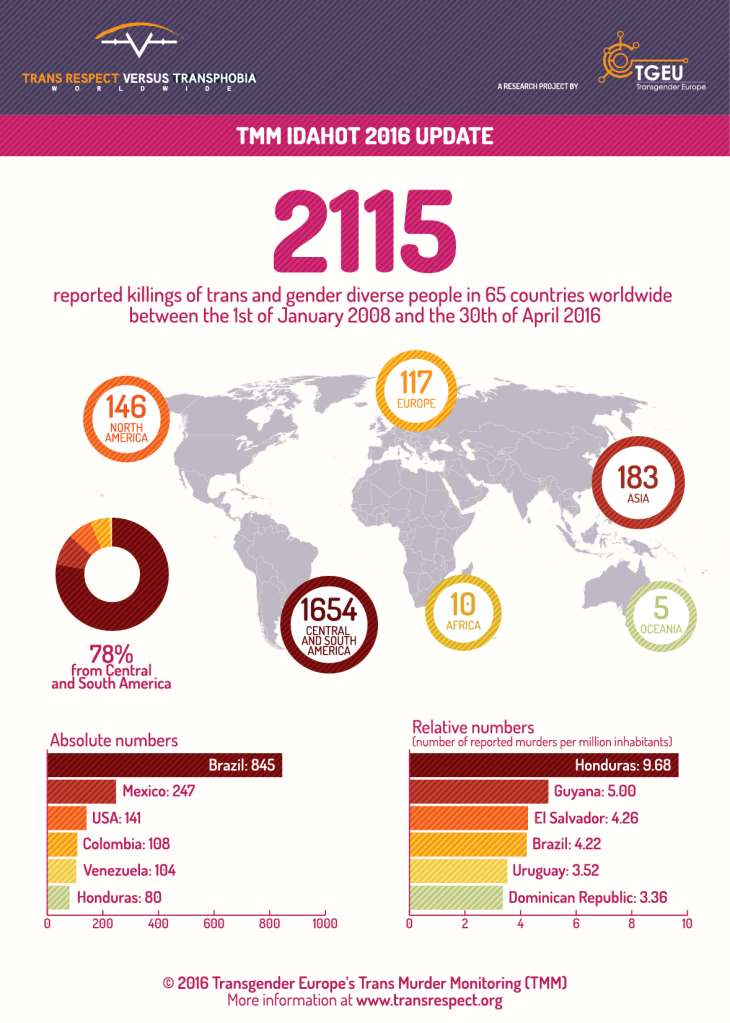 Photo: TGEU
According to TGEU's Transrespect Officer, Lukas Berredo, the numbers are so high because of better monitoring, thereby resulting in more reported cases than in other parts of the world.
"One of the factors contributing to the increase in the already high number of trans and gender diverse people murdered in the country is the recently-established cooperation between TGEU and the Brazilian trans network Rede Trans Brasil. This allows for a joint effort in more thoroughly and professionally monitoring and reporting the violence against trans and gender diverse people," says Berredo.
This, however, does not explain the high numbers before the TGEU-Rede Trans Brasil collaboration.
But isn't Brazil progressive?
Yes, Brazilian laws are a lot more open to the LGBT community than what we have here in India. The country established marriage equality in 2013, thereby providing structural legitimacy to many non-straight, non-cisgendered couples.
Moreover, Brazilians are free to identify themselves as per whatever gender they're most comfortable with. This extends to incarcerated transgender people as well.
However, as calculated by the magazine Advocate, if the whole world were to report the same numbers of trans murders as in Brazil, there would be 6,588 cases every year.
Also read - Brazil: After 17 year old girl raped by 30 men, video circulated on social media
Despite their progressive laws, Brazil has insidiously backtracked on important social reforms. In 2013, the same year LGBT Brazilians were free to marry, they blocked a bill that would have protected the rights of those with a non-heteronormative gender identity.
The evangelical lobby that rid Brazil of this human rights amendment explained that sexual orientation and gender identity are 'neither firm nor stable concepts in legislative context'.
Does the violence affect 'LGB'?
The human rights group Grupo Gay da Bahia is Brazil's representative at the International Lesbian and Gay Association. According to their records based on news sources, about 1,600 LGBT homicides have occurred since 2011. That's almost one such murder every day.
"And these numbers represent only the tip of the iceberg of violence and bloodshed," Eduardo Michels, Gay da Bahia's data manager, told The New York Times. He then added that the fact that an individual is gay or trans is most times not even mentioned in police records.
"We live off this image as an open and tolerant place," said Jandira Queiroz, the mobilisation coordinator at Amnesty International Brazil, to NYT. "Homophobic violence has hit crisis levels, and it's getting worse."
How much worse? A lot
Homofobiamata, a database that records all homophobic and transphobic killings in Brazil, is updated more often than a news website over the weekend. And that's a major human rights concern.
With updates on 5 killings in July alone, the website tracks the gruesome ways in which LGBT people are cornered and butchered in broad daylight. The latest update features the murder of 26-year-old Pandora, who was stabbed on her way back home from a party.
Earlier the same day, there was a report on the homicide of 56-year-old physician Emerson Carvalho. Carvalho was "found by his brother in the toilet in his triplex apartment and had marks of violence on his body. He died of excessive blood loss caused by stab wounds in the neck and arm."
There's also a clipping detailing the murder of police officer who was a gay rights activist, another of a student beaten to death.
Gay and out Hollywood celebrity Ellen Page, who is documenting the condition of queer individuals all over the world through her Vice docu-series Gaycation with friend Ian Daniel, got quite the shock in Brazil.
Page, while in conversation with a Brazilian cop, discovered that the man had killed multiple LGBT people. Fearing that the cop may attack her, she asks Daniel on video, "I want to say I'm gay [to the cop], do you think it's safe?"
"A person who is standing in front of you is saying I've killed people like you, I'm going to do it again, and there are other people like me who are killing people like you ... It's scary in that it's just hard to hear," said Daniel later.
As Paulo Roberto, an attorney and member of GADvS (Group of Lawyers for Sexual Diversity), points out, this is in direct violation of Brazil's international resolution to protect its LGBT citizens. Roberto told LGBTQ Nation, "If this country is not safe for our own people considering anti-gay violence, how can it be safe for people coming for the world cup and the Olympics?"
There are almost too many reasons why the Rio Olympics shouldn't happen. From environmental and poverty-related issues to racial attacks and the obvious hit the Brazilian economy will suffer. Ironically though, even the issue-plagued Olympics has a Pride House for the safety of LGBT participants, even as the host nation remains willfully apathetic.
Also read - Brazil's new cabinet is high on white men, low on sense
But why is this happening?
Considering Brazil was the firs Latin American country to recognise same-sex couples and their desire to adopt children, all the way back in 2003, this scenario is a shocking turn of events.
Almost all news pieces on the violence attribute the root cause of the problem to either one or both of these reasons:
1. Brazilian culture hasn't changed while the laws have. This has led to increased hate against the LGBT people for having gained recognition.
2. There has been a huge growth in the anti-homosexual evangelical Christian population in Brazil. Back in 1970, the evangelicals made up 5% of all Brazilians. Now they make up a quarter of the total population and a great part of Brazil's Congress.
However over-simplistic a two-fold explanation might be, when compared with the fact that the number of reported cases of LGBT homicide since 2008 for Brazil are almost three times that of the next worst country - Mexico - these concerns are a good place to start.
And, in order to start protecting its LGBT people, Brazil desperately needs cultural change and police reforms. Not the already damned Rio Olympics.