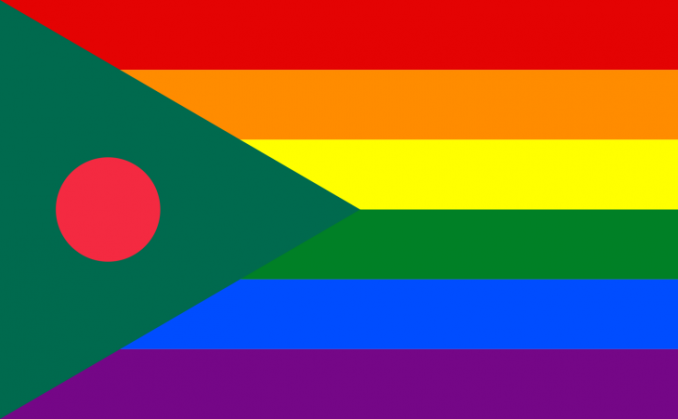 When the news broke, it came in great waves of numbness, nausea and regret. The editor of Bangladesh's only LGBT magazine and his friend hacked to death by a group of men in Dhaka on Monday.
There is little time to cope with death in newsrooms; Xulhaz Mannan and his friend Tanay Mojumdar had become letters to be typed out, edited and made news by heterosexual men, strangers to the struggles of millions of Lesbian, Gay, Bisexual, Transgender (LGBT) people.
Mannan was the editor of Bangladesh's first LGBT magazine, Roopban. The security guard at the apartment he lived in was seriously wounded.
These were not isolated killings and came after days of intimidation and threats on Facebook by members of a group called Voice of Bangladesh. The group spent days spewing hatred against LGBT persons in Bangladesh, singling out profiles for hate speech and threats of physical violence and rejoicing in their social media humiliation.
Mannan was also one of the organisers of the Ramdhanu Shobhajatra in Dhaka last year, where hundreds of people turned up in the colourful pride to mark the Bengali new year.
But this year, the event was scheduled after days of threats, some on social media by members of Voice of Bangladesh, and police even arrested four people who turned up. A petition by concerned activists and allies in India to ban the Facebook group and ensure stringent action against LGBT hate speech online is circulating on Change.org.
The murders were also part of a broader pattern to muzzle free thinking and speech in the country by suspected hardline Islamic groups. The killing spree started in February last year when blogger Avijit Roy was hacked to death.
Since then, numerous bloggers, thinkers, students and professors have been thrashed, shot, hacked. Just two days ago, a professor at Bangladesh's Rajshahi University was killed by suspected Islamic State militants. Mannan's killers were also heard chanting "Naraaye Takbir, Allah-hu-Akbar".
None of this is new. LGBT people are rarely safe anywhere in a world where straight, upper middle class, white (or upper-caste) men dominate. From Dhaka to Delhi to New York, queer folk are maimed, bruised, beaten, raped and killed with impunity by a patriarchy that is both powerful and fragile. More transpersons were killed last year than at any point in recorded history.
Bangladesh is a story of contradictions. It has its section 377 - a legacy of the same colonial baggage India carries. But in 2013, it accorded transgender people "third gender" status and has worked, sporadically, for their welfare.
In India, stories of LGBT hate speech, assault, discrimination are common. Intimated by section 377 and a pincer grip of gender, caste, class oppression, thousands of LGBT people don't even have access to the law, let alone justice.
But Mannan's death brought it home with a sickening crunch: That as we debated ways to get married and the perfect party venue, people were getting hacked with machetes in their own homes. That a rampaging army of people out to purify their country of deviants and law-breakers weren't being stopped by a avowedly secular government. Wait, does that sound familiar?
I only knew Mannan through his writings and discussions on online fora in Bangladesh, most of which will close down now. A cleansing movement will push more and more thinkers, free-speech exponents to the margins, make LGBT folks retreat into the shadows and compel them to choose if they should abandon their homes, just because their love and lives weren't sanctioned by the powerful.
In these dark times, Mannan's words stand out and his powerful articulation of the language of love can soothe and show the way.
"In a country where the whole concept of sex and sexuality is a taboo, we are learning to navigate our ways by highlighting love as the center of all, as a human right that can't be denied, hoping for broader acceptance some day!" he wrote in an article for Pinkpages. Inshallah.