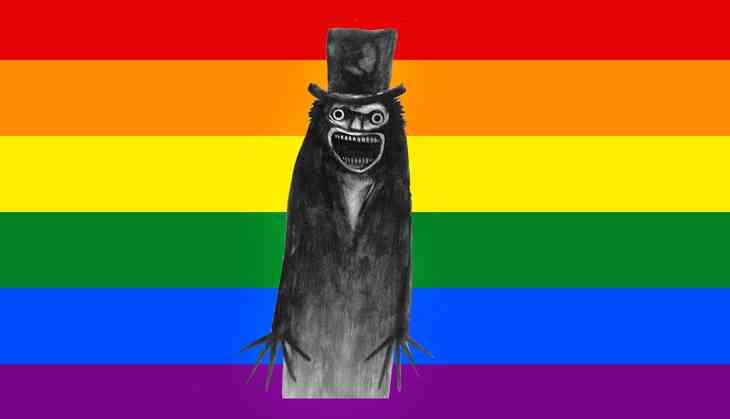 In 2014, a fascinating horror film, directed by Jennifer Kent, was released. The Babadook's story, on the face of it, seemed to be a run-of-the-mill tale of a boy and his mother haunted by a monster. Except, that would barely scratch the surface.
The Babadook's complexity lay in the mother's association with the monster. It appeared to be a dark part of her mind, a female mind, often associated with postpartum depression in articles which discussed the film. And even in its dark, hysterical appearance, Babadook was never a bulky, masculine monster.
Babadook, thus, could very well be understood as a queer monster, trying to quite literally come out of the closet. And suddenly, the internet has noticed this.
While rumours of Babadook being queer have been floated about before, Netflix sealed the deal by putting the film under the LGBT section. Whether this was intentional or not is immaterial, because it essentially made internet history.
Besides, Netflix played it totally cool by posting this.
Be the Babadook you want to see in the world. 🙌 pic.twitter.com/mVcNwIJEIA

— Netflix US (@netflix) June 9, 2017
Now, the celebrated queer icon for #Pride2017, Babadook is enjoying his/her moment in the sun.
The Babadook meme is honestly the best meme of 2017 so far. Iconic really. pic.twitter.com/z1OCniopev

— niall (@ItsMeNiallN) June 8, 2017
Here's what people on social media have been saying:
On Reddit
Levi-Avatar
Babadook be Babadank. Just look at that fabulous hat!
that_spacegoat
Babadook is the reason homophobia is a fear
loza98Never sleep again
When I first saw the post on Tumblr, I was babashook
NOLAHorror
Lesbian Gay Babadook Transgender
The whole LGBT being a short for Lesbian Gay Babadook Transgender has really amused people. One Twitter user even said that she was amazed to learn that she's been a Babadook all along.
Here's a tweet on bi erasure.
as a bi gal even the most remote bi erasure really annoys me but the idea of the b in lgbt standing for babadook is so fucking funny

— chuck 🐦 (@charlubby) June 8, 2017
More from Twitter
Fabadook
my favorite thing right now is how the internet is supporting the LGBT icon that is the babadook pic.twitter.com/bAVQShQDtL

— edgelord allan poe (@haarleyquin) June 9, 2017
The babadook did THAT pic.twitter.com/tnhSR1qAmy

— milk (@yellowisak) June 5, 2017
#Pride2017
We believe in equal rights for everyone — and we mean everyone. Happy #Pride2017 #Babadook pic.twitter.com/So6jdIyIbf

— Maura Healey (@MassAGO) June 10, 2017
I felt the need to fix the Facebook #Pride2017 reaction so that it is more inclusive of the Babadook community. pic.twitter.com/9Jc4Ef0X4z

— BabaSheBettaDook (@salmattos) June 10, 2017
Babalove
The Babadook's boyfriend is, you guessed it, the Marmaduke

— Paul Marbach (@fastfrwrd) June 9, 2017
Superdook
i'm late. is the babadook still the friendly neighborhood gay icon we deserve? pic.twitter.com/NVhuwvF270

— nikki (@noogaloo) June 9, 2017
Britney who?
Which gay icon has the better eye make-up?
RT for Britney, like for Babadook pic.twitter.com/sOEaPBeVwD

— ️ ️ ️ (@blackzoneglory) June 9, 2017
Oh so witchy
the blair witch (lesbian) and the babadook (gay) are the only lgbt icons i need in pride month god bless

— alfie. (@granteire) June 6, 2017
Babadook art
I was inspired to edit an old drawing into the style the REAL Babadook would've appreciated😤😤😤 pic.twitter.com/v4zsDcYYns

— Uncle Babadook (@Sickribosomes) June 5, 2017
In conclusion, as thrilled we are at Babadook coming out of the closet, it's important to remember how the world is yet to accept diverse sexualities. In that respect, Babadook is the monster we need, but do we really deserve him/her?