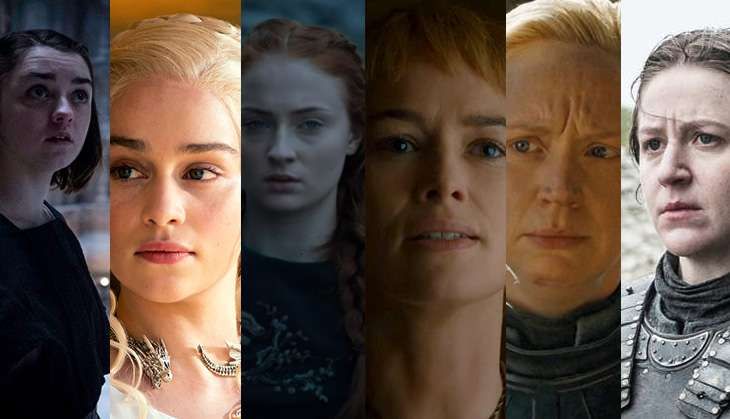 If there's one thing the latest episode of Game of Thrones (GoT) has established, it's this - the Westerosi women have taken charge. Right from Daenerys Targaryen's (Emilia Clarke) dragon-powered destruction to her pact with the future queen of the Iron Islands Yara Greyjoy (Gemma Whelan), Season 6 Episode 9 has finally given women tangible power in the medieval world of GoT. Of all of them, however, Sansa Stark's (Sophie Turner) character dramatically stands out.
Whether Sansa's intentions to help save her brothers Jon and Rickon appear dubious or her method for killing Ramsay Bolton (Iwan Rheon) resonates better with the Bolton banner rather than the Stark's is a question of virtue. And since the TV adaption of George RR Martin's A Song of Ice and Fire series quickly forgets what true virtue really is, this potentially evil streak in Sansa is a lot less significant than the power she is finally wielding. Or will soon wield as 'Queen in the North'.
In fact, ever since the show moved ahead of the books, the show's creators - David Benioff and DB Weiss - appear to be dramatically restoring power to the women in the show. But, while this wouldn't be unusual for Martin himself, the TV series has in the past forsaken the cause of women to incorporate sexual violence - sexual violence that is not present in the books.
Rape = Sex
Jamie Lannister's (Nikolaj Coster-Waldau) honour - the same honour the show is trying to restore this season through Brienne (Gwendoline Christie) - was completely lost the day he raped his sister Cersei (Lena Headey) beside their dead son. Cersei's rape made no sense on two counts. One, that Jaime's love for Cersei is so strong that he would never let harm come to her. Two, in the book it is consensual sex, something the show makers felt the need to twist.
While one can call it creative liberty, this isn't the only instance where sex has been replaced with rape in the show. What's worse, both scenes question the relationship between two people who are deeply in love. Daenerys' first night with her husband Khal Drogo (Jason Momoa) should've caused a dent in their relationship later. But it doesn't, because in the older seasons of GoT women sacrificed self-worth for safety.
Also read - Game of Thrones S06E09 highlights and what to expect from Episode 10
A narrative trope which Sansa's murder of Ramsey changes. Sansa's revenge for the sexual violence she was subjected to epitomises the show's need to give its women a chance at war. Personal wars. Daenerys, who couldn't escape abuse at home, repeatedly emerges unhurt from Vaes Dothrak, from amidst an army of hostile Dothrakis. And how.
Her empowering nudity as she emerges from the flames, killing all the Khals is a stark contrast from the way Cersei's nudity during her Walk of Shame last season was treated. While Cersei's nudity was meant to show her flaws, as in the book, the show glosses over the emotional trauma she experiences. It's just another spectacle that does nothing for her character, and everything for PornHub.
Some say GoT is a feminist show. After Sansa's rape last reason, it stopped appearing so. Benioff and Weiss' complete makeover of her character appears to be their own moment of Atonement.
Also read - Game of Thrones Season 6 Episode 9 recap: the North lies bathed in blood
Need for feminist television
'But is it necessary?', some may ask. Why would a show that is doing so incredibly well anyway change the way its female characters are treated?
The only plausible answer is that viewers want to see women in power. And this could only come from a larger ideological change in society that's impacting popular culture across the board.
Last year, feminist website The Mary Sue announced a boycott of GoT. This meant that the site stopped covering all GoT developments due to the show's repeated use of rape to sensationalise.
Angered at Sansa's rape last season, the website posted, "We apologise to the cast and crew of the show, as well as countless others invested in the show through their own work, but also to our readers who may feel negatively impacted by this. We're constantly asking for better from those creating the media we love, for them to really think about what they're putting out into the world. We simply can't bring ourselves to be excited by a product which no longer meets our needs as fans."
Also read - We're stoked Robin Wright won the equal wage battle. But India Inc isn't going to follow suit
Mary Sue's anger though, wasn't limited to just them. And that must have concerned the makers. So while the storyline is increasingly getting over-simplistic, with characters doing things that are so completely out of character that fans have tried to desperately plug the holes online, it is reassuring to think that GoT is turning over a feminist leaf. Because that's pretty much all we have left. Think Arya Stark's (Maisie Williams) stint in Braavos and you'll know what we're talking about.
A sweeping change
While GoT is putting women back in positions of power, it isn't the only show embracing a feminist premise, nor is it a pioneer of the same.
Be it the challenges of a women's prison in Orange is the New Black, the completeness in female friendship in Grace & Frankie, the openness with which female sexuality is celebrated in Jane the Virgin, or the unapologetic female lead in The Good Wife, women are increasingly being shown as non-hyper sexual, real people. People capable of delivering comedy and tragedy in equal measure, unconcerned about the male gaze.
Take for instance the powerful scene in How to Get Away With Murder where Annalise Keating (Viola Davis) removes her make-up and wig on screen. In one short scene, she not just lets go of the pressure of looking perfect on TV, but also empowers black women by stripping off the inherent racism that demands they look a certain way.
"There was absolutely no precedent for [that scene]. I had never seen a 49-year-old, dark-skinned woman who is not a size 2 be a sexualised role in TV or film," Davis said in a round table interview with The Hollywood Reporter.
Also read - Valar Morghulis. Even Game of Thrones will die
If you've watched Marvel's Jessica Jones, you've encountered the foul-mouthed lead played by Krysten Ritter, who is an alcoholic superhero (dark superheroes FTW!) with post-traumatic stress disorder. If that wasn't complex enough, she's also trying to constantly grapple with child sex abuse, a topic that the show deals with sensitively. The kind of sensitivity that Game of Thrones has largely lacked in the past.
The beauty in all of this, of course, is that a shift in popular culture is always a sign of a social demand. Because if the society doesn't increasingly want women to do well, they wouldn't want it in their shows, and if this hypothesis is correct, we can all breathe a little easier. Because if popular culture can't change prevalent culture, what will?