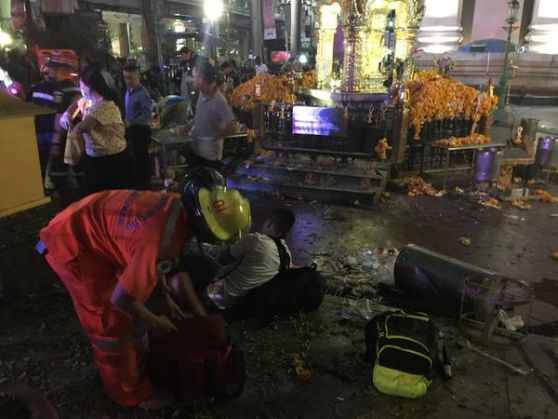 Thai police on 22 August examined new CCTV footage showing an unidentified man dropping a package into a canal where a second explosion had taken place a day after the country's worst terror attack that killed 20 people.
Police have failed to make any arrests as the hunt intensified for perpetrators of the devastating blast at the popular Brahma shrine here on 17 August.
CCTV video obtained by local media showed a man in a blue t-shirt kicking the package off a footbridge in the same spot where a device exploded on 18 August without injuries.
Little evidence has emerged from 17 August attack, which Prime Minister Prayuth Chan-ocha called Thailand's worst-ever terror attack.
Police released a sketch and video of their main suspect, who has been described as a foreigner and is believed to have been working as part of a network.
Meanwhile, the reward for the bombing suspect went up to 10 million baht (USD 335,000) with former Thai prime minister Thaksin Shinawatra's son offering 7 million baht for the arrest of those behind the blast in the temple, in addition to the 3 million baht already offered by authorities.
It is still not clear what motivated the attack as there has been no claim of responsibility with suggestions of domestic political turmoil to Muslim insurgents in the south, but officials say it is unlikely that an international terror group is involved.
Thai security forces are sharing information with Interpol and with intelligence agencies from other countries. At this point, they don't know if the main suspect is still in Thailand, said police spokesman Prawut Thavornsiri.
He said investigators are reviewing surveillance video from Bangkok's two international airports as well as from the scene of the bombing.
Police have released a sketch of the main suspect showing a dark-haired man with glasses and light facial hair.
-PTI