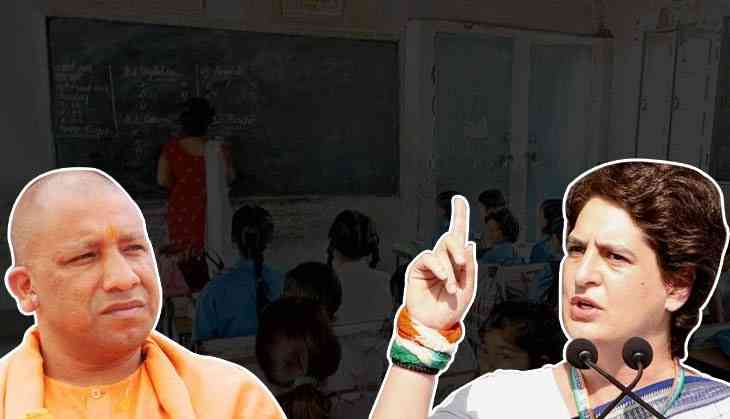 Congress leader Priyanka Gandhi Vadra slammed UP government on Tuesday over the vacant positions of teachers in the state.
Gandhi took to Twitter and wrote that approximately 2 lakh vacancies need to be filled for the posts of teachers in Uttar Pradesh. She further added that youth are waiting for a job opportunity and aspirants are protesting against the unemployment rate in the state.
Priyanka slammed the BJP led government in UP for its ignorance, She said, "BJP government either turns away from them on the question of jobs or states that there is a lack of skill in the North-Indian youth," Vadra tweeted in Hindi reads.
उप्र में शिक्षकों के लगभग 2 लाख पद खाली पड़े हैं। युवा नौकरियाँ निकलने का रास्ता देख रहे हैं। धूप-बारिश में खड़े प्रदर्शन कर रहे हैं।

मगर रोजगार देने की बात पर BJP सरकार के लोग मुँह फेर लेते हैं या कहते हैं कि उत्तर भारत के युवाओं में योग्यता नहीं है। https://t.co/pc8iLCwouT

— Priyanka Gandhi Vadra (@priyankagandhi) September 17, 2019
The Congress leader posted this tweet over a news report which alleged that lakhs of teacher positions are lying vacant in Uttar Pradesh and Bihar.
Through this tweet, Priyanka also slammed Union Minister Santosh Gangwar's remark over north Indian candidates qualification.
Earlier, Gangwar said, 'north Indian candidates lack qualification, not job opportunities.'
Also Read: Confidence of investors shaken but Modi govt refuses to acknowledge truth: Priyanka