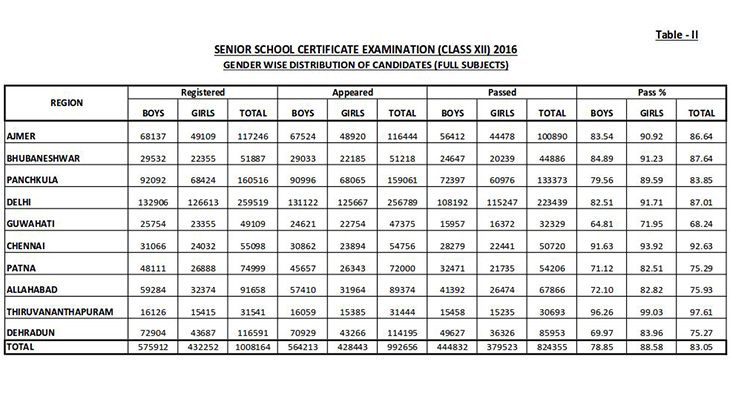 According to the latest result statistics released by CBSE on Saturday, Guwahati and Dehradun have the lowest pass percentages. Guwahati has a pass percentage of 68.24% while Dehradun's pass percentage stands at 75.27%.
About 64.81% boys and 71.95% girls passes in Guwahati. In Dehradun, 69.97% boys and 83.96% girls passed the exam.
At 75.29 %, Patna has the third lowest pass percentage, followed by Allahabad which has a pass percentage of 75.93%. In Patna, just 71.2% boys passed the exam while 72.10% boys passed in Allahabad. Girls performed better in both the regions. A total of 82.51% girls passed the exam in Patna while 82.82% girls passed in Allahabad.
Also Read: #CBSE: Where did those 3 marks go? Twitter trolls topper Sukriti Gupta, exam results
At 97.61%, Thiruvanathapuram Region has the highest pass percentage, followed by Chennai which is 92.63%.
To get a clear picture of pass percentage of every region, please view the above image.
Also Read:
Delhi girl Sukriti Gupta takes #1 spot with 497 marks
Among government schools, Guwahati region has the lowest pass percentage. Just 60.21% of these students passed the exam in Guwahati. Among private schools, Allahabad recorded the lowest pass percentage with merely 31.77% students clearing Class 12 exams.
However, the overall pass percentage has gone up from 83% in 2015 to 83.05% in 2016.
Like every year, girls have outperformed boys. Pass percentage of girls is 88.58% as compared to that of Boys which is 78.85%.
Also Read:
Top 10 upcoming Indian universities to watch out for
Beware! Here are India's 22 fake universities
The Central Board of Secondary Education declared Class XII results for 10 regions on 21 May, 2016, at around 10:30 am.
List of CBSE Class 12 toppers for 2016
1. Sukriti Gupta (497 Marks)
Montfort School, Ashok Vihar, Delhi
2. Palak Goyal (496 Marks)
Tagore Public School, Pehowa, Kurukshetra, Haryana
3. Somya Uppal (495 Marks)
St Theresa's Convent School, Karnal, Haryana
3. Ajish Sekar (495 Marks)
P S B B Sr Sec School, K K Nagar, Chennai, Tn
List Of Toppers In Differently Abled Category
1. Mudita Jagota (485 Marks)
D A V Public School, Sector 14, Faridabad, Haryana
2. Siddhartha Biswas (484 Marks)
Kendriya Vidyalaya, Sector Viii, Rk Puram, New Delhi
3. Rakshit Malik (482 Marks)
Amity Intnational School, Sec-44 Noida
Also Read:
First look at marksheets of CBSE Class 12 toppers 2016