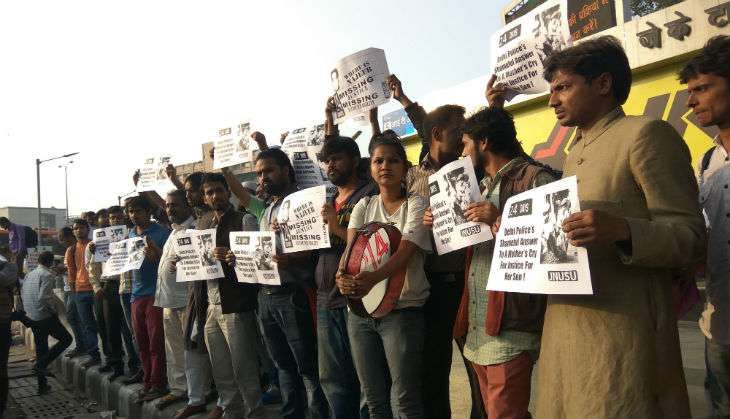 Several students of the Jawaharlal Nehru University (JNU) gathered outside the Delhi Police headquarters on 7 November to protest the disappearance of postgraduate student Najeeb Ahmad.
A minor scuffle also ensued between JNU students and the policemen. Ahmad, a 21-year-old student of microbiology, has been missing since 14 October.
Post the harsh treatment meted out to them by the Delhi Police on Sunday, Najeeb's mother and sister were escorted inside the police headquarters on 7 November.
"Why have they deployed so many police officers here? We're just students protesting against police inaction, asking for Najeeb to be found," said JNUSU president Akbar Choudhary.
Over 200 police men and women were deployed at gates of the police headquarters in New Delhi. When Catch spoke to few policemen on ground, we were told more officers were on standby.
Also read: Delhi Police roughs up, detains Najeeb Ahmed's mother. Outrage erupts
"This is ridiculous. Instead of sending so many policemen to detain us, they should employ similar energy and force to find Najeeb and questioning those responsible for attacking him. Eye witnesses report that he was mob lynched. There's even CCTV footage of the same," said Ria Raj, a postgraduate student at JNU.
A group of students from Aligarh Muslim University and Jamia Milia University also joined the protest.
'48 hours are up. Where is Najeeb?'
Most JNU students Catch spoke to questioned the rationale behind declaring their protests illegal. "Instead of finding Najeeb, they are slapping notices on us," said Anubhuti Agnes, PhD student at JNU.
"The police had asked for 48 hours to find Najeeb. Those hours will soon be up. We want to know where is Najeeb. They are yet to communicate with us," Mukesh Kulariya, JNUSU convenor said.
Some women protesters also alleged that they were manhandled by the police.
Also Read: Kejriwal on JNU's Najeeb: If he were Ambani's son, Modi would've come rushing

"I was groped by one of the police officers while being detained. What kind of law and order is this?" asks Agnes. She recalled the night of 21 October, when women students were beaten up during detention without the presence of any women officers.
Weapons recovered from JNU campus
Earlier today, a bag containing a pistol and seven cartridges was recovered from JNU campus.
Reacting on this, Satarupa Chakraborty , JNU Student Union (JNUSU) general secretary, said, "All this is fabricated. They are just trying to divert the attention from the chief issue."
Also Read: Bag containing pistol, cartridges found at JNU campus
Edited by Blassy Boben