Unfazed by bad weather and heavy downpour, around hundred teachers gathered together to protest against the United Grants Commission (UGC) and Ministry of Human Resource Development (MHRD) in New Delhi on Wednesday. The teachers have been demanding a complete rollback of Academic Performance Indicators (API) along with an immediate filling up of vacant teaching positions in central varsities.
However, what really stood out, is the sheer number of police personnel present at the scene.
Catch noticed a high-security cover around UGC's office, where the protest was held. On inquiry, we found out that around 150 police officers were posted at the scene, against mere 100-odd peaceful sloganeering protesters.
"About 100-150 policemen are present. We are here for the teachers' protests," said an officer on duty, who refused to divulge other details. The police had also placed barricades around the UGC office, citing security reasons.
In previous DUTA protests, held over the last three months, thousands of teachers had gathered. In one instance, more than 4,000 teachers were detained in a police station. At other times, roads were blocked with city traffic being diverted through other routes.
"Keeping in mind the weather conditions, admission season and that classes have started in many colleges, the turnout has been good," said Abha Dev Habib, member of DUTA and teacher at Miranda House.
The protests, held by Delhi University Teachers Association (DUTA) and Federation of Central University Teachers' Association (FEDCUTA), witnessed participation by teachers from Delhi University, Jamia Millia Islamia, Jawaharlal Nehru University (JNU), Indira Gandhi National Open University (IGNOU) and Aligarh Muslim University (AMU).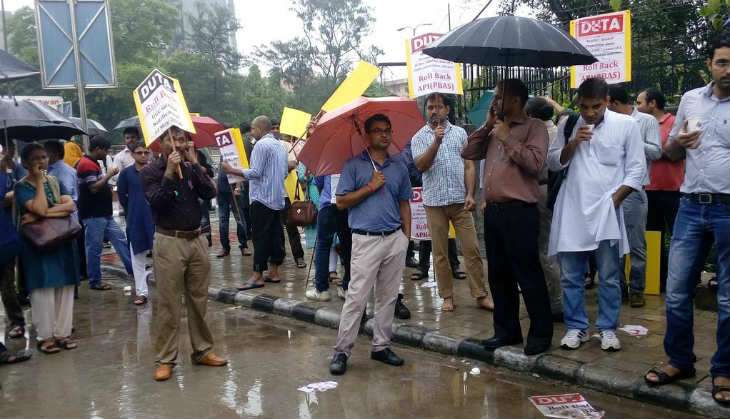 (Left to right) DUTA member CS Rawat, DUTA Chief Nandita Narain and IGNOUTA member Ajay Mahurkar address protestors
The teachers have been demanding a complete rollback of Performance Based Appraisal System (PBAS) which is based on API scheme. The PBAS/APIs have been introduced at a retrospective date, which is impractical. "The system is so faulty that the UGC has been forced amend it three times since it was first notified in 2010. This irrational and un-academic scheme has adversely affected the quality of teaching and research work. Growing contractualisation of teaching posts and denial of promotions has demoralised young faculty members across universities. Lakhs of teaching posts are lying vacant in State and Central Universities with 4,500 alone in Delhi University," states a release from protesting teachers.
"The semester system, Choice Based Credit System (CBCS), APIs are affecting our entire university system. It is also adversely affecting the quality of course work," says Vijaya Venkatraman, professor at DU Arts Faculty.
The protesting teachers will next hold a 'March to Parliament', to highlight their issues. "We will continue to fight for justice and keep this movement going," said Nandita Narain, DUTA president, during a speech.
Edited by Aishwarya Yerra