Former President Dr APJ Abdul Kalam inspires millions with his humility. On Teachers' Day, here is an ode to one of India's best teachers.
1. A teacher till his last breath
Dr Kalam passed away on 27 July 2015 while he was giving a lecture on "Creating a Livable Planet Earth" at Indian Institute of Management (IIM) Shillong.
According to reports, he felt some discomfort while climbing stairs. He rested for a while, and then went inside the auditorium to deliver the lecture. Two minutes in to the lecture, at around 6:35 pm, he suddenly collapsed on stage. He was rushed to the hospital where authorities later declared him because of sudden cardiac arrest.
He taught till his last breath. Read his aide Srijan Pal Singh's tribute here:
2. The message of social work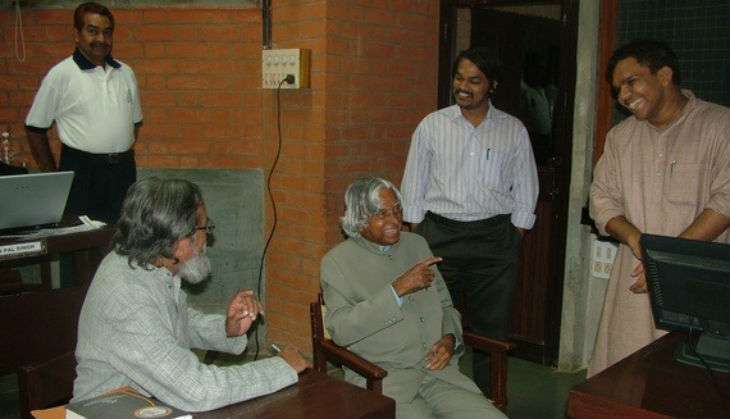 Abdul Kalam with Srijan Pal Singh (Source: Quora)
Singh, an MBA graduate of IIM Ahmedabad, has been vocal about his admiration for his mentor, Dr Kalam. In a Quora post, Singh writes about how much Kalam valued social work. Read the text of the post here:
"Let me give you a story ... the story which changed my life.. (pic from the fist class of Dr. Kalam in IIMA 2008. I m the one in Kurta standing - and making a presentation. He said, "this fellow is basically a good guy)
The most important lesson, which changed the course of my life and career was given to me by my teacher on first day I met him at his residence after I had graduated from IIMA with a Gold Medal for Best All-rounder student.
Swollen in pride with the medal I received, I sought an appointment with him in Delhi before I would join in my corporate job in a major consulting firm. To my surprise he immediately granted me an appointment over email.
On the designated day I met him, at his Rajaji Marg residence - in the library. I handed him the medal and the degree sheet. What followed changed my perspective.
Looking at the degree he said, "Oh. So you got an IIM A degree with great marks. Does this mean you got great education? And also you are talented?"
I nodded.
He looked at the medal and said, "This is real gold? A medal means you got appreciation of the world, right?"
Once again I agreed.
Then came the "guru mantra" - "So, if you got the best of education, talents of great marks and the appreciation of others - don't you think you also use these three to change the society, the nation and the world. How will you do it?"
That insight that medals come with a bigger responsibility is perhaps the most important lesson of my life - and a message still echoes in me.
Edited by Blassy Bloben