Fries before guys: 3 women and a dream to be Delhi's ultimate fries destination
For the love of fries. Fries before guys. All of us know friends who would definitely buy T-shirts with slogans like these. Heck, they possibly already have them.
The love of fries is no small thing. While most bars and restaurants relegate fries to nothing more than a side, people often order a separate serve because fries are just one of those things you can never have too much of. This is what Sumedha Upadhyay, Shivika Upadhyay and Shasti Jain have learnt over the years, and now, they're taking this love for fries to the next level with Potet - every fries lover's dream restaurant.
The faces behind the fries
Sumedha and Shivika are sisters and lawyers by profession. Both are now done with that part of their lives, choosing instead to embrace their inner foodie. Sumedha has been a foodie since childhood and, as she tells us, "loves cooking through her heart for friends & family". She's now realising her dream of opening a restaurant of her own. Shivika also has a knack for cooking and experimenting with different cuisines. At heart, she's always wanted to be a chef and this is her chance.
The third woman Shasti has a mathematics degree (who said mathematicians don't love food?). She wasn't sure of what she wanted to do, but sure as hell never thought she'd be running a restaurant. But after jumping into the business with her friends, she cares for it like nothing else and is enjoying every moment.
The three of them conceived the idea over a year ago in March 2015, over a few cups of tea and coffee. "It took us some time to understand the dos and donts of the industry, but we're here to stay and learn", says Sumedha.
They got the name for their restaurant, Potet, from the Norwegian word for potato. At least if Google is to be trusted.
Potet
The restaurant is located at The Junction, which, for the uninitiated, is positioning itself as a mini Cyber Hub (You don't have to be jealous of Gurugram folk anymore). It's in the heart of Delhi, located conveniently on Aurobindo Marg, near Hauz Khas Village.
"The Junction is a cluster of eateries, which has just popped-up in the heart of South Delhi. Just like us, The Junction is also a one-of-a-kind place in the middle of our crowded city. It is a reprieve from the hustle and bustle, set around a big tree. There was no better place to kick-start our fryers," Sumedha says.
It will have a bakery, a place to get your fix of sushi, a winery, a bar and a fine dining restaurant on the first floor. Best of all, there is a stage which will have music, plays, stand up comedy, open mic events and more.
Potet is a part of this larger plan, but it is one you wouldn't want to miss out on. It's a small outlet with barely room for more than five people to stand and chat, but plenty of seating outside offers a chance to enjoy fries, a drink and conversation with friends and strangers alike.
At the moment, they are the only ones open, but whenever they have events, the place is buzzing like few others. When events are on, there are pop-up stalls galore to keep people invested. Till now, it's mostly been music events (they were part of the Gig Week this year) but as Sumedha tells us, there will be many different events to draw in people from all over, not just music.
Potet is your one-stop solution for the love of fries. The initial response has been more than positive for them. "People are happy to finally have a one-stop shop for fries in Delhi. We are exposing the global palate and flavors to Delhizens. The entire concept of 'fries from around the world' has so far been exciting for people and we wish to maintain this excitement in our future French Fry plans," Sumedha says.
The taste test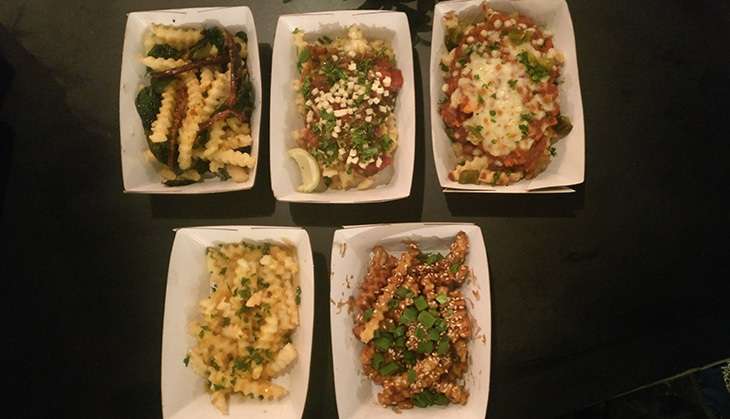 Sahil Bhalla/Catch News
Before you fancy eaters write it off as just a lot of Poutine (A Canadian dish made with French fries and cheese curds topped with a light brown gravy), Potet offers you a great selection of fries (plain or crinkle) with a variety of toppings (savoury and sweet).
From the savoury bunch there's the American Chilly Cheese (soya or chicken chilly, cheese and jalapenos), Romanian Mujdei (sour cream and roasted garlic), UK Curry Chips (curry sauce and spring onions), Mexicano Fries (fresh salsa, mozzarella, cheddar blend), Kenyan Masala (tomato reduce and mint mayo), German Bratkartoffein (bacon, bacon fat, spring onion), Japanese Teriyaki (teriyaki sauce, spring onions, sesame seeds) and Madras Fries (roasted red chillies, curry leaves, mustard seeds, curry powder and tamarind dip).
The 'mains' are priced at Rs 190 for the vegetarian options and Rs 220 for the non-vegetarian ones.
And if you ever thought mixing Nutella with potatoes would be harakiri - try the Vietnamese Khoai Tay Chien (melted butter, sugar and Nutella). There is also the Canadian Sweet Maple Fries (sweet potato, flour batter, maple syrup and cinnamon), which caught our attention immediately.
You can also order only fries with a dip of your choice. Pick between Olive Mayo, Cheese Jalapeno, Fresh Mint Mayo, Siracha, Barbecue and good old ketchup.
We tried the Madras fries, the Mexicano, Japanese Teriyaki, American Chilly Cheese and the UK Curry chips. While we loved the first four, we were divided on the American Chilly Cheese and the Madras fries, while we unanimously agreed the UK Curry wasn't for us.
As for the owners' favourites, Sumedha likes the Mexicano Fries, Shivika the Teriyaki Fries and Shasti (the one with a sweet tooth) likes the Canadian Sweet Maple Fries.
The sheer variety has us itching to go back to try the varieties we missed like the German Bratkartoffein and the Canadian sweet fries. We'd advise you to give Potet a visit too.