'First Hand' - India's first non-fiction graphic novel is a reality check for us all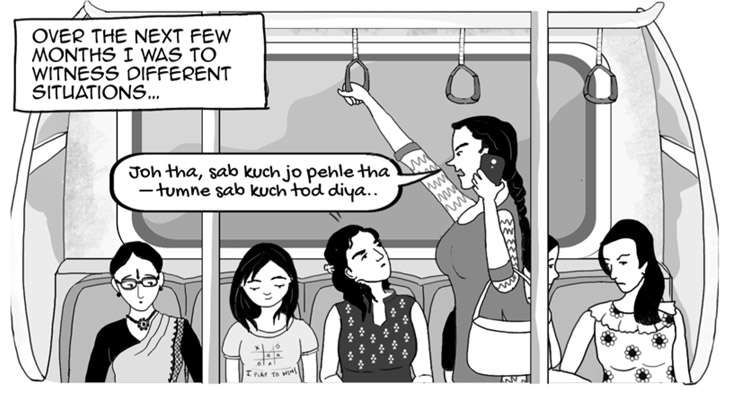 Last October, when conversations about intolerance and pluralism hit our drawing rooms, graphic artist Orijit Sen unleashed a series of cartoons. In his cartoons, Modi became Modilini, 'Achche Din' became 'Kachche Din' and in this new intolerant world "one size fit all".
Sen started drawing cartoons long before writers, artists, scientists and academicians decided to speak out against intolerance following the shocking murder of MM Kalburgi. Kalburgi was a writer, educationist and rationalist, he was killed in his hometown of Dharwad in August, 2015.
Also read - He's Hindu. Male. Upper caste. And his cartoons take on the Prime Minister
He drew his first cartoon as a reaction to Penguin's decision to pulp Wendy Doniger's book on Hinduism. It was his way of expressing his angst at the muzzling of free speech. Against the assault on India's culture of diversity. Against the marginalisation, persecution and murder of citizens for exercising their right to think, write, speak, express, read, see, eat, wear or dissent.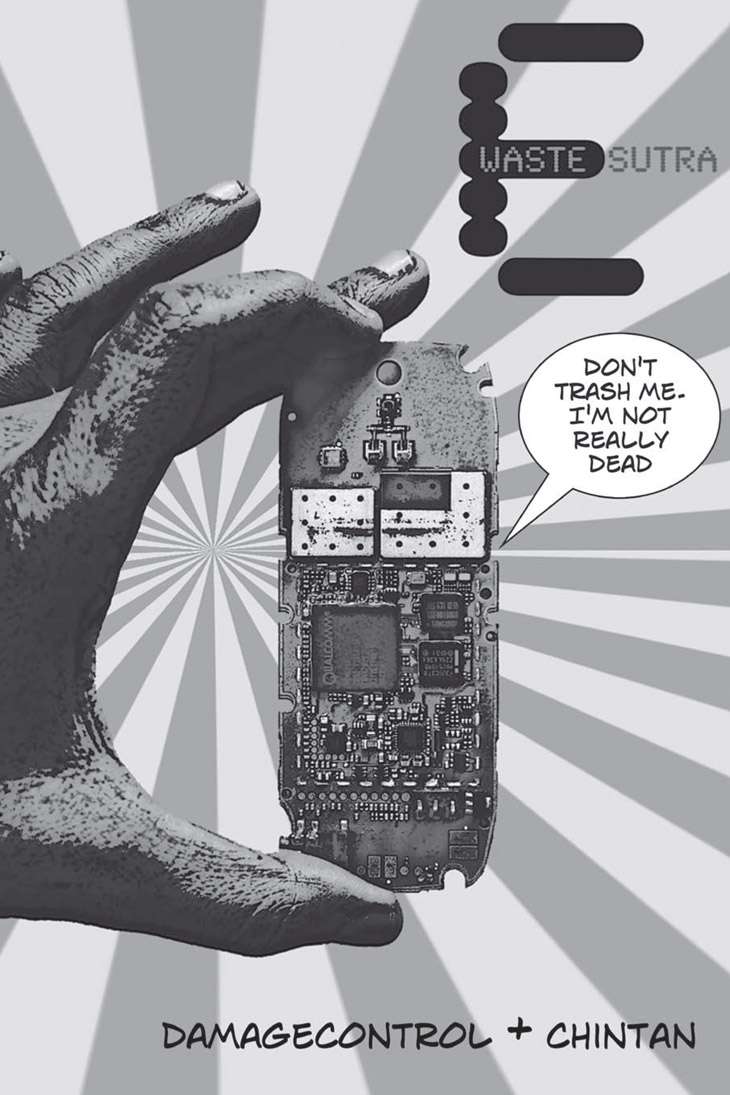 E-waste Sutra
"The pulping of the book was the immediate trigger. It set me thinking. I realised that the pulping of the book was symbolic. We had succumbed to the intolerant fascist forces and it served their objective," he told me then.
Given the graphic and provocative content of his cartoons, I asked him if he was scared for his life.
"I am afraid like anyone else. Kalburgi paid the ultimate price. I am privileged - Hindu, male, upper caste. If I do not speak out, who will? It is my responsibility," he told me.
He also hinted at a book where he would publish his cartoons. I reminded him of what became of the Doniger book and how a reputed publisher had decided to tick off another of Doniger's books.
"I am in talks with someone. The good news is there are still some brave people around," he said.
When I heard of First Hand, the first non-fiction comic anthology, edited by Orijit Sen and Vidyun Sabhaney, I quickly checked the name of the publisher - Yoda Press.
Volume 1 of the book is a brave attempt. Sadly, there is no money to pay the contributors an honorarium. The small first print run of the book has run out. The publishers are now trying to crowdsource funds to take forward the First Hand Project, a collaboration between People Tree, Yoda Press and Captain Bijli Comics.
A tolerant India
There was once a tolerant India when Indians took pride in the diversity of cultures and respected each other's religions.
"Calcutta Kid" captures this sentiment beautifully. It is the story of a girl who grew up in the Calcutta of the 1980s-90s. A Calcutta where people didn't care about religion. Even if they went to the pujo pandals in droves it was for the love of food, the delicious bhogs. If they prayed at all, they prayed to Goddess Saraswati for knowledge.
Calcutta Kid
"I have often thought that the Calcutta Biryani could have been our family god," the protagonist remarks.
However, when she leaves home to enrol at a design school aged 19, she is quizzed about her caste. She makes a long distance call to Calcutta - "Ma, what is my caste?"
While this wry humour is typically Sen, the uniqueness of this book lies in the fact that there are no superheroes at work to rid us of the ills plaguing our society. There are only real life people fighting their little wars. Sometimes winning. Sometimes losing.
The story of a young man filing an RTI to know what became of the funds sanctioned for fixing drain water mixing with drinking water is a case in point. The officer accepts his application. When the young man steps out he is greeted by touts. A few days later the man is found dead.
Then there is "The Nawab", an honest editor, who becomes the victim of police brutality during the Emergency. The cops want him to hand over a letter which could ruin a certain minister's career. The editor is released years later with broken bones but an unbroken spirit. Thereafter the "anarchist-looking Rajendran took on the establishment with the most democratic and constitutional of weapons - the Public Interest Litigation".
His PILs force the government to prevent child marriages and check corruption. He even challenged the properties of a Chief Justice's daughter, herself a judge.
These stories not only promise change but provoke readers to put up a fight and not succumb to intolerant forces.
A huge first
First Hand is an anthology of non-fiction graphic narratives - the first of its kind in India - that tells the stories of people whose voices have been lost in the drone of a 24-hour news cycle.
"It may be a comic but First Hand does not have any cape-clad superheroes or cackling super-villains, rather it shows these lives of real people and reflects on the extraordinary - often heart-breaking - circumstances of their lives; be it personal struggle, or social and political injustice," reads a note from the publishers.
The project brings under its umbrella several writers, artists, reporters, activists, researchers, designers, anthropologists, academicians and filmmakers who help us look at reality which is "unfiltered and unfettered by the politics of mass media and governance".
The range of stories is mind-boggling. From contemporary narratives to historical perspectives to the simple documentation of the extraordinary lives of ordinary people.
In "One Step Forward, Two Steps Back", the protagonist documents his experience of visiting Pissurlem, a Goan village where the natural landscape and lush beauty have become a victim of mining companies.
"The Girl Not From Madras" is a reportage piece about the abduction, rape, forced marriage and eventual rescue of a young woman from Assam.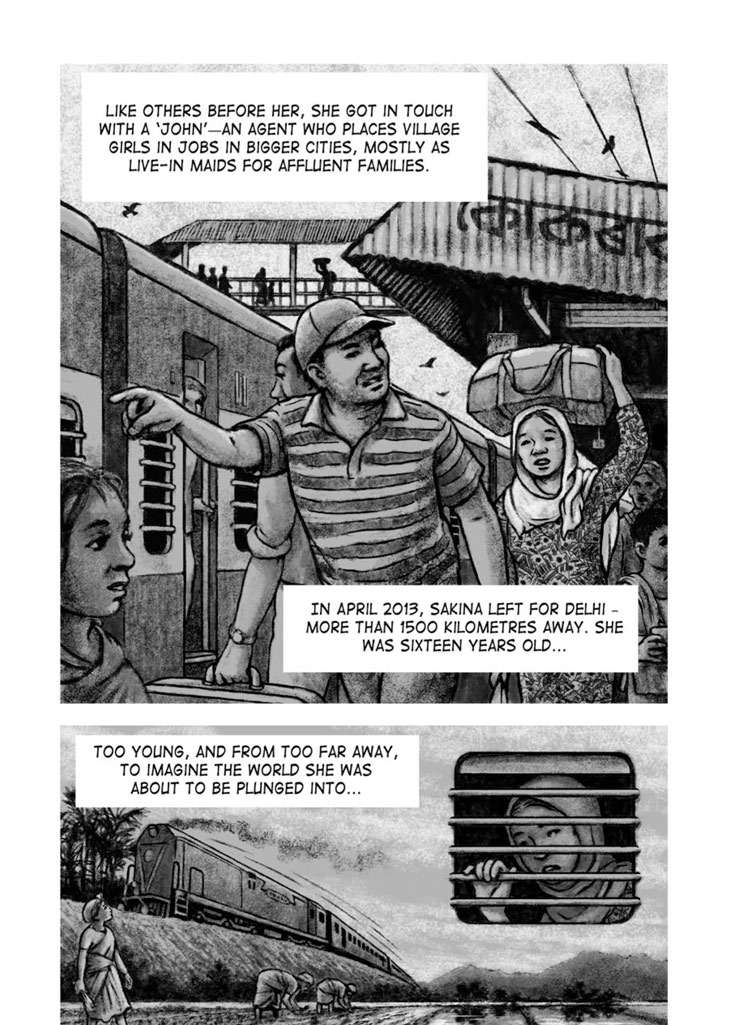 The Girl Not From Madras
"The Edge of the Map" is a documentation of how people are displaced by large-scale development projects in Jharkhand and Odisha - a narrative interspersed with quotations and commentary by people actually affected by these projects.
Six pages of a legend
My favourite piece in the book is the masterpiece "Akhtari" by Gitanjali Rao and Rajesh Devraj, a breathtaking comic on the early life of Begum Akhtar.
Akhtari (Bibbi) grows up in the ruins of Awadh with Zohra. Both playmates share everything -- "datun sticks, combs, head lice". One day Zohra, perhaps poisoned, flies away to "Allah Mian". Bibbi wants to follow her into the sky because she cannot imagine a life without her.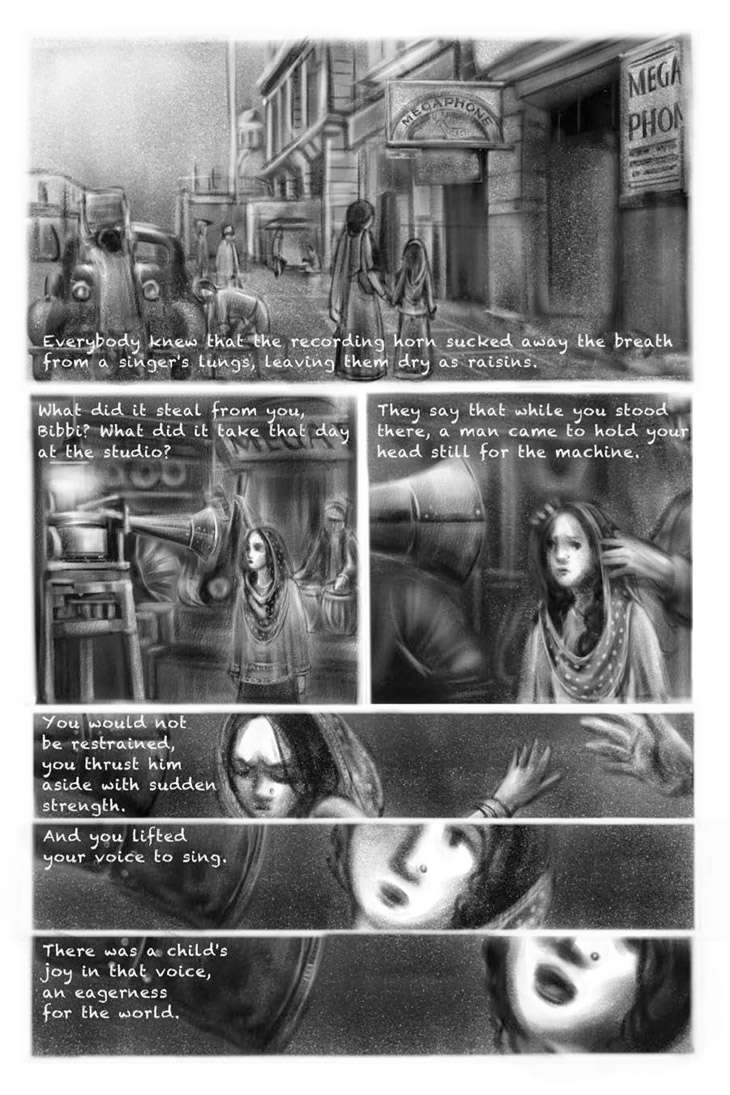 Akhtari
"In her dreams she chases the echo of a voice. Sometimes it is the wail of a mourner, sometimes a bhikarin's call. She mimics and cries and people press coin into her hands."
A Pir prophecies she will find her God in music. And so a teacher arrives. The lessons begin before dawn and stretch into the night. For there is no time to be lost. And then, as she turns 13, a price is set for her talent and her beauty.
Beautifully illustrated and saved for the last, this is the story that establishes the future of the graphic novel in India. The story of a legend told in all of six pages.
The future
"In the world of comics, there are no governing rules for achieving the perfect play between text and image, and with this project in particular, every story needed to seek and find its own method and treatment," writes Sen in the preface of the book.
"It's fascinating to see the different strategies that evolved in the process. The real, the unreal and the surreal, the factual and the fantastical, the logical and the absurd - all the riches of the storyteller's repertoire seem to have come together to find their places within the diverse genres that the stories in this anthology straddle."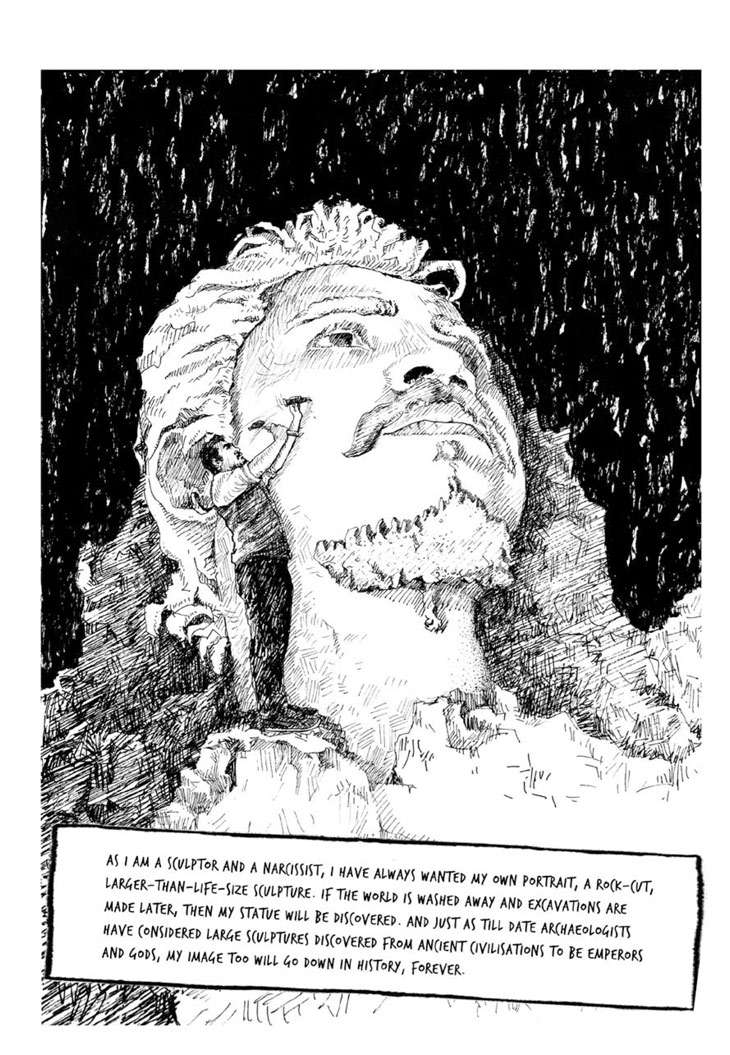 Apocalypse
No surprise then that there is Juhapura, Ahmedabad's largest Muslim ghetto - a testament to the Gujarat riots - where little children are taught to harass Muslim children who do well in school. There is mention of Dadri, where a rumour turned "into a bloody brick" and a mob lynched Mohammad Akhlaq for allegedly eating beef. There is also Nirbhaya, the girl who was brutally gang-raped on a moving bus on December 16, 2012.
The absurd has been documented well too. That we care more for mobile phones than toilets. That we have become a "Silicon Vihar" - the great junkyard for e-waste. That cellphones and tablets have become an extension of our bodies and minds.
Between the serious and the absurd, Sen and gang have succeeded in teaching a lot in 368 pages. The biggest lesson being - India needs to open its arms to the world of graphic non-fiction.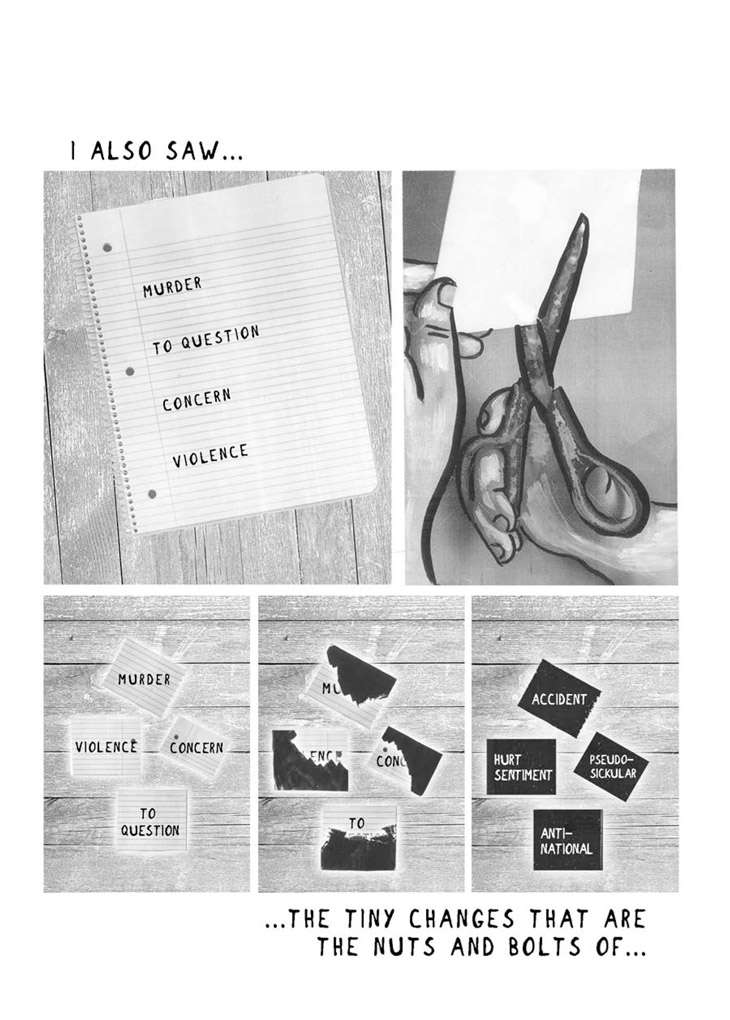 Double Speak
More in Catch - Storyboarding India: 'Nawabs, Nudes, Noodles' is an epic Indian ad journey