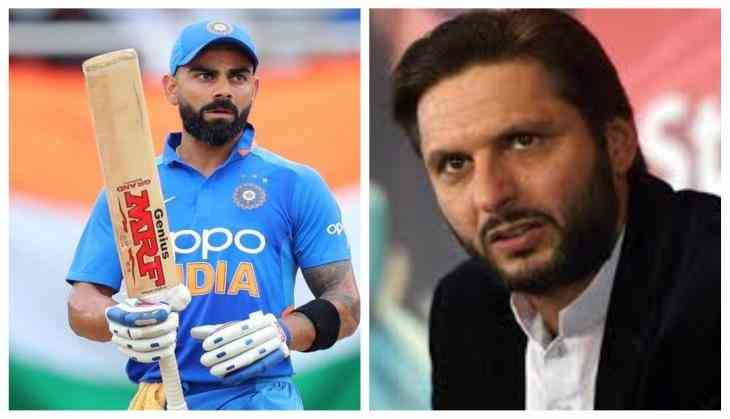 In an Interactive session with his fans on Twitter, former Pakistan captain Shahid Afridi unveiled names of four batsmen, when he was asked about his favourite in world cricket at present. Shahid Afridi named Indian skipper Virat Kohli, Australia's Steve Smith, England's Joe Root and Pakistan's Babar Azam.
"Virat Kohli, Babar, Root and Smith" Afridi tweeted.
However, the former all rounder declined to opt between Virat Kohli and Babar Azam when questioned by another fan. "Both" Afridi replied.
AlsoRead:http://www.catchnews.com/cricket-news/south-africa-skipper-faf-du-plessis-misses-his-flight-ahead-of-india-clash-173496.html
Presently, Virat Kohli is on top of the pile. He knocks a half century in almost every third game. Besides the Indian skipper, it's just Babar Azam who averages fifty plus score in T20Is. Kohli has maintained this average for over 71 matches to that of Babar's 30 matches.
Shahid Afridi had also deemed the Indian skipper as a great cricketer after his scintillating innings of 72 runs against the Proteas in the second T20I at Mohali.
AlsoRead:http://www.catchnews.com/cricket-news/indian-cricket-fans-slams-icc-and-bcci-for-scorning-rahul-dravid-173460.html
"Congratulations Kohli! You are a great player indeed, wish you continued success, keep entertaining cricket fans all around the world," tweeted Afridi after the match.
The former Pakistan skipper was responding to ICCs congratulatory tweet for Virat Kohli in which the BCCI gave recognition to the skippers accomplishment of averaging fifty plus score in all formats of the game.
AlsoRead:http://www.catchnews.com/cricket-news/shikhar-dhawan-on-the-brink-of-joining-virat-kohli-and-rohit-sharma-in-t20-elite-list-173473.html
Besides Virat Kohli and Babar Azam, Shahid Afridi also named Australia's Ashes hero Steve Smith and Joe Root. Steve Smith single handedly carried the Aussies batting on his shoulder cumulating 774 runs of seven innings at an average of 110.57.
While on the other hand, Joe Root did not help his team win the Ashes but knocked three brilliant fifties during the series.
AlsoRead:http://www.catchnews.com/cricket-news/pakistan-cricket-declares-16-man-squad-for-sri-lanka-series-173515.html