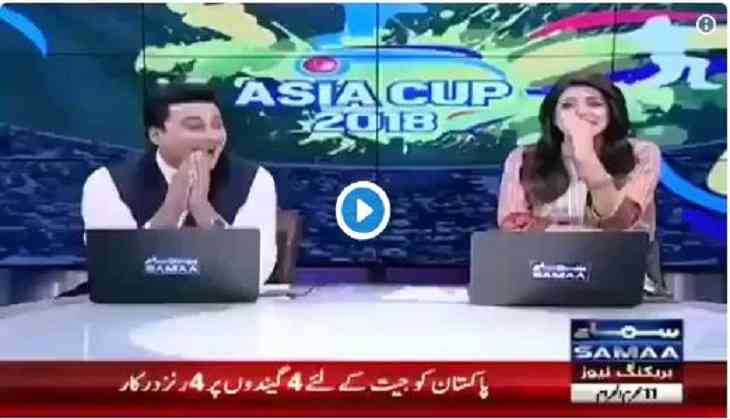 You all have seen various hilarious visuals of news anchors during news live, however, which gets edited but their uncut visuals can be seen online. Can you imagine if these unedited visuals went on air during live then how it will become embarrassing for an anchor? Well, such kind of an embarrassing incident has happened with a Pakistani news anchor during the news bulletin.
Yes, Pak news anchor was caught on camera while doing obscene gesture during a news bulletin on Pakistan vs Afghanistan Asia Cup cricket match. The anchor thought he is off-air and started showing his middle finger uncontrollably toward the camera. Alas! His whole activity got captured on camera and went on air as well. However, he was not aware that his gesture went on air. When he and the female news anchor come to know the whole thing went on-air, they both get embarrassed.
The video of the Pak anchor went viral on the social media and blooper was making news on the social media platform. In the video, he can be seen showing his middle finger (an obscene gesture) because of this video, the social media has been flooded with several shocking reactions.
The video has been shared on social media by journalist Syed Raza Mehdi. He took to Twitter and wrote, 'When panel producer is in so much hurry to switch!!! RIP Journalism'
See Video:
When panel producer is in so much hurry to switch!!! RIP Journalism 👇 pic.twitter.com/6NeYRwxNvB

— Syed Raza Mehdi (@SyedRezaMehdi) September 22, 2018
However, some users made fun of it while some criticised the vulgar gesture of the journalist.
Check out the reaction of Twitterati:
They are always in hurry poor and unprofessional journalism

— sarwat (@ghulam10421779) September 22, 2018
Ridiculous 😂😂😂

— Hassan Moavia (@HassanM94215261) September 22, 2018
Its time for you to RIP. Saleem safi kuch kahy toh no RIP. kamran shahid kuch kahy toh no RIP. koi mazaq kr de toh RIP. pagal wagal bana rhy hain

— ahmad rehman (@iamahmadrehman) September 23, 2018
September 22, 2018
It was a funny blooper. The comment he made was way too funny. There's no RIP required here.

It was you who was taking it serious because of 10th. Take a chill pill please.

— AlamSt@r (@Alamgir77) September 23, 2018
What a crazy moment

— Ashish Verma (@ashishaxom) September 23, 2018
Ye konsa Stage drama hai ? Mujay to ye dono kisi stage dramay k Adakar lagtay Hain

— IrfanPashtune (@IPashtune) September 23, 2018
Nothing to do with Journalism but yes mistake of Panel Producer, and they are anchors, anchors does all these kind of stuff.

— Murtaza Z. 🌐 (@MurtazaZoaib) September 22, 2018
How do you feel after watching the blunder did by news anchor? Comment.
Watch Video:
Also read: Asia Cup 2018: Rohit Sharma and Shikhar Dhawan, India's second successful opening pair in ODIs