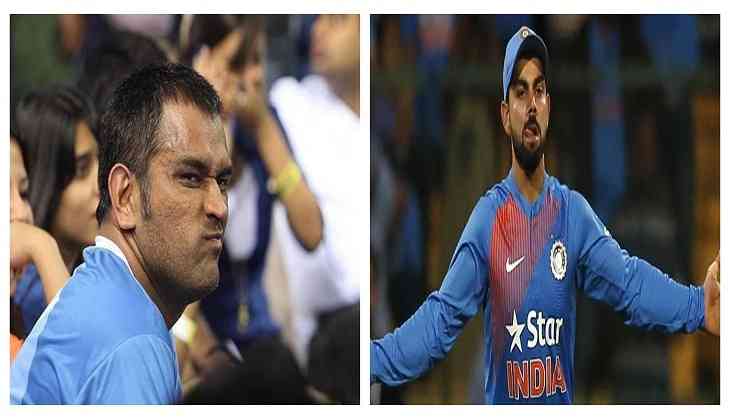 MS Dhoni is famous for his calm, coolness and due to which he has been titled as 'Captain cool' during his captaincy. Now, something has happened that our former 'captain cool' become uncool for his lady fan.
Yes, a video is getting viral over the Internet, in which a female fan is waiting for the Indian team and wanted to take their autograph. As we all know that fans always crazy to get one autograph and also wanted to take a selfie with celebrities. The same a lady did, who wanted to take an autograph of Dhoni but when Mahi came he ignored her and said 'no' to his female fan and walked off in hurry.
But this lady fan finally got the autograph from the one, about which she never thought. Can you guess who is he?
Well, it's Indian team skipper Virat Kohli, who stopped for the lady and given the autograph. After getting best wishes from Kohli, the lady finally becomes happy because of him. This gesture of Virat Kohli has won the heart of his millions of fans and on social media everyone applauded him.
Before seeing the reaction of Tweeple, check out the viral video which has been shared by BCCI:
Here we go for the ODI series decider match.#TeamIndia #ENGvIND pic.twitter.com/e91sG6TM7s

— BCCI (@BCCI) July 17, 2018
Here's the reaction of netizens:
MS refused to sign but Virat did....really nice of him .

— Live Eat Love (@muskurana123) July 17, 2018
Your humility makes me admire you the most, be the same Kohleyy

— Virat Kohli🏏💯 (@KohlixAdherent) July 17, 2018
Others just left but he didn't. He stopped (though he was in headsets), gave that lady his autograph and made her so happy. Proud of you boy ♥ @imVkohli

— Virat Kohli🏏💯 (@KohlixAdherent) July 17, 2018
Exactly and Kohli was on headset but still did not ignore the lady and signed humble @imVkohli proud that he did something so sweet

— Pearl lobo Monteiro (@bebo_pearly) July 17, 2018
Best of Luck Virat & team..💙💙 pic.twitter.com/2b6NL7aM7M

— Adil Maaz (@adilmz12) July 17, 2018
I was feeling very bad for that why u guys didn't gave a signature. What kind of attitude @BCCI .If today u guys lost ,I wont let u easily except @imVkohli .Win or loose respect fans .They r not beggers. Be humble to ur fan.

— Shaktiprasad (@ShaktiMastAadmi) July 17, 2018
@imVkohli का दिल ❤ बड़ा है उस औरत को ओटोग्राफ़ दे दिया.....धोनी ने नजरअंदाज कर दिया @Jetha_Live

— Chhagan Sundesha (@chhagan819) July 17, 2018
Virat kohli true gentleman giving the autograph respect.

— taher_hatim (@taher_hatim) July 17, 2018
Baki sab aasaman mein..@imVkohli still on ground.great u did sign

— Shaktiprasad (@ShaktiMastAadmi) July 17, 2018
Well, Kohli not only won the heart of his lady fan but also won the heart of other fans as well. However, it is also not possible for celebrities to greet or give an autograph to their every single fan in public places.
Recently, Virat has also performed superbly during the three ODI series played with England.
What do you say about Mahi and Kohli? Comment here.
Also read: Good news! South Africa's Mr 360 degree AB de Villiers all set to return to Cricket world once again; here's how