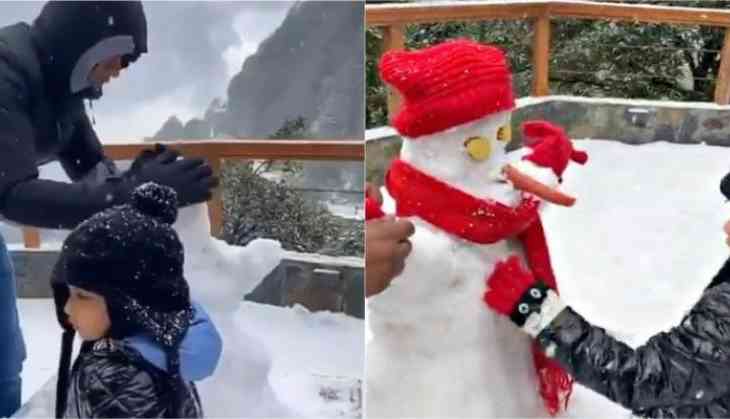 Regardless of being out of operation since India's semi final match against New Zealand in the World Cup 2019. Mahendra Singh Dhoni continues to be the talking point when it comes to cricket. MS Dhoni on Wednesday posted a over four minute long video on social media where he can be spotted"experiencing first snowfall of 2020" in Mussoorie, also known as "Queen of the hills".
The clip, recorded in the -3 degrees temperature, manifests the 38-year-old enjoying the snowfall with his wife Sakshi and daughter Ziva. The clip displays MS Dhoni and Ziva throwing snow balls on each other.
Waking up to flurries descending .........experiencing first snowfall of 2020 in "Queen of the hills" an amazing experience #rockvilla," Dhoni captioned the video. The clip also displays them making a snowman.
Also Read: Hardik Pandya spills the beans on infamous Koffee with Karan controversy
Also Read: Rohit Sharma optimistic about replicating MS Dhoni's role in T20 cricket
Earlier, MS Dhoni had posted a video of Ziva playing a guitar and singing a song. "Snow brings the best out of her", MS Dhoni had captioned the video.
MS Dhoni has not featured for the Indian side since India's semi final loss against New Zealand during the World Cup 2019.
In his absenteeism, the men in blue have confered their faith in Rishabh Pant, especially in the limited over cricket, but it has not turned out well as he has been under fire thus far.
MS Dhoni is expected to make his comeback during the Indian Premier League (IPL) 2020 where he will be leading the three time champs Chennai Super Kings.
A number of cricket experts feel that MS Dhoni's future with Team India will to a great extent depend on how he plays in the IPL, which according to some reports is scheduled to start on March 29 and go on till May 24.