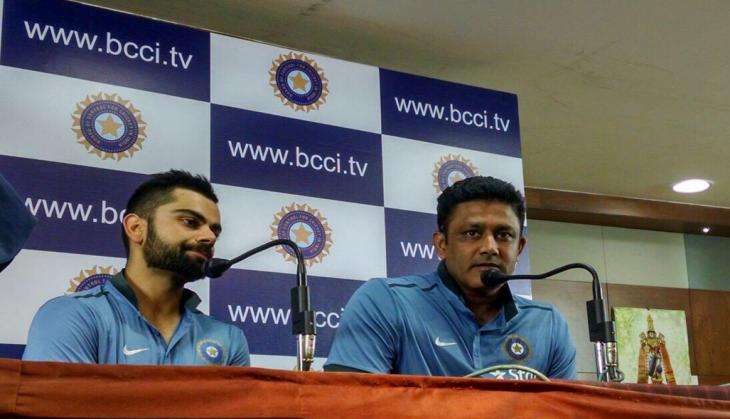 Brimming with confidence after whitewashing New Zealand in the recently concluded three-match Test series, India's head coach Anil Kumble has insisted the team would be looking to cash in on the weaknesses of England, their next opponent in the upcoming five-match Test series.
After the team's first practice session before the first Test starting in Rajkot from November 9, Kumble on Sunday said England are a quality side and with the likes of Alastair Cook and Joe Root, who have played before as well in the Indian conditions, it would not be an easy task for the Virat Kohli-led side to overpower their opponents.
"New Zealand was a hard-fought series. The result shows a 3-0 win to us (India), but we knew how hard we had to work to win the series. What was very nice to see during the series was that all the three surfaces (Kanpur, Kolkata and Indore) were very different and our team adapted to the conditions and that's our strength. Yes, we certainly look at the opposition and find out what their strengths and weaknesses are," the veteran leg-spinner said.
"Having said that England are a quality side. Alastair Cook has been here a number of occasions. He's a quality player at the top and that's something we will be looking at. There is Joe Root and also their bowling attack is something that has troubled us in the past. What we would like to focus on is what we can do, and how we can measure up to and that's how we played against New Zealand," he added.
The 46-year-old, however, asserted that the team is a bit disappointed with injuries, especially the one to Rohit Sharma.
"We are a bit disappointed with some of the injuries that have happened. But that is part and parcel of the game. It's unfortunate, especially I feel sorry for Rohit because he was really doing well in the Test format. We all know importance of Rohit in the shorter format of the game. It is really unfortunate that he misses out of this Test series," Kumble said.
Meanwhile, the Indian head coach also expressed happiness with the preparation ahead of the five-match Test series.