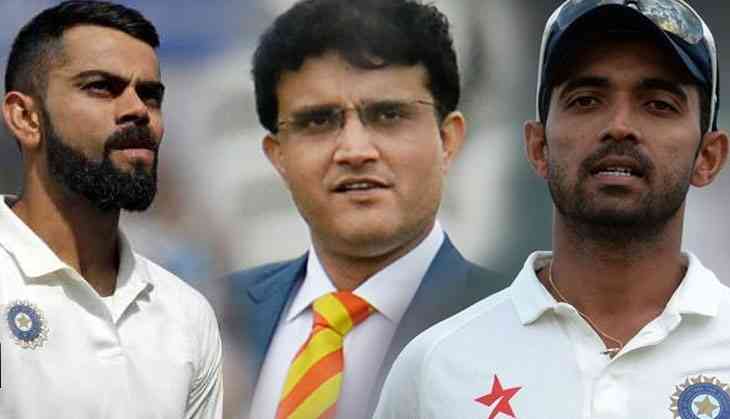 Former Indian skipper Sourav Ganguly advised Virat Kohli not to make any changes in the Indian squad after losing the first Test match by 31 runs at Edbaston in Birmingham.
Sourav Ganguly also warned Indian skipper Virat Kohli against changing and chopping after the heartbreaking loss.
Sourav Ganguly also warned Ajinkya Rahane and Murali Vijay for their poor show in the first Test. Ajinkya Rahane scored total 17 runs in both the innings while Murali Vijay scored 26 runs.
In his Instagram post, Dada wrote, "If you've to win a Test then everyone has to score runs," adding, "This was the first Test in a 5 match series & I think this team has the capability to come back & play well. #AjinkyaRahane & #MuraliVijay will have to show some determination since they have scored runs in these conditions before."
According to the reports of The Statesman Sourav Ganguly cited that "I don't think the captain is responsible for the loss. If you're the captain then you'll be criticised for a loss the same way as you're congratulated for a win."
"One criticism for @Virat.Kohli is that he should give a consistent run to his batters & more time before dropping them. The failure against swing in English conditions can't be used as an excuse any more as everyone knows that it's what you get when you come to England."
"You can't be excused all the time & we have lost before in 2011 & 2014. You've to bat well. It's a very well known fact that the ball will swing in England the same way as Australia is known for its pacy wickets. So if previously you've scored runs there is no reason you can't now."
"The captain should give confidence to his players. It's his team & only he can change their mindset. He will have to sit with them & tell them that if he can do it so can they. He should give them time & tell them to go out & play without any fear."
"It is true that after continuous chopping & changing of the playing XI, players can get afraid that after all these years they've failed to garner the faith of the team management."
"The good thing about the great teams of the past – whether it be #Australia, #SouthAfrica or our very own team which won the Test series here in 2007 – was that the boys used to play both formats of the game – #SachinTendulkar, #RahulDravid, #VirenderSehwag, including myself.
"So even if you played badly in 1 or 2 matches you got a lot of time to get back into form at the international level. Playing & scoring 150 in first-class cricket can't compensate for international cricket. In this team no batsman except Virat plays all the formats."
Also Read: OLA #RoadtoGold campaign: Sourav Ganguly and Abhinav Bindra provided support to new sports talent hunt campaign